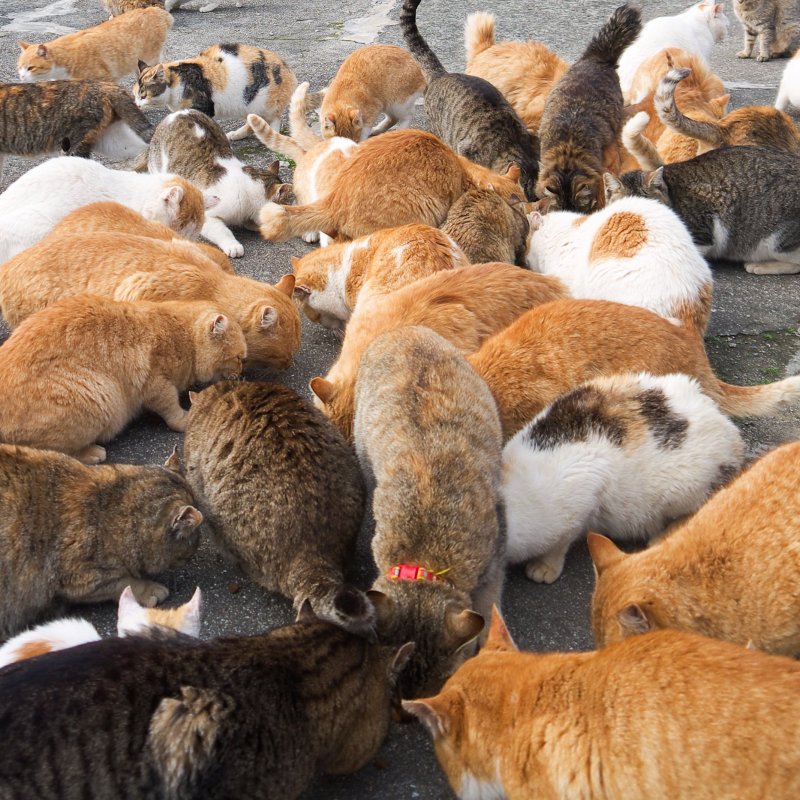 Cats are inquisitive, soft, and adorable creatures — all purr-fectly logical reasons for falling in love with them.
In fact, some folks just can't get enough of cats and kittens, as evidenced by cat cafes, hotels with cats, and the undying popularity of characters like Hello Kitty and Garfield. If nothing brings you more joy than the friendly and affectionate meow of a cuddly cat, then that's all the more reason to put this Japanese island in your travel plans.
To learn more about this cat-covered island, keep reading!
The Cats Of Cat Island
The most obvious question about this island, located in Ozu, Japan, is Where did the cats come from? It turns out that the cats were brought to the island to address the infestation of mice that were running rampant on fishermen's boats. Today there are 120 or more cats trotting through the island's streets. The furry felines aren't loved by all the locals, but some have taken on roles of caring for and feeding the street-bound cats.
More On The Story Behind Cat Island
Cat Island, also known as Aoshima Island, isn't the only place in Japan with cats roaming free and wild, but it is the best-known of them all. There is actually a whopping total of 11 cat islands across Japan, but Aoshima has become Japan's most popular cat-centric tourist destination.
There are over 100 cats roaming the streets, but the island is only inhabited by approximately 15 human residents, most of whom are retirees. According to Lifegate, however, the island once had a much larger human population. At the time of the cats' arrival to the island, there were at least 900 people living there, but the population has dwindled. Why does the island have such a small and aging population? There's no official word on why the population decreased so rapidly, but it probably correlates with the fact that the island doesn't have much other than its cuddly feline friends.
A day trip to Cat Island is a tourist's best bet seeing as it doesn't offer anything for entertainment besides the cats. The mile-long island has no hotels, no Airbnbs, and no restaurants — there's not even as much as a vending machine on the island. Our suggestion: Make sure you're well-rested and well-fed before making your way to the isolated island.
According to Hisgo, "if you would like to bring something to feed the cats you should purchase it before getting on the ferry."
How To Get There
The logistics of the journey to and from Cat Island could be contributing to its dwindling population and solitude. To make it to Aoshima is quite the task. According to Hisgo, the only way to get there is by taking a 30-minute ferry ride from Nagahama Port in Ozu, Japan. Tickets for the ferry are only sold the day of and room is limited so to catch a ride to this remote island you'll need to beat the excited crowd of cat-loving tourists and get to the dock early.
Planning your trip to Cat Island? Here are eight interesting things you didn't know about Japan and what to expect when dining at restaurants in Japan.