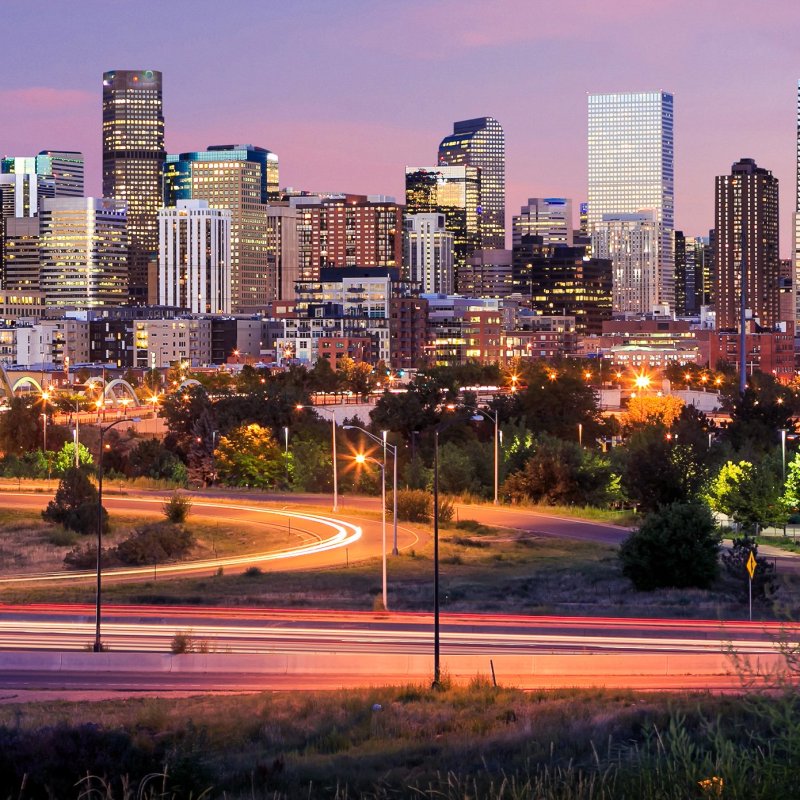 Denver, Colorado's cosmopolitan capital city, offers a mix of impressive dining, museums, and entertainment all within easy sightseeing distance of the spectacular natural highlights for which the state is known.
In fact, 200 named peaks are visible from the "Mile High City" according to Visit Denver, including 32 that soar to 13,000 feet. Getting out and exploring beyond the city lets you see this natural beauty up close, and also gives you an opportunity to experience the unique cultural highlights of the state. From the Gold Rush to brewing, music to mining, we have found an array of fascinating things you can explore during day trips from Denver, all within easy 30- to 90-minute drives.
1. This Is Red Rocks
Drive Time: 25 Minutes
Just 15 miles west of Denver is an otherworldly rockscape of red boulders and twisting trails that will have you asking if you've landed on Mars. Red Rocks Park and Amphitheatre is a double delight: a stunning hiking destination that traverses copper-tinted pinnacles, plus a world-class concert venue that hosts an array of outdoor shows from late spring through fall (anyone who listened to music in the 1980s probably remembers U2's seminal Live at Red Rocks album recorded here).
Watching the sunset glow behind the towering rocks as the music soars makes for a truly memorable night out. During the day, come for Yoga on the Rocks held on the rock ledge seating of the amphitheater. Hikes range from the easy one-mile Mount Vernon Creek Trail to the six-mile loop Red Rock Trail. Honestly, even walking from the parking lot to the theatre is photo worthy.
2. Find Your Mountain Bliss In Boulder
Drive Time: 30 Minutes
To escape the hustle and bustle of Denver, head 30 miles north to experience the laidback vibes of Boulder, named the Happiest Place in the United States by National Geographic and the Today show. The home of the University of Colorado is the perfect destination to soak up the fresh mountain air while you stroll along pedestrian Pearl Street Mall lined with boutique shops, coffee spots, and great eateries.
People-watching here is part of the fun, with plenty of seating and myriad street performers. More active travelers will enjoy hiking in the nearby Flatiron Mountains or paddling in the crystal waters of Boulder Creek. Or rent a bike to try out the scenic paths that circle the city.
3. All That Glistens Is Truly Golden
Drive Time: 30 Minutes
Beer seems to flow like water throughout Colorado, in part due to the history of the Coors Company, which tapped into the crystal waters of the Rockies almost 150 years ago to create their German-style brew. Head to their headquarters in Golden, just west of Denver, to take the Coors Brewery Tour, which wraps up in the Hospitality Lounge where you can sip a large range of complimentary beers that glisten as they come out of the tap at their source.
While you are in Golden, you can also get a close-up look at the Clear Creek Watershed from which Coors sources its water with adventure trips at Clear Creek Whitewater Kayaking Park, a fast splashing course of pools, drops, and eddies created specifically for kayaks and canoes. Or you can run the rapids on a tube excursion, a refreshing summer option.
4. Relive The Gold Rush In Idaho Springs
Drive Time: 35 Minutes
Step back in history in Idaho Springs, a town steeped in the Wild West lore of the quest for gold in Colorado. As you approach the town, you will spot the weathered crimson walls of the Argo Mill from I-70. The rambling building looks like its teetering off the side of a mountain, but it has actually been well secured in this spot for more than a century. It was used to process the gold ore found in the 19th century Argo Tunnel; the largest mill of its type in the world, it processed more than $100 million in gold ore during the heyday of the Gold Rush.
Today, you can tour the mine and even pan for gold yourself. Continue five minutes down the road into Idaho Springs where the Heritage Museum and more than a dozen well-preserved buildings from the Gold Rush era make it feel like you have wandered into a Western time warp.
5. Get A View From The Top In Colorado Springs
Drive Time: 60 Minutes
In a state that excels at supplying stunning scenery and striking mountain views, it's often a challenge to choose a favorite vista. But Colorado Springs soars above many other Denver day trips with some of the most unusual photo ops in the state. First, there are the views. The city is located on 14,000-foot-high Pikes Peak, and the vistas looking up toward the snow-capped peak and down into the valley are both equally memorable. Then there's the uniquely named Garden of the Gods and its gigantic 500-foot red sandstone formations. It's an exquisite spot for rock climbing, hiking, and nature explorations.
When it comes to captivating environments it's also hard to beat Cheyenne Mountain Zoo; located at 6,800 feet, it boast the highest elevation of any animal park in the country, and the views from Mountaineer Sky Ride, an open-air chairlift over the animal enclosures, will have you feeling like you're soaring in a hot air balloon over the savanna. When you're ready to take a break, the historic and elegant Broadmoor Resort sits just below the zoo and is an ideal spot for relaxing and watching the clouds roll by or grabbing a bite at one of the property's numerous restaurants and cafes.
6. Raise A Glass To The Outdoors In Fort Collins
Drive Time: 90 Minutes
This small city 60 miles north of Denver is home to Colorado State University and is big on superlatives. Fort Collins was named one of Thrillist's best American cities for creatives, one of Outside magazine's best getaways for bicyclists, and is a top spot for an affordable summer getaway. It's also one of the best beer cities in the U.S. according to Airfarewatchdog. Choose your path to fun here: You can visit one of more than 20 breweries, including New Belgium Brewing (the popular brewer of Fat Tire) and Funkwerks, which nestle up against the 1800s Old Town historic district.
Get active by bicycling or hiking the Foothills Trail that runs for nearly seven miles across the city, or rent a boat to paddle along the Cache la Poudre River. Can't decide which pursuit to focus on? Combine the two with a guided brewery bike tour. You can also enjoy the area's 300 days of sunshine by heading just west of the city to the Horsestooth Mountains and the area's gorgeous hiking trails, which include an easy 2.5-mile round trip to majestic Horseshoe Falls.
7. Go From The City Straight To The Slopes In Keystone
Drive Time: 90 Minutes
Keystone Resort, a short, scenic drive from Denver, sits among the Rocky Mountains within the White River National Forest and is a year-round mountain playground. In the winter, it's one of the closest ski resorts to Denver, and an easy drive of less than two hours takes you to 3,000 acres of skiable terrain. If you're not an experienced skier, or just want to freshen up your powder shredding skills, Keystone is known for its ski school and programs.
Not a skier? No problem. During the rest of the year, you can hike, mountain bike, golf, or just head up the chairlift to Alpenglow Stube restaurant, perched at over 11,000 feet, for stunning views and rich European cuisine including schnitzel and pork shank.
8. Gaze Down From The Top Of Rocky Mountain National Park
Drive Time: 90 Minutes
Massive Rocky Mountain National Park comprises 415 square miles of majestic mountains and wilderness, so you are not going to be able to see it in just one day, or even several consecutive ones. However, you can easily visit and experience some of the park's natural highlights by heading to Estes Park, known as the basecamp of the Rockies. Here you can stop for a bite to eat, pick up picnic supplies, or book guided Rockies adventure tours including fly fishing, horseback riding, and mountain biking at the myriad outfitters around town.
Rocky Mountain National Park is also easy to see on a driving adventure; start with Trail Ridge Road, the highest continuous highway in the world, which crosses the Continental Divide at more than two miles above sea level. This drive is especially memorable at sunrise. With hundreds of miles of hiking trails, tranquil lakes, waterfalls, and wildlife, including bugling elk, traversing the park is a truly unforgettable experience. New this year, visitors can experience Kent Mountain Adventure Center's Via Ferrata (Italian for Iron Path), where both experienced and novice climbers can scale a 600-foot cliff while safely secured to anchored steel cables. Those who make the climb will enjoy breathtaking views of Rocky Mountain National Park below during their ascent.
Want to dedicate more of your vacation time to Colorado's pristine wilderness? Commit to some of the best hikes in Rocky Mountain National Park.