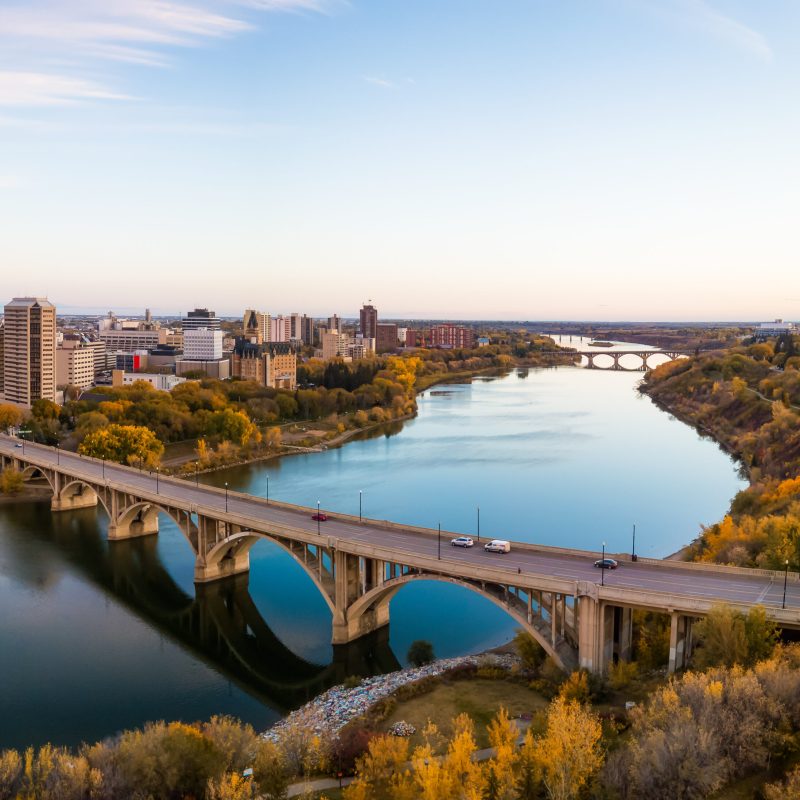 You'll find wide open spaces, an unobstructed horizon, uncrowded parks, vibrant cities, and cultural diversity in Saskatchewan. Discover Canada's sunniest province with these unique activities.
1. Visit The Royal Canadian Mounted Police
The "Mountie" in his red serge coat and wide-brimmed Stetson hat is an unofficial Canadian symbol. The RCMP Heritage Centre, located in Regina on the grounds of the RCMP training center, curates the stories of Canada's national police force. The mounted police played a significant role in the settlement of western and northern Canada. Galleries feature police and Canadian history. Interactive experiences allow you to learn about modern forensics and crime-solving technology as you help solve a case, drive a police cruiser simulator, and become part of the RCMP Musical Ride via 3D virtual reality.
Driving tours of the training center are available in summer months. Sign up for a tour time slot as soon as you arrive. You can spend any waiting time visiting the galleries.
The RCMP Sunset-Retreat Ceremony on Tuesday evenings in July features a marching band, a canon drill, the March Past, and dismounted cavalry drills. The ceremony is a designated Destination Canada Canadian Signature Event, an officially curated once-in-a-lifetime experience.
2. Soak In Therapeutic Mineral Waters
You'll find Canada's largest geothermal mineral water pool in Moose Jaw. Guests at the Temple Gardens Hotel and Spa receive complimentary access to its indoor and outdoor pools with 111 degree waters similar to that at the famous mineral pools in Bath, England. The pools are open to the general public for a fee.
Saskatchewan is also home to Canada's "Dead Sea." Little Manitou Lake near Watrous is known for buoyant water five times more concentrated with salt than the ocean. You can enjoy the water in the summer at any of three beaches, all with washroom facilities, or year-round indoors at the Manitou Springs Resort and Mineral Spa, where the water is heated to between 94 and 102 degrees.
Temple Gardens Hotel & Spa and Manitou Springs Resort and Mineral Spa both offer therapeutic spa treatments.
3. Explore First Nations Heritage
Saskatchewan is home to 70 First Nations. Experience the culture and heritage of the Northern Plains Indians at Wanuskewin Heritage Park, located just minutes outside Saskatoon. The park is home to Canada's longest-running archaeological dig, which continues to unearth 6,000-year-old stories. Galleries contain indigenous art while cultural programs available daily from mid-May to early-September and on Saturdays during the rest of the year include guided walks, archaeological dig tours, tipi raising, and dance performances.
Check the events calendar for special events such as campfire dinners, birdwatching, and moccasin- or dreamcatcher-making workshops. For a truly unique experience, consider a Tipi Sleepover. Note that the overnight stays are designed for groups and must be booked at least three weeks in advance.
4. Discover Métis History
Descendants of First Nations women and Scottish and French explorers and fur traders, the Métis developed their own unique culture. Their settlement at Batoche, established in 1872, was the site of a pivotal battle in the 1885 Northwest Resistance/Rebellion, an insurgency by Métis concerned about the future of their lands and First Nations demanding fulfillment of treaty promises. The Métis were defeated after a four-day battle at Batoche, but the Métis community here was not destroyed.
At the Batoche National Historic Site, you can explore the village by shuttle or on foot, hear costumed interpreters tell stories of the past, browse through a museum of Métis and First Nations artifacts, or ride a canoe on the South Saskatchewan River. The site is open seasonally between May and October.
5. Take A Scenic City Walk
Wascana Centre in central Regina is a landscaped park surrounding Wascana Lake. Trails around the lake take you past waterfowl ponds, public art, and major Regina attractions, including the Saskatchewan Legislative Building and its beautiful gardened grounds. Free 30-minute, fully-accessible tours of the 1912 Grand Beaux-Arts building are conducted daily except on Christmas Day, Boxing Day, New Year's Day, and Good Friday.
Riverbank walkways along the South Saskatchewan River are part of the Meewasin Trail in Saskatoon, which runs through and outside the city. River Landing is a newly developed downtown area of that trail. Attractions bordering the riverwalk include the Saskatoon Farmers' Market and the Remai Modern, a museum of modern and contemporary art. If you prefer to see Saskatoon from the river itself, The Prairie Lily offers sightseeing and dinner cruises from May to the middle of October.
6. Experience Agricultural Life
Agriculture played a pivotal role in the settlement of Saskatchewan and remains a key industry. Two Canadian Signature Experiences offer western Canadian ranch-life encounters. At La Reata, a working cattle-guest ranch on Lake Diefenbaker in southwestern Saskatchewan you can participate in seasonal ranch work and enjoy recreational lake activities. From May through September, Historic Reesor Ranch in the Cypress Hills offers a multi-day Cypress Hills Cowboy Adventure Package and a two-hour cattle drive experience.
To learn about Saskatchewan farm and rural life in a less immersive manner, visit the Western Development Museum in North Battleford. The museum features a heritage village, open May to September, plus indoor vintage machinery and history exhibits. The Western Development Museum has museums in three other Saskatchewan cities, each with a different focus. The museum in Saskatoon highlights Saskatoon's 1910 Boomtown and innovation. The Yorkton museum contains stories of immigration. Transportation is the theme of Moose Jaw's museum.
7. Marvel At Canada's Grasslands, Bison, And Dark Skies
Grasslands National Park in south-central Saskatchewan is a mixed-grass prairie ecosystem offering hiking, canoeing, birdwatching, and wildlife viewing. Wildlife spotted may include the once nearly extinct bison, reintroduced to the park in 2005. Take a self-guided scenic driving tour or participate in a guided experience. Grasslands National Park is designated as a Dark Sky Preserve and is known as the darkest dark sky preserve in Canada, meaning it's a great spot for stargazing.
8. Go Underground For History And Fun
Explore history via theatrical tours in tunnels running underground the city of Moose Jaw. According to the Tunnels of Moose Jaw — an award-winning, interactive attraction — the tunnels, whose purpose has been disputed for years, were originally utility passageways between buildings. The year-round attraction offers two tours.
In the Chicago Connection tour, 1929 bootleggers come to Moose Jaw to buy booze from the Capone organization. The Passage to Fortune tour tells the story of Chinese immigrants to Canada. Some of the immigrants may have lived and worked in the basement rooms to avoid persecution.
9. Eating In Saskatchewan
Berries And Perogies
Located just outside Saskatoon, the Berry Barn features homestyle cooking and Mennonite-inspired dishes, such as perogies with cream gravy and smoked farmer sausage. Saskatoon berries, local berries that look like blueberries and have a sweet, nutty flavor, play a prominent role on the menu. The gift shop contains a range of signature Saskatoon berry products.
First Nations Feasts
The Bannock House in Regina focuses on dishes made with bannock, a traditional flatbread. Dishes include Indian tacos, bannock pizzas, bannock burgers, and yeast fry bread.
The restaurant at Wanuskewin Heritage Park reflects a mix of traditional First Nations cuisine and contemporary style. Selections include bison, venison, wild rice burgers, pike tacos, venison chili, and bison stew, plus 3 Sisters Soup and rabbit pot pie.
Food From A Canadian Top Chef
Chef Dale MacKay of Ayden Kitchen and Bar in Saskatoon is a Top Chef Canada winner. Ayden Kitchen and Bar features homegrown and globally inspired comfort food paired with hand-crafted cocktails and wines. Among other things on the menu, you'll find pickerel, a local fish, and meat from Pine View Farms, a fourth-generation family farm that supplies all-natural meat.
Ayden Kitchen and Bar is one of four restaurants in the Grassroots Restaurant Group MacKay founded alongside mixologist Christopher Cho and chef Nathan Guggenheime. The other Grassroots restaurants are Little Grouse on the Prairie and Sticks and Stones in Saskatoon, and Avenue in Regina.
Trendy Food In An Old Neighborhood
The recently revitalized Riversdale area in Saskatoon is home to a number of restaurants and coffee shops. Of note are Primal, featuring Italian food and handmade pasta using Saskatchewan heritage grains; Hometown Diner, known for its all-day breakfasts and freshly-made donuts; the gluten-free, nut-free Leyda's Cafe; and The Hollows, which is dedicated to serving contemporary food made with the best locally-found ingredients.
Regina Deep Dish Pizza
Regina deep dish pizza starts with a round, thick crust spread with a sweet and spicy tomato sauce onto which meat and vegetables are layered (think sandwich-style), followed by a layer of cheese. Houston Pizza and Western Pizza are two places where you can find this thick and hefty pizza. Both restaurants have several locations in Regina as well as locations in other Saskatchewan cities.
Ice Cream Tradition
The candy cane-striped Milky Way ice cream shack on Victoria Avenue has been serving ice cream in Regina for over 60 summers. This is a popular spot. Expect to wait in line.
10. Shopping In Saskatchewan
In Saskatoon, you'll find unique local retailers, artisans, and niche shops in Riversdale and the trendy Broadway Avenue area. The SCC Fine Craft Boutique on Broadway offers handmade works of over 75 juried Saskatchewan Craft Council members. Stroll 2nd Avenue in the downtown area or visit one of the city's six malls for more shopping.
Downtown Regina offers a mix of retail shops and specialty boutiques. Head to the Cathedral Village area for boutiques selling everything from fine art to fashion. Find Saskatchewan fine craft pieces at Traditions Hand Craft Gallery. The Warehouse District, dubbed the soul of the city, is home to craft breweries, local food producers, fashion and decor shops, and entertainment venues.