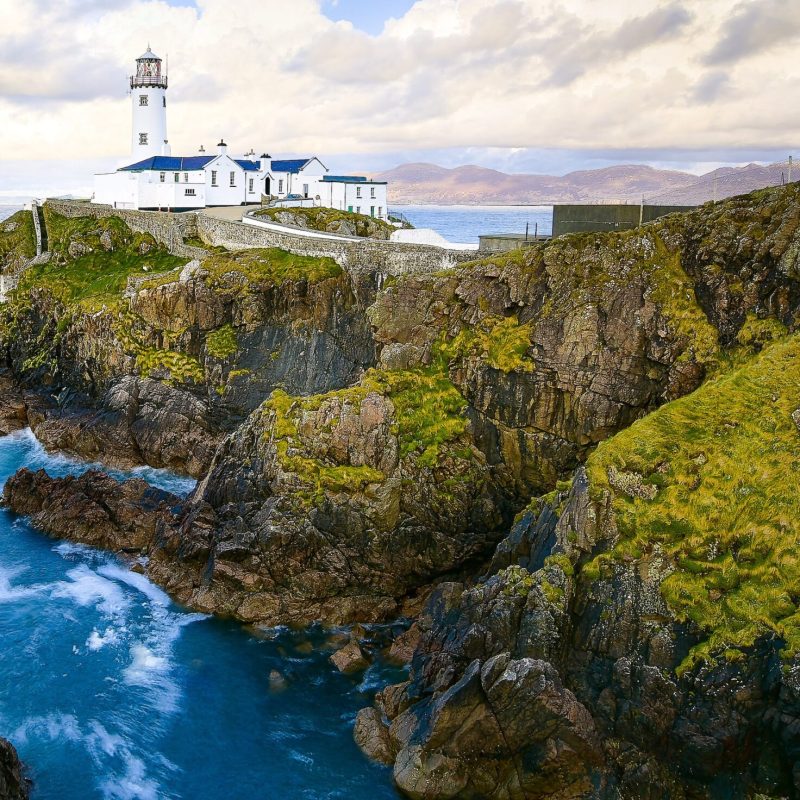 Lonely Planet named ancestry travel one of the hottest travel trends of 2019. For many North American travelers, this puts Ireland — already a hugely popular travel destination — even higher on their bucket lists. Suddenly perennial hot spots like Dublin, Galway, and Cork are finding themselves in second place as people search out their long-lost ancestral homes in Ireland's small towns.
With more and more travelers motivated to go off the beaten path, now is the time to discover Ireland's finest small towns and villages. Whether you're tracing your family roots or simply inspired by those who are, here are seven incredible destinations you won't want to miss. I've spent time in all of them, and I hope to return again and again.
1. Cape Clear Island
Ireland's southernmost inhabited island, Cape Clear Island, is the "real" Ireland that you've come for — if by "real" you mean misty days, crumbling castles, bogs and cliffs, old-fashioned bed and breakfasts, and 120 laid-back locals speaking a mix of English and Gaelic. Your Cape Clear bucket list should include the 12th-century church (in very rough shape), the 14th-century castle (also looking rather weary), and the megalithic standing stones (holding up rather well, all things considered).
At Cléire Goats farm, you can pick up ice cream made with goat's milk and see the animals being cared for — but unfortunately, no goat yoga is happening here yet! Bird-watching is hugely popular here, and the truly dedicated stay at the Cape Clear Bird Observatory. There are just two craft stores on the island, but they're among my favorites in all of Ireland. I still cherish my purchases — a purple cotton stuffed rabbit, a string of pretty beads that serve as suncatchers, and a coaster stuffed with cloves so that a gentle scent is released when a hot mug rests upon it. All cozy and filled with love, just like Cape Clear.
2. Schull
One of the ferry access points for visiting Cape Clear Island, Schull is well worth a visit on its own. It's home to the highly regarded Schull Planetarium, which offers a series of star shows during the summer (Mondays at 5 p.m., Wednesdays at 8 p.m., and Fridays at 5 p.m.). Fans of water sports will love the beautiful harbor and the great sailing and kayaking opportunities. The town center has a good selection of cute shops, and there's a farmers market every Sunday. It's a low-key, relaxing spot that's friendly and welcoming.
3. Killarney And The Gap Of Dunloe
Pretty Killarney is the gateway town to the Gap of Dunloe, a narrow mountain pass running from the north to the south in County Kerry next to Killarney National Park. Killarney holds a special place in my heart, but not for the usual reasons. It was the first — and the last — place I rode a horse! Horseback riding is a popular add-on to tour packages for the Gap of Dunloe, and it seemed like a natural addition to my summer adventure. One incredibly obstinate horse and horribly rainy day later, I came to the conclusion that horseback riding was not my thing — and that my travel-worn sneakers, now saturated with water and caked with mud, were due for a replacement. However, everyone else seemed to have a good time, and I bet you will, too. The area really is a stunning place.
Thankfully, these misadventures occurred on day two of my visit to Killarney. On my first day in town, I went for an early-morning jog and took in the town's most popular sights, including the famous Saint Mary's Cathedral and public parks. The town is easily explored on foot and has great pubs, cafés, and shops to check out.
4. Aran Islands
On a clear day, you can see the Aran Islands, a group of three islands off the western coast of Ireland, from the coast. But the best way to see them is to visit them in person! Inishmore, Inishmaan, and Inisheer all have amenities for visitors, including welcoming bed and breakfast accommodations, bird-watching, fishing, and much more.
Inishmore, also written as Inis Mór, is the largest and most visited of the islands. It's popular with history and archeology buffs for its 50-plus monuments, including Christian, pre-Christian, and Celtic sites. The island is generally flat and is a great place for cycling — a bike-rental shop operates on the island and offers lots of suggestions for visitors.
Inishmaan, also written as Inis Meáin, is the least visited of the three Aran Islands. But the quiet didn't deter the legendary Irish playwright John Millington Synge. Synge was a key part of Ireland's Gaelic Revival, and his landmark play, The Playboy of the Western World, was inspired by his time here. Even today, you can find cultural classes in dance and poetry on Inishmaan. The island is also renowned for its natural beauty, including soaring cliffs and waves that reach more than 150 feet.
Inisheer, also written as Inis Oírr, is the smallest of the Aran Islands and the island most visible from the Cliffs of Moher. The beaches are gorgeous and provide the perfect vantage point for watching the fishermen and women bring in their catches. The island's traditional music scene is considered one of the best in Ireland. While I didn't make it to Inisheer, I did visit the Tigh Joe Mac pub on nearby Inishmore, and it was amazing. If any place can coax an introvert like myself out at night, it's the Aran Islands.
5. Sligo
In literary and artistic circles, just the mention of Sligo is enough to cause goosebumps. This is the hometown of two of Ireland's most beloved sons, poet W. B. Yeats and painter Jack Butler Yeats. W. B. Yeats, winner of the 1923 Nobel Prize in Literature, is prominently commemorated here; there's a statue of him on Stephen Street. The nearby Yeats Building is home to the Sligo Yeats Society, and Yeats's grave, a popular tourist attraction, is located at Saint Columba's Church.
For travelers seeking a bit more adventure, Sligo is a popular place for surfing excursions, coastal kayaking, and horseback riding. The town has a diverse food and shopping scene and plenty of amenities for travelers returning from time in the countryside. (Case in point: On my first visit to Sligo, I spent a rainy day in the movie theater watching Charlie's Angels. Not exactly Yeats-esque, but I loved it!) Note that "Sligo" refers both to Sligo Town and County Sligo. Double-check to make sure your accommodations are where you want them to be!
6. Donegal
A prominent town in the northern part of the Republic of Ireland, Donegal has slowly but steadily been building up a reputation as a fun, quirky, homey destination. In 2017, it was even featured on National Geographic's "The Cool List." It's a fantastic destination for hiking, bird-watching, and cycling, as well as surfing, fishing, and rock climbing. But during my time there, I did none of those things! Instead, I embraced Donegal's cozy pub scene, listening to great live music most days of the week.
Donegal also has good shopping. The Donegal Craft Village offers a fantastic selection of items, and it was there that I finally replaced the woebegone sneakers that were ruined in Killarney. Note that you'll see two prices on the sales stickers in Donegal. They look like an original price and a discounted price, but they're actually the same price, listed first in euros and then in British pounds, to accommodate travelers from nearby Northern Ireland. Don't make my mistake and presume the lower price is some kind of discount!
Shopping adventures aside, Donegal is also rich in history. Donegal Castle, which was the home of the ruling O'Donnell family until the Flight of the Earls in 1607, is one of the most popular attractions. Like Sligo, "Donegal" refers to both the town and the county.
7. Greencastle
Remote and situated just about as far north as you can get in the Republic of Ireland, Greencastle isn't exactly overrun with visitors. But it might just be the perfect place to rent a cottage for a week and soak up village life. It's home to the seaside Greencastle Golf Club, the Inishowen Maritime Museum & Planetarium, and a passenger-and-car ferry connecting the Republic of Ireland to Northern Ireland. It's also a good base from which to explore nearby Malin Head, about 40 minutes away, where scenes from Star Wars: The Last Jedi were filmed. If you're looking to relax and escape in rural Ireland, this is as good as it gets.
Planning a trip to Ireland and some day trips from Dublin? Here are some tips for renting a car.