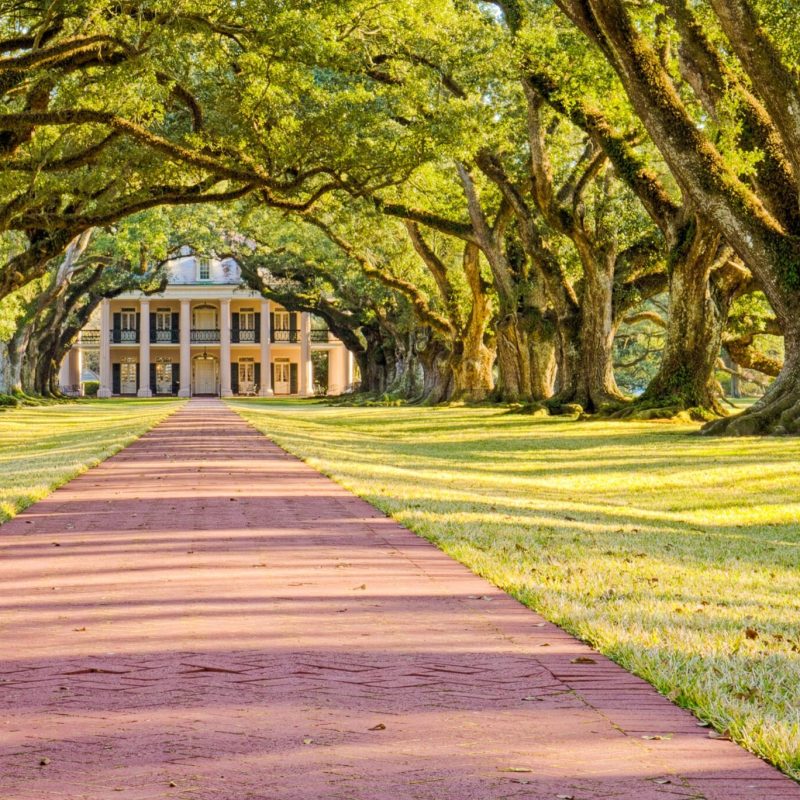 We love New Orleans, plain and simple. The Big Easy is one of a handful of great American cities that make you feel like you've been transported to another country, and sometimes even back in time! With its fabulous food, European architecture, toe-tapping tunes, lively parades, cultural institutions, and delicious cocktails, the city is absolutely worth a visit — or several. What's more, there's no shortage of terrific day trips to add on to your Louisiana vacation. Here are just a few of our favorites.
Baton Rouge, Louisiana
Louisiana's state capital, just over an hour's drive from the Big Easy, is also home to Louisiana State University. The state's flagship sprawling campus is absolutely worth a long stroll; you'll pass through beautiful and massive live oak trees near the inner quad area. You might even catch a glimpse of Mike the Tiger, the university's famous live mascot who lives near the football stadium.
After your walk, drop by the nearby legendary Chimes restaurant for Gulf oysters and the best cheese fries ever. Consider visits to both the Old State Capitol, which resembles a European castle, and the newer structure used by lawmakers today, a tall art deco building with an observation deck on top. History buffs should be sure to stroll along the Mississippi River and stop by the USS Kidd, a retired World War II destroyer that's been converted into a museum.
Saint Francisville, Louisiana
This small town just past Baton Rouge is located in the West Feliciana Parish, known for its gorgeous scenery and grand former plantation homes: The Myrtles Plantation and Greenwood Plantation are in town, and Rosedown Plantation, a National Historic Landmark, is nearby. All are open to tourists, but check in before you go, since many host private events.
Saint Francisville feels very different from much of southern Louisiana, having been settled in the early 1800s by the British instead of the French. Grace Episcopal Church is one of the town's best-loved landmarks. The town was also a haven for Jewish settlers, who arrived in the 1850s and established businesses, schools, and a cemetery before leaving for bigger cities at the turn of the 20th century.
The downtown area is a delight, filled with cafés, galleries, and historic bed and breakfasts; nearby Tunica Hills offers hiking, biking, and birding opportunities for outdoor enthusiasts.
Avery Island, Louisiana
If you like it hot, you won't want to skip a day trip to Avery Island, about a 2-hour drive west of New Orleans. This is the place where the world-famous TABASCO hot sauce has been produced since 1868. Avery Island is actually a salt dome from an ancient seabed, and it's where Edmund McIlhenny first created his fiery red pepper sauce. McIlhenny was an avid gardener, and he planted seeds from hot peppers from Mexico. Workers using little red sticks would measure the ripeness of the peppers before harvesting them; the sticks are still used today.
Now you can tour the Tabasco factory and see where the peppers are barrel-aged and bottled. The company also offers cooking classes and a culinary tour. Don't forget to take time to stroll the adjacent gardens, where you can admire the beautiful bayou landscape. Admission to the factory and gardens costs $12.50.
Ponchatoula, Louisiana
This sleepy town about an hour's drive from New Orleans is known for its annual spring Strawberry Festival, when thousands of people pack the town in search of all things strawberry, from shortcake to margaritas. Even if you don't catch the festival, make sure to snag some strawberry jam to take home. The quaint downtown area is home to tons of antique shops, and the Ponchatoula Country Market, located in the town's train depot downtown, is full of handicrafts, including candles, quilts, and wood carvings. Ponchatoula is also a great spot to hop on the Louisiana Northshore Quilt Trail, a driving route that includes more than 135 individual quilt blocks painted or displayed on buildings and barns across a five-parish swath of the state.
Great River Road Trip
To get a feel for Creole culture and how it shaped southern Louisiana, hop on the famed River Road for a day-long road trip. The best route from New Orleans is straight up the Mississippi toward Baton Rouge. You'll wind through sugarcane fields dotted with majestic oaks, grand estates, and historic cemeteries and churches. Consider stops at Destrehan Plantation, constructed in the 1780s, and Oak Alley Plantation, with its impressive tree-lined drives. Plan to nosh in Gonzales, Louisiana, the jambalaya capital of the world. Pot & Paddle Jambalaya Kitchen serves up enormous portions! A drive up the River Road to Baton Rouge from New Orleans and back takes about 4 hours, not counting stops. This is a terrific way to spend a day.
Covington/Abita Springs, Louisiana
Craft beer aficionados will want to make the hour-long trip north to Covington, home of the Abita Brewing Company. The brewery offers tours and tastings daily for $8 per person, and it even offers all-inclusive tours from New Orleans if you don't want to make the drive across the Causeway. If you're traveling with little ones, opt for the Craft Soda Tour and sample all of the fun flavors for just $2.50 per person.
When you finish up at the taproom, consider a 3-mile trek to the town of Abita Springs via the Tammany Trace, one of Louisiana's best hike-and-bike trails. There you'll find the Abita Springs Trailhead Museum, which was once a hotel and now features exhibits and artifacts related to the Northshore. Abita Springs is also home to cafés, galleries, and boutiques; make sure you leave time to browse before heading back to New Orleans.
Gulfport, Mississippi
If you're ready to hit the beach after your time on Bourbon Street, head west just 90 minutes to the resort city of Gulfport, Mississippi. The state's second-largest city boasts miles of coastline and clean, soft sand. Our favorite is Gulfport Central Beach — it's free and open to the public. Get there early, secure your spot, and spend the day reading, sunning, and splashing in the surf.
If you're feeling especially adventurous, grab the ferry to Ship Island, part of the Gulf Islands National Seashore located just off the coast. Dolphins routinely follow the ferries as they cruise toward the uninhabited island, known for its pristine beaches and snorkeling. Explore the fishing piers, watch as anglers reel in their catches, and make sure you grab a Gulf Coast seafood feast of your own before heading back to the Big Easy. White Cap and Half Shell Oyster House are our favorites!
Atchafalaya Swamp, Louisiana
To the west of New Orleans sits the nation's largest river swamp. The Atchafalaya Swamp is absolutely worth a day trip for both its natural beauty and biodiversity. Inside the swamp, you'll see magnificent cypress stands and saw palmettos as well as alligators, turtles, birds, and other wildlife. A great way to take in the views — and reach spots inaccessible by foot — is to travel by airboat. There are many tour operators who will pick you up from your hotel in New Orleans, or you can opt to drive west to meet your crew.
If you decide to drive yourself, check out Basin Landing in Henderson, Louisiana. Airboat tours start at $49 per person, are ecologically friendly, and are led by guides who have lived in the bayou and the surrounding areas their entire lives. Don't forget a decent camera, plus lots of water, sunscreen, and bug spray!
Lafayette, Louisiana
About 2 hours west of New Orleans is the true heart of Cajun country: Lafayette, Louisiana. To learn more about those who settled this land, head to Vermilionville. This historic village and folklife park is designed to teach people about the culture of the Native Americans, Acadians, Creoles, and people of African descent who lived around the bayou through the end of the 1800s. Vermilionville takes a living-history approach, featuring live music and folk art presentations along with restored buildings from the era. It's open six days a week, and admission costs $10.
Stop by the Acadian Cultural Center to learn more about the Canadians who were forced from their homes and eventually became Louisiana's beloved Cajuns. Admission is free, and the center is open every day but Monday.
Don't forget to visit the Alexandre Mouton House — built in 1800, it once belonged to the first democratically elected governor of the state. It's now a history museum with a variety of artifacts. The museum is open Tuesday through Saturday, and adult admission costs $5.
Art lovers should make a pilgrimage to the George Rodrigue Studio to take in the late Cajun artist's portraits and pop art. Don't leave before grabbing a bite at The Saint Street Inn, a farm-to-table restaurant and tavern.
Headed to New Orleans? Check out these eight little-known attractions in the city. And if you want to hear some great jazz music while you're there, be sure to stop by some of these venues.