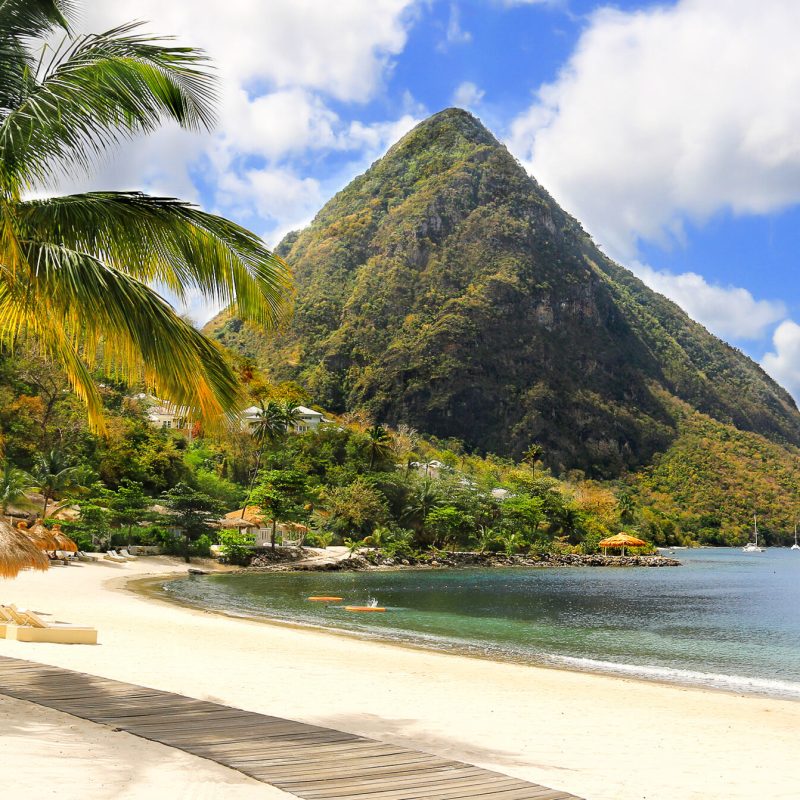 There is the Caribbean, and then there is Saint Lucia. A volcanic island that rises majestically out of the sea like a film scene from Jurassic Park, Saint Lucia is one of the most breathtakingly beautiful places, not only in the Caribbean, but in the world. Its spectacular natural beauty — including volcanic black beaches, turquoise water, and jade-hued peaks — can make travelers believe they are in the exotic waters of the South Pacific or Southeast Asia. But the music, food, smiles, and laughter remind travelers that they are close to home.
Known for its diving, wildlife, hot springs, and sublime Piton mountains, Saint Lucia offers much to see and do. If you're planning a Caribbean cruise and want to make the most of a short stopover on the island, consider these delightful shore excursions.
Discover Saint Lucia's Heart
When you arrive at the cruise port, grab a taxi and head to the seaside town of Soufrière for a day of exploration. Soufrière sits in the shadow of Saint Lucia's most iconic landmarks, the jade-colored Pitons. The town, with its bustling, small harbor and colorful colonial buildings surrounded by raw jungle, is the heart and soul of Saint Lucia. It is also the base from which travelers can explore much of Saint Lucia's natural beauty.
One of the most popular things to do there is to visit Sulphur Springs, which claims to be "the world's only drive-in volcano." You'll encounter an otherworldly lunar landscape with movie-set-like pools of bubbling mud and warm sulphuric rivers. Don't be afraid to get muddy — the mud baths at Sulphur Springs detoxify the body and help heal sunburns, eczema, arthritis, sore joints, and more. Afterward, stop at Toraille Waterfall for a refreshing dip. The waterfall gushes 50 feet over the side of a cliff, falling into a gorgeous pool below.
Taxis on Saint Lucia are not metered but have fixed rates for certain zones. You can hire a driver at the cruise port to take you on a private trip, or you can book a group tour with a tour operator. A taxi from Castries to Soufrière will cost approximately $90.
See Saint Lucia's Iconic Piton Peaks
One of the most captivating sights you'll ever see are the twin Piton peaks on Saint Lucia. The towering emerald icons rise majestically out of the sapphire sea and are the most recognizable points on the island. You can't really say you've seen Saint Lucia until you've seen them. Unfortunately, the cruise port is in the northwest corner of Saint Lucia, and the Pitons sit on the southwest coast in Soufrière. It's possible to drive there, but if you're looking for an experience to remember, you should see the Pitons by boat.
It's very easy to rent a boat to take you from Castries down to Soufrière. This will allow you to see the spectacularly green west coast of Saint Lucia and get a picture-perfect snapshot of the Pitons.
"Our Best of Saint Lucia shore excursion takes you one-way by catamaran [from Castries] so you get to see the coastline. It's a beautiful way to approach the Pitons," said Julie Karp, founder of ShoreTrips, a shore excursion company offering itineraries and guides throughout the Caribbean. The Best of Saint Lucia itinerary includes a stop in Soufrière, where guests will enjoy a fabulous Creole lunch, a trip to the botanical garden, and a peek at the sulphur springs. It wraps up with a drive back to the port.
"You get the best of both worlds," said Karp. "You get to see Saint Lucia from the water and then the scenery from a vehicle. You will feel like you know Saint Lucia."
The itinerary is a 7-hour tour and starts at $112 per person.
Head Underwater
Divers, take note: Saint Lucia is a veritable underwater playground. Whether you're a novice or an experienced diver, you'll find something beneath the water's surface that's wow-worthy.
Most of the diving in Saint Lucia takes place near Soufrière and the Pitons in the Soufrière-Scott's Head Marine Reserve. You'll find colorful coral, rainbow-colored underwater formations, sheer walls, and shipwrecks. There are dive sites closer to Castries as well, but they have stronger currents and are better left to more experienced divers. In the rougher waters, however, you might spot larger creatures, like stingrays.
Scuba Saint Lucia offers the best diving shore excursions on the island. The five-star Professional Association of Diving Instructors (PADI) operation is based in Soufrière on the property of the luxurious resorts Jade Mountain and Anse Chastanet. Scuba Saint Lucia offers both beach and boat dives and a range of guided activities to satisfy everyone, from beginners to the more experienced.
To arrange for transportation from Castries, contact Scuba Saint Lucia. Rates include mask, snorkel, fins, weights, and tanks. Shore dives start at $39 per person, and boat dives start at $45 per person.
Take A Walk On The Wild Side
If you're looking for natural beauty in northern Saint Lucia, head to Pigeon Island. Now a national park, this former island was joined to mainland Saint Lucia via a sandy stretch in the 1970s. It's one of the top sights on the island.
A strategic point throughout Saint Lucia's history, it was first used as a French base for raiding Spanish ships, and then it became a British lookout point for monitoring the French fleet on Martinique. Today, it's veined with walking trails, popping with wildlife, and home to beaches perfect for swimming or eating picnic lunches.
Pigeon Island is easily accessible from Castries. A bus to the area departs from Castries's central farmers market, but there are also local tours or day trips that can be arranged through tour operators. You can easily take a taxi to the area, since every driver on the island knows Pigeon Island.
Tour The Island On Two Wheels
Saint Lucia is the perfect place for travelers on multigenerational trips to get active together. Seeing Saint Lucia on two wheels with the family is a great way to connect with nature and experience the island in an immersive way.
ShoreTrips offers a special Rainforest Cycling Adventure specifically for cruise passengers. Travelers are picked up at the port and taken deep into the rainforest for a guided bike ride and a visit to the beautiful Errand Falls, a great place to take a dip after biking through the humid jungle.
ShoreTrips bike excursions are for people 12 years of age and older. Excursions cost $65 per person and include transfers, bikes, helmets, and more.
Zip Through The Jungle
Need a little adrenaline rush? There's no better way to get a dose of adventure than by zipping through the rainforest canopy on a zip line. By far one of the most popular shore excursions, this family-friendly activity isn't for the faint of heart.
Shore Excursioneer, another Caribbean tour operator, offers a zip-lining adventure to passengers docking in Castries. On the Rainforest Adventure Canopy Zip-Line excursion, cruise passengers will experience 16 platforms and eight different lines under the guidance of expert staff. Drink in the rainforest views from a lofty perspective!
The zip-line excursion includes transportation to and from the port, safety equipment, gorgeous views, and more. Rates begin at $70.99 per person.
Swim, Splash, And Relax
If you want to get a dose of Caribbean marine life without committing to a full diving trip, consider renting a speedboat and zipping around to some of the island's more secluded beaches and top snorkeling spots. The waters around Saint Lucia are teeming with marine life, and the views of the jungles, beaches, and peaks from the water are awe-inspiring.
ShoreTrips offers a Speedboat Splash and Snorkel shore excursion that takes travelers on a coastal adventure to top snorkeling sites. It also allows time for a relaxing beach break. Participants will zip through quaint villages, stopping to see the famous Tunnel of Love that was featured in the movie Pirates of the Caribbean. They will also discover tropical fish, coral reefs, and maybe even a seahorse or octopus. The tour ends with a trip through Marigot Bay, one of the largest and most important bays in Saint Lucia. The excursion costs $102 per person.
Just Relax
Don't forget that you are, after all, in the Caribbean. So if you want to take a day to relax on the beach, that is certainly a shore excursion worthy of your time. Many resorts in Saint Lucia offer cruisers day passes so that they can have the quintessential resort experience onshore.
A variety of day passes are available for multiple budgets and tastes. Prices range from $65 to $110. Some of the resorts that offer day passes include Ti Kaye Resort & Spa, Marigot Beach Club & Dive Resort, and Bay Gardens Resorts.