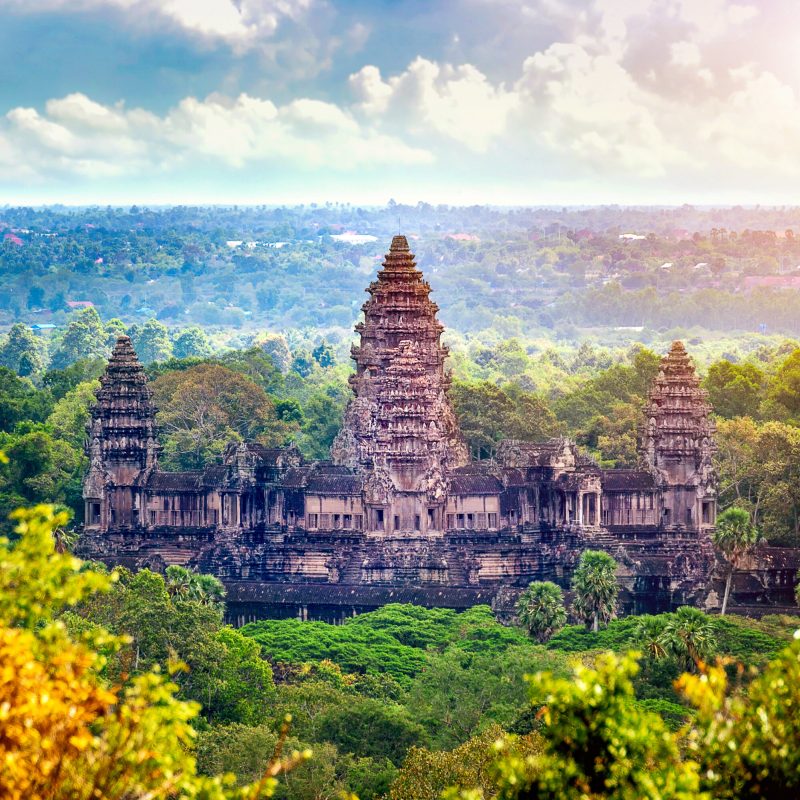 Cambodia captured my heart during my first visit to Angkor Wat in 2002. This was before Siem Reap became a huge tourist attraction with helicopter rides over the temples. It was Christmas and we were watching a dance performance — French ballet and traditional Khmer — at night with Angkor Wat as the backdrop. The crowd was a mix of locals and travelers. It was one of the most magical trips that we have ever taken.
We went again last year to Phnom Penh and Kampong Thom to experience the Sambor Prei Kuk, the temple in the forest. There is so much to do in Cambodia that we are already planning to go again. Here are our favorite 10 fascinating things to do in Cambodia based on our experiences so far.
1. Explore Angkor Wat
If Angkor Wat is not on your bucket list, it should be. The center of the Khmer Empire from the 9th to the 13th centuries, the ruins are a wonder of the ancient world. More than a million people lived in what is now a UNESCO World Heritage site. There are dozens of temples to see. You won't want to miss the iconic Angkor Wat, Bayon, Ta Phrom, Angkor Thom, Elephant Terrace, or Banteay Sri.
It's best to budget at least three days if you want to see more than just the highlights, and I recommend hiring a guide. Sunrise and sunset tours are very crowded, but worth the view. Dress appropriately for a temple and bring water, sunscreen, and insect repellent. You can get one-day, three-day, and seven-day passes for $37, $62, and $72 respectively.
2. Take In The Serenity Of Sambor Prei Kuk
Cambodia's newest UNESCO World Heritage site, Sambor Prei Kuk predates Angkor Wat. Its name means "temple in the richness of the forest." And it is in the middle of the jungle. Channel your inner Indiana Jones as you explore what feels like a lost world. Sambor Prei Kuk was built in the late sixth century and is devoted to the Hindu god Shiva. Most of the temples are still being excavated. Go soon, before it is overrun by the masses.
Sambor Prei Kuk is located halfway between Siem Reap and Phnom Penh. The entrance fee is $10 per person and a guide costs under $10.
3. Float Down The Mekong And Tonle Sap Rivers
The Mekong and Tonle Sap Rivers are the lifelines of Cambodia and Southeast Asia. You have to experience at least one of these rivers while you are in the country. You can do that as a side trip from Siem Reap, in Phnom Penh, or from many other places in the country. From Siem Reap, you can easily do a day tour of the Tonle Sap Lake and the floating villages. In Phnom Penh, you can do a day or sunset cruise from Sisowath Quay.
4. Admire The Royal Palace And Silver Pagoda
The Royal Palace has been the residence of the Cambodian royal family since the 1860s. The temples and structures are ornate and the grounds beautiful. In the courtyard, there are exquisite murals that tell the Reamaker story (compare them to the bas reliefs at Angkor Wat that tell the Ramayana stories). You won't want to miss the Silver Pagoda with floors made of silver or the Golden Buddha with more than 2,000 diamonds, either.
Admission is $10 for each attraction or $20 to see both.
5. Bear Witness To The Tuol Sleng Genocide Museum And Choeung Ek Killing Fields
In order to understand the recent history of Cambodia, you need to visit Tuol Sleng and the Killing Fields. The Khmer Rouge brutally ruled Cambodia in the late 1970s, killing 25 percent of Cambodia's population. The country is still feeling the impact of losing an entire generation of artists, intellectuals, teachers, and activists. It's important to pay tribute to that history as you get to know the new Cambodia. It will take at least half a day to do both. Expect to be emotionally spent by the end of it.
The Tuol Sleng Genocide Museum, housed in the former high school that the Khmer Rouge renamed S-21 and turned into "a torture, interrogation and execution center," costs $8 to enter. Choeung Ek costs $3 to enter and is a 30-minute tuk-tuk ride from Phnom Penh. Both entrance fees include an audio tour that imparts essential information about these sites' histories. It's best to hire a tuk-tuk for the day to see both sites.
6. Appreciate Khmer Street Art
Phnom Penh's emerging street art scene is fascinating in its integration of Khmer themes and symbols on the walls of the city. It's a form of street art unique to Cambodia, and the best place to see it is in the Boeung Kak Lake District on Street 93. You will need to take a tuk-tuk to either Al-Serkal Mosque (1 St. 86) or Number 10 Lakeside Guesthouse on Street 93.
7. Go In Search Of Rare Irrawaddy Dolphins
The Irrawaddy dolphin is an endangered species that lives in the Mekong in Northern Cambodia. Many people stay in Kratie and make the short six-mile trip to Kampi village — a known dolphin-sighting spot. Along the way, you'll get a good glimpse of village life in Cambodia. It's easiest to spot the dolphins in the dry season.
You can get to Kampi by bike, motorbike, or tuk-tuk. From there, you'll hire a boat to go out to see the dolphins.
Longing for a dolphin encounter? Here's where to see dolphins in the wild, from Hawaii and the Bahamas to Southern Africa and the Amazon.
8. Visit Cambodian Beaches
Cambodia is an emerging beach destination. Sihanoukville is one of the most popular beach and island-hopping spots. You can try one of the local beaches like Victory, Sokha, Serendipity, or Ochhheuteal. Alternatively, visit nearby Koh Pos (Snake Island), Koh Thmei, or Koh Rong. All have beautiful beaches on the Gulf of Thailand.
9. Eating In Cambodia
For most Westerners, Cambodian cuisine is an endless exploration of new tastes and experiences. Fermented fish paste (called prahok) is used in many dishes and gives Cambodian food a strong and salty flavor. Don't miss fish amok, one of the national dishes.
Note that Cambodian curry is milder and more subtle than the curries found in neighboring Thailand. Fish from the Mekong or Tonle Sap is served a great deal — grilled, in curry, and in other preparations. Up for street food? Steamed pork buns and deep-fried bananas with black sesame seeds are among the many delights you can enjoy from carts and stalls around town.
10. Shopping In Cambodia
You won't be disappointed by the shopping in Cambodia. The night markets in Angkor Wat and Phnom Penh are both excellent places for shopping. In Phnom Penh, the Central Market and the Russian Market are also worth visits. Many of these markets have clothing, electronics, and other merchandise as well as souvenirs. Bargaining is expected, but keep in mind that Cambodia is a poor country. Your dollars or riel can go a long way not only in terms of what you can purchase but how you can stimulate the local economy.
Cambodia is a country to savor. History, culture, beaches and islands, parks and nature, shopping, friendly people, great food — anything you want to experience, you can find in this country. Interested in all things Southeast Asia? Here's why you should see Burma by small ship cruise.