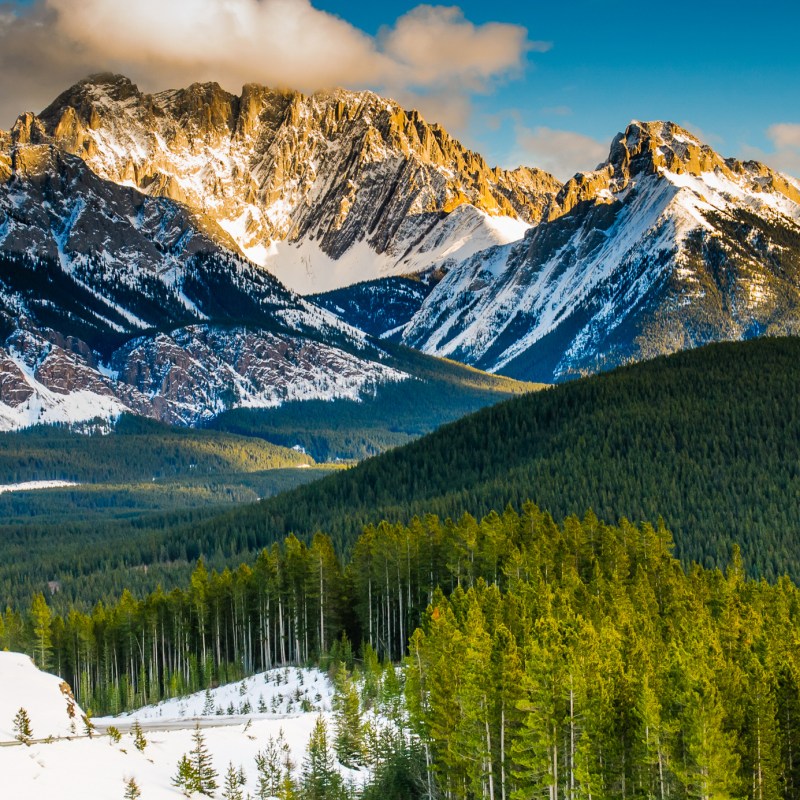 It's no secret that the pristine Rocky Mountains have a certain allure.
They've inspired musical masterpieces like John Denver's "Rocky Mountain High" and classic paintings like Charles Partridge Adams's many homages to the iconic mountains.
Of course, Rocky Mountain National Park in Colorado is one of the best places in the country to experience all that the Rockies have to offer. This vast park spans 415 square miles, is home to several different biomes, including tundra, and has trails for hikers of all experience levels. Rocky Mountain National Park is also teeming with animals, so there is a good chance that you might encounter some wildlife on your venture into the wilderness.
This park certainly offers something for everyone, but to make it simple, we've broken down some of the most breathtaking trails in the park into beginner, intermediate, and expert classifications. Remember, the mountains are no place to play fast and loose with your safety! For a Rocky Mountain vacation that's memorable in all the right ways, choose the best hikes for everyone hitting the trail.
Beginner Trails
Lake Isabelle Trail's Summer Route
Lake Isabelle Trail's Summer Route begins at the Long Lake Trailhead and offers fascinating views of the lake and several glaciers that dot the region. Hike this trail between June and October to experience it at its best. There is a Lake Isabelle Winter Route also, but it is not advised for beginners. Don't worry. If you go during the summer, the proper Summer Route is marked and easy to find!
The trail is roughly four miles long and is chock-full of fascinating natural features like waterfalls and the aforementioned glaciers. You can also bring your dog with you, provided that you keep the pup on a leash at all times. There is a strong possibility that you'll see some moose on this trek.
Long Lake Trail
Long Lake Trail is easily doable in half a day and gives you a fantastic snapshot of what the Rocky Mountains have to offer. Clocking in at just a little over two miles, Long Lake Trail is most popular in the spring and summer months, but you could always go at the beginning of fall to see the gorgeous foliage.
You'll enter the trail at the Brainard Lake Recreation Area, where you'll pay $11 for parking before embarking on the comparably easy, low-elevation trail. You do not need to be in fighting shape to take this trail on, as it's more of a leisurely nature walk than a hardcore trek. As an added bonus, your (leashed) dog is welcome! Don't forget to bring cash for parking.
Dream Lake Trail
Dream Lake Trail is easily accessible from Estes Park and really is a dream if you want an easy hike full of fabulous scenery and wildlife. It's just a hair more than two miles long, making this a great option for those who are short on time. Trust us, you'll probably see more on this trail than you would on a longer one in a different part of the park. Depending on the time of year, Dream Lake Trail will be packed with tons of bright wildflowers, local wildlife, and incredible water features.
The only problem is that the secret is out about Dream Lake Trail, and you will usually find it teeming with hikers. Summer is the busiest time for the trail, so if you're craving solitude, consider going during the winter months. It's open and accessible year-round.
Intermediate
Mitchell Lake Trail
Craving a bit more of a challenge? Why not take Mitchell Lake Trail to Blue Lake and Little Blue Lake? This trail is roughly six miles long and definitely requires some serious hiking. You can also visit it during the winter months and try your hand at snowshoeing.
Your pup is welcome as long as they are on a leash, and your best bet is to visit this trail between May and October. The twin lakes are astounding and truly indicative of what this region has to offer, but the hike can be grueling. Prepare to spend at least half the day on the Mitchell Lake Trail, and bring plenty of water and some snacks. Also, pay attention to the trail markings so you don't veer off course. Although it's fairly heavily trafficked, Mitchell Lake Trail can be wild!
Emerald Lake Trail
The Emerald Lake Trail is an intermediate trail that will get sky-high. If you take on this trail, you're in for a big climb, so those with knee issues and respiratory problems might want to skip this one.
If you decide to take the Emerald Lake Trail on, prepare yourself for nearly four miles of hiking that can go from easy to challenging in a matter of minutes. Still, this trail offers some of the best scenery in Rocky Mountain National Park, like alpine lakes, great craggy peaks, and clear mountain streams.
Emerald Lake itself is perched at 10,110 feet, and the sheer beauty of the lake will make the journey up worth it. Explore Emerald Lake between April and November.
The Loch Trail
If views are what you're after, the nearly six-mile Loch Trail is exactly what you're looking for. This trail requires a certain amount of stamina and hiking aptitude. It's an exceedingly popular trail, so you will probably encounter others on your journey to Loch Lake, a fantastic alpine water feature that needs to be seen to be believed.
The trail itself takes about five hours on foot if you are going at a moderate pace. Alternately, you can opt to take a horse along the trail — a good option for those who want to visit the trail but are worried that their endurance might fail them. Loch Trail is accessible in spring, summer, and fall. Visiting during the winter months is not advised.
Expert
Chasm Lake
If you are an experienced climber looking for a challenge, Chasm Lake fits the bill. The trail is a little shy of nine miles roundtrip, so make sure you bring plenty of snacks and water to enjoy along the way. Chasm Lake is a popular trail that is generally frequented during the summer and fall months, which is no surprise. This trail offers a fantastic chance to catch the changing leaves in their full glory.
Don't let the beauty fool you, though. Chasm Lake is not for beginner or intermediate hikers. At 11,823 feet, the altitude is nothing to scoff at. There are also plenty of places where you'll have to rely on your upper body strength to climb over and around rocks.
Twin Sisters Peak Trail
If you are looking for a difficult trail that also gives you the option to check out tons of wildlife, Twin Sisters Peak Trail is where it's at. This seven-mile hike will test the limits of your physical endurance and is quite steep. There's also the option of exploring the trail by horse if you'd prefer not to go on foot.
The best time to visit Twin Sisters Peak Trail is between May and October when you will see the most wildlife and catch the best views. Since the elevation changes rapidly throughout this hike, it's important to listen to your body and recognize the signs of fatigue and altitude sickness, which include headaches, dizziness, nausea, fatigue, and fogginess, among others. When in doubt, err on the side of caution, turning back so you can enjoy yourself rather than putting yourself and the rest of your vacation at risk.
Bridal Veil Falls Trail
For a hike steeped in history, check out the Bridal Veil Falls Trail, which starts off at the historic McGraw Ranch and winds its way to the Lumpy Ridge Loop, a scenic but challenging bit of trail that is the reason this trail is best enjoyed by experienced hikers.
Prepare to see a lot of wildlife. People have reported bear and moose spottings on the trail to Bridal Veil Falls, as well as plenty of birds and smaller ground-dwelling creatures. You'll also want to bring plenty of sunscreen with you as this trail runs for a little over six miles and a lot of it is out in the open.
Get Tech Smart: Apps For Safe Hiking
Before you hit the trail, make sure that you are prepared for anything the universe might throw your way. A good place to start is by equipping your smartphone with some trekking-specific apps.
AllTrails: AllTrails gives you a comprehensive breakdown of mountains, hills, and trails all over the world. You can check out vital stats and read reviews from other hikers.
AccuWeather: This app lets you know what you can expect, hour by hour, on the trail.
Cairn: Cairn lets you share your trekking plans with others so they can help in the event of an emergency. It also has a feature that allows you to find the nearest cell coverage.
Never hike alone, always bring plenty of water and some nutrient-dense snacks, and use that sunscreen liberally. You should also consider investing in a light first aid kit with some bandages, gauze, and antiseptic. Check out the best travel backpacks to buy in 2019 if you're looking for the perfect way to pack it all up, and keep your visit on the up and up by acquainting yourself with the five things tour guides, vets, and park rangers wish visitors would stop doing at national parks.
Rocky Mountain National Park is a treasure and a cherished place to experience nature in its full glory. Lace up your hiking boots and get out there!
In order to visit the park, you will need to reserve a timed entry permit ahead of time. These permits can be purchased online. For more information about new COVID-19 guidelines at the park, check out our full list of national parks requiring changes for visitors.