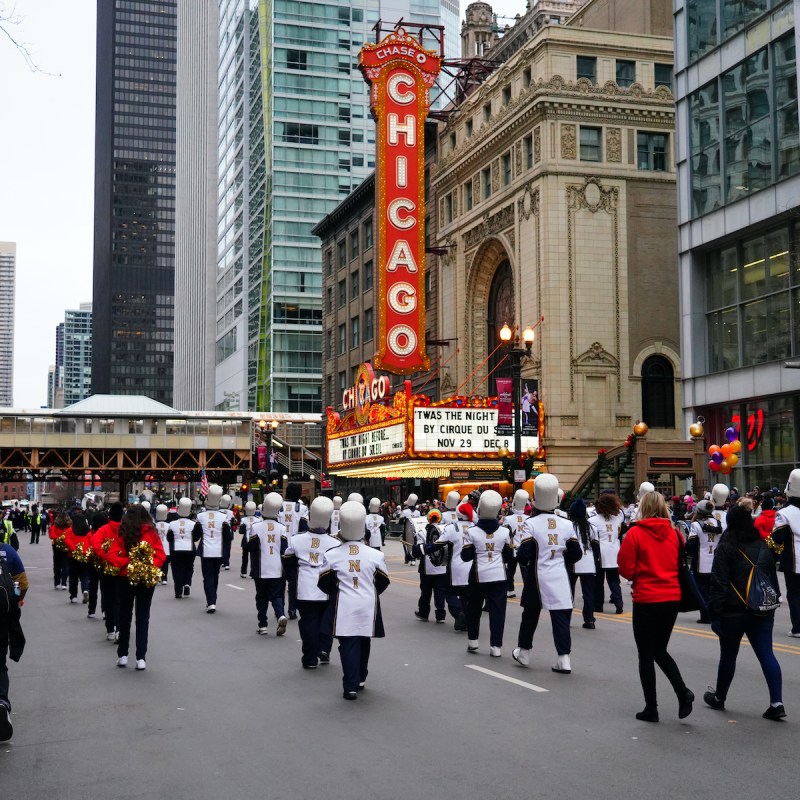 Thanksgiving is a time when families across the country come together in the spirit of both gratitude and gluttony. We chow down, snap up Black Friday sales both in-person and online, and try to not argue with the in-laws. But if you're looking for a change of pace this November, it turns out that Thanksgiving is a terrific time to hit the road, with many cities having their own special traditions and events. Here are a few of the best places — both big and small — to spend America's favorite holiday.
1. Miami, Florida
To escape the cold and load up on vitamin D, head to Miami for a sunny Thanksgiving. Enjoy the sand, surf, boutiques, and art deco architecture in South Beach, check out the food scene in Little Havana, or consider a dinner cruise of Biscayne Bay with all the trimmings. Of course, Black Friday shopping is stellar and super-luxe with premium designer offerings at Brickell City Centre and the Miami Design District. To really take your weekend over the top, snag tickets to The White Party. This ultra-chic benefit, held annually right around Thanksgiving, is a true party with a purpose: Proceeds benefit Care Resource Community Health Centers, a nonprofit community healthcare organization that focuses on HIV/AIDS research, support, and treatment.
2. Las Vegas, Nevada
There's certainly no shortage of places to eat, drink, gamble, and play during the Thanksgiving weekend in Las Vegas. The weather is cooler, and all the casinos remain open on the holiday, welcoming tourists and locals alike. There are plenty of shows offered during the weekend as well, including the ever-stunning Cirque du Soleil. Most hotels and casinos offer a Turkey Day buffet, with all the over-the-top trimmings, so you won't have to look long and hard for excellent Thanksgiving food. After your giant meal, plan to treat yourself to a detox spa day; the Waldorf Astoria Spa & Salon is an opulent spot guaranteed to relax and restore. And, of course, don't forget to shop till you drop at the Las Vegas Premium Outlet Malls (either the north or south location).
3. Washington, D.C.
The nation's capital is another terrific place to bunker down for the long holiday weekend. You'll see the city being transformed into a winter wonderland in all sorts of spots. To learn more about how Founding Father George Washington celebrated Thanksgiving, head to Mount Vernon for a candlelit guided tour. While there, you can meet the home's most interesting resident, Aladdin, and learn how camels became a presidential holiday tradition. Head downtown and have the Smithsonian museums all to yourself; they are all open on Thanksgiving and are free. On Black Friday, check out the Downtown Holiday Market and its artisan offerings to get a jumpstart on all of your shopping. For a Southern family-style holiday feast, head to Succotash just off the National Mall.
4. Chicago, Illinois
Hundreds of thousands of people turn out for the Windy City's annual Thanksgiving morning parade, which travels down State Street and features floats, balloons, and bands. Whether you join the crowd in person or watch from your hotel room, the event is guaranteed to get you into the holiday spirit! Take in the lights at Millennium Park, and get your turkey dinner at the Chicago Athletic Association's Cherry Circle Room with its throwback vibe and farm-to-table fare. To shop with a European flair, visit the annual Christkindlmarket. Inspired by the Christmas markets of Germany, the event features outdoor stalls, sparkling lights, traditional entertainment, and, of course, delicious snacks and adult beverages.
5. Kiawah Island, South Carolina
One of the barrier islands off the Charleston coast, Kiawah Island is the perfect spot for a laid-back and beachy Thanksgiving weekend celebration. With only about 1,600 residents, Kiawah provides a small-town feel with luxe amenities. Most people who go there for the holidays stay at the Kiawah Island Golf Resort, which provides a number of dining options for Thanksgiving dinner, from full buffets to light bites. The resort also sponsors a Turkey Trot on the beach, with a yoga session offered immediately afterward. Other holiday-themed activities include a pumpkin hockey match, a fall festival, and a tree-lighting ceremony. Be sure to make reservations for the Mingo Point Oyster Roast, an island tradition held on most major holidays, including Thanksgiving Day.
6. Mountain View, Arkansas
For a down-home Thanksgiving, consider heading to the Ozarks and the small town of Mountain View, Arkansas. About 2 hours from Little Rock, this special place is well known for protecting and preserving its folk music and culture. At the nearby Ozark Folk Center State Park, stop by The Skillet Restaurant for a traditional turkey buffet and stay for the artisan craft village, which offers plenty of shopping opportunities. During the weekend, head downtown. That's where you'll find charming music stores and antique shops, and if you're lucky, you just might happen upon a live jam session in the town square.
7. Taos, New Mexico
For a Turkey Day with a Southwestern flair, there's no place like Taos, New Mexico. In addition to all of the fabulous art galleries and upscale boutiques that this mountain town is known for, you'll want to check out the annual Yuletide in Taos events, designed to get everyone in the holiday spirit. Dining options range from the traditional turkey roast with all the trimmings to Southwestern cuisine laced with the state's famous red chiles. Doc Martin's at the downtown Taos Inn is loved by locals and visitors alike; it has been welcoming guests since 1936. And your best post-dinner calorie burner will absolutely be skiing; many of the resorts in and around Taos are open by Thanksgiving Day.
8. Jackson Hole, Wyoming
Thanksgiving weekend takes place before the winter ski rush in Jackson Hole, Wyoming, which means it's the perfect time to check out this picturesque spot set in the gorgeous Teton Range. To burn your calories — and earn your feast — start your day with the annual Turkey Trot 5-kilometer race downtown. Speaking of the big meal, many restaurants and hotels — including The Wort Hotel — offer special dining options over the entire holiday weekend. If the weather permits, spend some time hiking off those mashed potatoes and pumpkin pie in nearby Grand Teton National Park. And don't miss Jackson Hole's Norman Rockwell-type celebration, the Town Square Lighting. It takes place the day after Thanksgiving and features caroling, hot chocolate, cookies, and even a visit from Santa himself!
9. New Orleans, Louisiana
To inject a little Cajun flavor into your holiday, consider a trip down to New Orleans. Of course, there are all the things that make the Big Easy great: the bars, the architecture, the galleries, and the music. But NOLA takes the fun up a notch on Thanksgiving weekend with the Bayou Classic. The big college football matchup between Grambling State University and Southern University is an enormous draw, packing the city's Superdome. The Bayou Classic parade winds its way through the French Quarter and downtown the day after Thanksgiving, and there's also an incredible Battle of the Bands. Sports, band battles, and parades aside, you can't forget the food this city is famous for: Many restaurants will offer special prices or buffet meals during the Thanksgiving weekend. Word to the wise: Do not leave the Big Easy without trying the deep-fried turkey, an amazingly delicious Cajun twist on the Thanksgiving standard.
10. New York, New York
It's the city that needs no introduction when it comes to Thanksgiving fun! New York boasts the all-time Turkey Day classic, the Macy's Thanksgiving Day Parade. Hundreds of thousands will turn out for the event that features marching bands, giant balloons, and fancy floats. Pro tip: Sneak a peek of the balloons being inflated the night before on the Upper East Side near the American Museum of Natural History. The city starts to feel a lot like Christmas in late November, with the Rockefeller Center tree decked out, department-store window displays popping up, and, of course, the world-famous Radio City Rockettes shows kicking into high gear. After your big dinner, don't forget to head to Central Park for your very own Turkey Trot. There's no place like New York City to get into the holiday mood and get to work on all that holiday shopping! The city takes Black Friday to the next level. Macy's Herald Square, one of the world's largest department stores, opens Thanksgiving evening with doorbuster deals and steals.