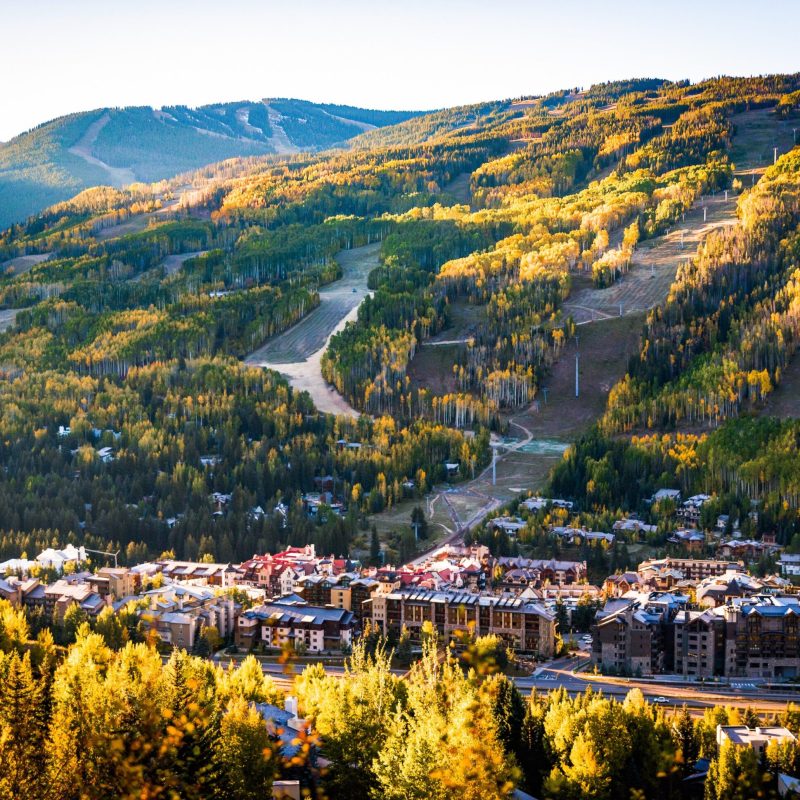 As you sip a craft beer at a fire pit overlooking the skating rink with a breathtaking view of the snow-covered mountains dotted with skiers in the background, you realize this is the best ski trip you have ever experienced. For skiers, Vail, Colorado, is a mecca for deep powder seekers. Whether your travel companions are out on Vail's famous Back Bowls or everyone in the group needs a brief change of pace, you can enjoy a fabulous Vail vacation without hitting the slopes every day, or at all.
The villages of Vail and Lionshead in Vail, Colorado, are family friendly and sprinkled with as much luxury as you desire. Skiers and non-skiers alike will enjoy this beautiful, frozen landscape. Skiers can count on the 195 trails to fill their days, but non-skiers or those who need a break from the slopes have fantastic options too. With a free shuttle bus connecting the two villages, you will have everything at your fingertips in this Bavarian-inspired destination.
As you stroll the heated sidewalks sprinkled with public art, wonderful restaurants, and world-class shopping, you will come to understand why Vail, Colorado, has been a bucket list destination for travelers for decades. It is most likely much more than what founders Pete Seibert and Earl Eaton had in mind in 1957 when they originally designed the slopes.
1. Personalized Pub Crawl
Relax during a private limo tour with aVail Valley Brewery and Wine Tour and leave the driving to your personal chauffeur. Explore the Vail Valley's craft culture during your personalized pub crawl. You can seek out the best Rocky Mountain brew while watching the gorgeous mountain scenery go by. Pub crawling with a driver is the most enjoyable way to explore the area.
2. Resort Spas
There are a plethora of spas in Vail, but if you are looking for something unique, two stand out among the crowd.
The RockResorts Spa at the Lodge at Vail offers traditional, full-service massages in their seven well-appointed massage rooms. RockResorts prides itself on eco-conscious luxury and uses products that feature organic ingredients. The newest trend in spa treatments, the Dream Pod Float Tank (a steal at the special rate of $50 for your first experience), has been installed at RockResorts. For your treatment, the Dream Pod is filled with 10 inches of warm water and 800 pounds of Epsom salt, creating a feeling of weightlessness as you float in the Pod.
A second stand-out spa is Simply Massage in Vail. They offer a deep tissue massage that uses CBD salve, $40 for two ounces, to ease your aches and pains. Their CBD oil does not contain THC, so you won't get "high" from the massage. A 60-minute session starts at under $90.
3. Fire Pits At Solaris
Ringing the front of Solaris — a mixed-use building including luxury residences, rentals, and retail shops — is a deck where fire pits are paired with obligatory Adirondack chairs looking out over the skating rink, shops, and ski slopes. A large, multicolored sculpture that looks like a martini glass filled with popcorn makes a great conversation starter.
Grab a good book, a perfect coffee from Yeti's Grind, and your camera; sit back and watch the beautiful people go by. There is invariably a celeb in town who everyone is buzzing about. If they are staying in Vail, odds are they are staying at Solaris.
4. Snowshoeing
Snowshoeing is a perfect way to experience the natural beauty of Vail. The Nature Discovery Center, housed in a yurt on Eagle's Nest at the top of the mountain, offers snowshoeing tours for all experience levels. Free guided snowshoe tours are brought to you by a partnership between Vail Resorts and the U.S. Forest Service and begin daily at 2:00 p.m.
Your naturalist-guided snowshoeing tour through Vail's quaking aspens and perfect powder will leave you pink-cheeked. To visit the Nature Discovery Center, you will need a valid ski pass or scenic ride ticket to access the Eagle Bahn Gondola to take the 2:00 p.m. tour.
5. Dobson Ice Arena
Prefer indoor winter sports? For just $10 you can rent skates and enjoy open ice time at the Dobson Ice Arena located between Lionshead and Vail Village. Alternatively, you can take a private lesson or join a hockey pick up game. When the Yetis, Vail's semi-professional hockey team, are in town, you can sit back and enjoy a game. Visit the Vale Recreation District's website for skating information and the Vail Yeti hockey team's website for the Yeti's home schedule.
6. Scenic Gondola Ride
Experience a truly spectacular view of Vail Mountain! During ski season, Eagle Bahn Gondola is free to non-skiers from 3:30 p.m. until the base closes at 5:00 p.m. Ride the Gondola up to the top of the 10,250-foot mountain with your skiing and non-skiing friends to enjoy the spectacular view. Hop off at the top to experience a picture-perfect mountain overlook just a few hundred yards from the top of the gondola. Make an evening of it: For diners at Bistro Fourteen, the last ride down the gondola to the base is at 9:00 p.m., so you can meet up with friends for a quick nosh and beverage or a full dinner. The Bistro is open Tuesday through Thursday 11 a.m. to 8:00 p.m. and Sunday and Monday 11:00 a.m. to 3:00 pm. Visit vail.com to check for seasonal changes.
7. Colorado Snowsports Museum Hall Of Fame
If history is your thing, check out the Snowsports Museum and Hall of Fame. This non-profit does not charge admission but does request a $5 donation. The exhibits run the gamut from "100 Years of Ski Fashion and Function" and "Skiing Through Time" to "Climb to Glory," which commemorates the WWII 10th Mountain Division. The museum, located at the edge of Vail Village, has something for everyone.
8. Street Art Installations
Art in public places is encouraged, funded, and seen throughout Lionshead and Vail Village. If you enjoy unique installations, the walk from Lionshead to Vail Village will be a feast for your eyes. The art is life-size and beautiful. Make sure to visit Stephen LeBlanc's Rocky Mountain Majesty bronze ram in Lionshead and Tenth Mountain Division Memorial, a bronze by Scott Stearman and Victor Issa, near the covered bridge in Vail Village.
To discover what's happening on the art scene during your visit, go to artinvail.com.
9. Eating In Vail
Bavarian restaurants are the backbone of Vail Village. You can find German favorites around every corner, and numerous establishments serve traditional fare like goulash, dumplings, and spaetzle.
There is no shortage of gourmet cuisine in Vail; conversely, you can still find a dive bar or two if that's more your style, not to mention the presence of everything in between.
If you are looking for activity alongside your meal, try Bol. Bol pairs 10 bowling lanes with scrumptious food like lamb lollipops with ancho chile marinade and edamame with wasabi aioli. Both are finger-licking good. If you are meeting up with younger family members, this is a great place to hang out, bond, and have fun burning off excess energy. You can make lane reservations and take a peek at the menu online.
If fine dining is your heart's desire, look to La Bottega for upscale Italian cuisine. Here you can dine on Wagyu beef and black truffle ravioli with mushroom ragu or a truffle pizza with duck egg, bufala mozzarella, arugula, and white alba truffles (which will set you back $145). Yum!
Matsuhisa, Chef Nobu Matsuhisa's new-style Japanese cuisine establishment, is located in the posh Solaris development. Try the soft shell crab spring roll with ponzu mayo or broiled black cod with miso. Everything on the menu is superb.
10. Shopping In Vail
There is no lack of shopping or window shopping opportunities in Vail. Ski and outerwear shops, jewelers, toy stores, t-shirt and trinket vendors, and fashion establishments line the main route from the east side in Vail to the west end in Lionshead.
Spend the entire day hopping from store to store to find the perfect memento. If you are a traveler who collects art from your journeys, there are several outstanding galleries. If you need the perfect something for the munchkins in your clan, you will find just the right gift.
If you want to know even more about what to see and do in Vail, visit everythingvailvalley.com for the latest information on skier and non-skier fun!