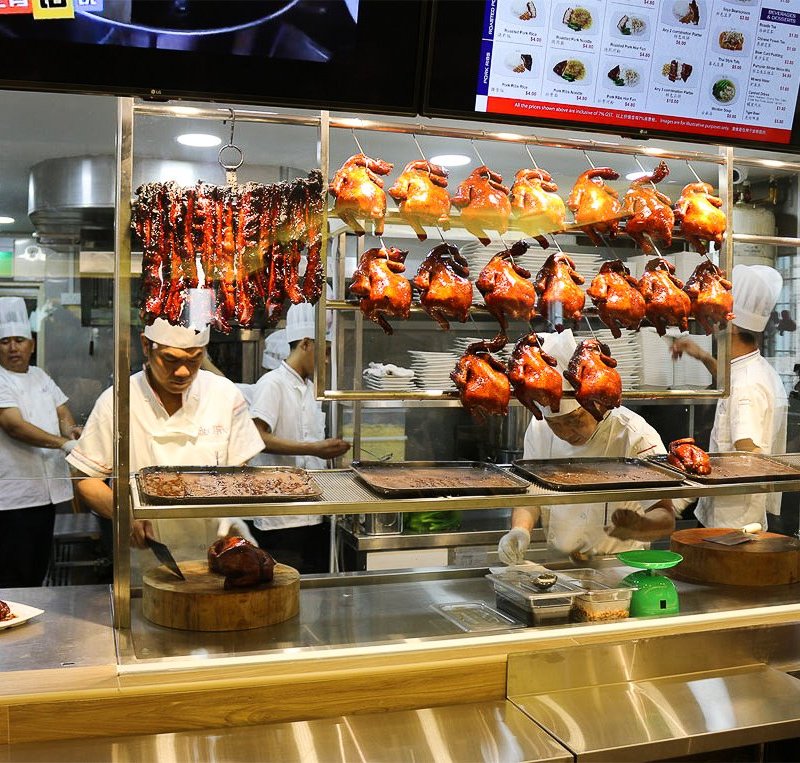 How much do you think it costs to eat at a Michelin star-rated restaurant? $100? $1,000? Both are possibilities at Michelin-rated establishments around the world. But there's one under-the-radar spot where Michelin-honored cuisine can be enjoyed for pocket change.
For the price of riding the bus, you can eat at Singapore's Liao Fan Hong Kong Soya Sauce Chicken Rice and Noodle (yes, that's the place's full name!) It has the distinction of being the cheapest Michelin star-rated restaurant in the world, as well as the first hawker center — or street food vendor — so honored. And best of all, you don't need a reservation! Here's what you need to know before you go.
Food Worth Traveling For
The passion and skill behind the award-winning Liao Fan Hong Kong Soya Sauce Chicken Rice and Noodle is Chef Chan Hon Meng. Chef Chan grew up in Malaysia on his family's farm and moved to Singapore in search of work when he was just 15 years old. He was able to apprentice with a chef from Hong Kong and started developing the recipe for soya sauce chicken. In 2009, he opened his own stall and by 2016, Michelin came calling.
Every day, with Chef Chan and his wife Irene still at the helm of operations, Liao Fan Hong Kong Soya Sauce Chicken Rice and Noodle serves up their namesake soya sauce chicken with rice or noodles. Rumour has it that some of the ingredients in Chef Chan's succulent soya sauce-based braising liquid include Chinese angelica root, cloves, coriander seed, and star anise. But no one can say for sure! Prices for a serving start at just $2 SGD! Liao Fan Hong Kong Soya Sauce Chicken Rice and Noodle also makes roasted pork rice, leafy greens cooked in oyster sauce, Thai style tofu, and many other savory mains and sides.
How To Eat At Liao Fan Hong Kong Soya Sauce Chicken Rice And Noodle
As its address (335 Smith St, #02-126 Chinatown Complex Market and Food Center, Singapore 050335) indicates, Liao Fan Hong Kong Soya Sauce Chicken Rice and Noodle is a stall within a food hall, also known as a hawker center. While hawker centers can be a bit of a labyrinth, you'll be able to find Liao Fan even without the full address. Just look for the line!
The stall opens at 10:30 a.m. and the line starts well before that. By mid-day, it can take two hours or more just to reach the front! And once the beloved soya sauce chicken is gone, it's gone. I strongly recommend arriving no later than 10 a.m. to join the line early in the day and have an early lunch, around 11:00 or so. It's the most memorable meal you'll have in Singapore. Note that the stall is closed on Wednesdays.
A Nearby Alternative
If the timing doesn't work out or if your favorite dish is sold out at the hawker stall, don't despair. Chef Chan also operates a small sit-down restaurant by the same name (but better known as Hawker Chan's) at 78 Smith Street. It's not the Liao Fan but it will afford you a taste akin to the original. This location has extended hours, from 10 a.m. to 8 p.m. (but is also closed on Wednesdays).
Note that all of Singapore's hawker centers are famous for their great food and reasonable prices. If for any reason you can't make it to Liao Fan and decide to eat at a different center instead, don't beat yourself up too much. Even when it's not Michelin-star rated, Singapore's hawker cuisine is still phenomenal.
Of course, Liao Fan Hong Kong Soya Sauce Chicken Rice and Noodle is well worth your time and effort, and even if you do nothing else in the area, eating here would be enough. There are a lot of underrated attractions within a 5- to 12-minute walk, so to see a different side of Singapore, consider exploring these fine sites.
What To Do In The Area
The Singapore City Gallery is located near the food stalls and has unique and intriguing temporary exhibits. It's run by the Urban Redevelopment Authority and tells the story of Singapore's development over the past 50 years. It opens at 9 a.m. and is the perfect stop if you're arriving in Singapore after an overnight flight and heading toward Liao Fan bright and early.
The Buddha Tooth Relic Temple and Museum is home to a giant stupa weighing 7,700 pounds and made from over 700 pounds of gold, most of which was donated by devotees. In order to view the relic, you'll have to enter the public viewing area as the relic chamber itself is reserved for monks. Also at the location are the Buddhist Culture Museum, Eminent Sangha Museum, Sacred Light Hall, and a theatre for cultural performances.
A 20-minute walk away are two of Singapore's most interesting churches. St. Gregory the Illuminator (also known as the Armenian Church) is Singapore's oldest church. It also has the distinction of being the first building in Singapore to get electricity. Singapore's once-sizable Armenian community included notable figures such as the Sarkies brothers, who built the Raffles Hotel. While there is no Armenian congregation to speak of anymore, a small Coptic Orthodox community still has occasional services in the chapel. There's also a special connection to Ireland here. Irish architect George D. Coleman designed the church and it is considered his masterpiece. You can visit each day starting at 10 a.m.
Nearby St Andrew's Cathedral is the city's largest church. A church has been on the site since 1836. Today, St Andrew's is just as much about modernity as history, as the church has a cafe on-site with Wi-Fi and affordable food (in case you need to eat some more!). A 45-minute-long free tour is offered on Mondays, Tuesdays, Wednesdays, and Fridays at 10:30 a.m. and 3 p.m. (Layover travelers, take note: The church is next to City Hall metro station. If you're taking the metro to Liao Fan's nearest stop, Outram Park, exploring the neighborhood on foot, and then making your way to another metro to catch a ride back to the airport, St Andrew's is a good stopping point).
While there's nothing wrong with sticking to the beaten path, Singapore has so much more to offer than layover-friendly bus tours. A visit to Liao Fan Hong Kong Soya Sauce Chicken Rice and Noodle will have you falling in love with Singapore's unique offerings!