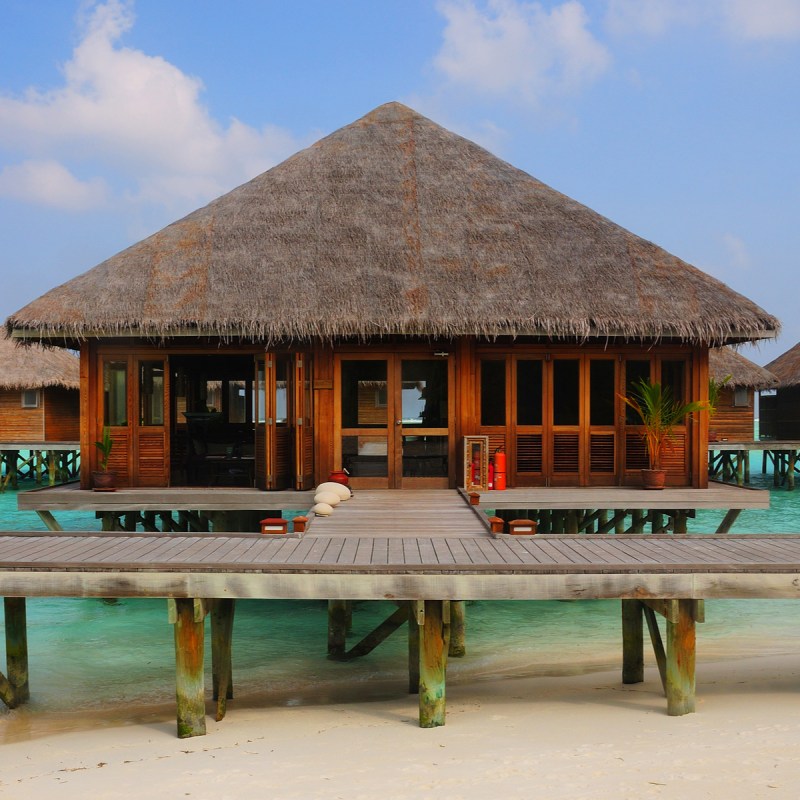 Overwater bungalows are possibly one of the most relaxing and secluded places to spend your time away from home. For many people, an overwater bungalow getaway sounds cool, but they have no idea where to look, and wind up settling for a nice, but normal, hotel room. Wondering where you can find beautiful overwater bungalows and begin your tropical vacation? We've come up with seven amazing overwater bungalow options in wondrous locations around the globe.
1. Sofitel Moorea Ia Ora Beach Resort Hotel
French Polynesia
Not too far from the main island of Tahiti is this beautiful getaway on the water. With 113 bungalows to choose from, you'll be able to find one that speaks to you.
Photographer Sarah Sloboda told TravelAwaits that she has stayed at many overwater bungalows, but this one, in particular, has been the most memorable.
"The reason this was most memorable was because there was wading-level snorkeling right outside the bungalow — just climb down a ladder and you're in a beautiful coral garden."
Sloboda loved how shallow the water was as well. "I'm a photographer, so being able to take great underwater photos without having to learn to scuba dive was such a treat."
Bungalows at the beach resort range from approximately $600 to $2,000 a night depending on the type of accommodations selected.
2. 4 Rivers Floating Lodge
Tatai, Cambodia
The 4 Rivers Floating Lodge is exactly what it sounds like, a lodge floating over the water. This environmentally friendly overwater bungalow resort takes pride in the experience they offer their guests.
According to the lodge's website, "Our goal is to have a high and positive impact on people, from our guests and team to the local people around 4 Rivers, while having the lowest impact on the environment, protecting biodiversity, using sustainable materials, recycling resources, and managing waste."
The 4 Rivers Floating Lodge set out to create a resort that protects the environment around it, and that is exactly what they have accomplished. From plant-based furniture to solar panels and composite wood-and-recycled-plastic floors, the resort has spared nothing to ensure the safety of the environment while also giving guests a one-of-a-kind experience.
Rooms here start at $232 a night and go up to nearly $400 depending on occupancy.
3. Conrad Maldives Rangali Island
Rangali Island, Maldives
Time magazine ranked this island paradise among the world's top 100 greatest destinations in 2018. According to the resort's website, "this luxury resort celebrates the Maldives as it was meant to be: pristine, peaceful, and completely unforgettable."
Daniel A. Gillaspia, CEO and founder of UponArriving, said he loved the direct access to the water and felt that being able to travel around the island on golf carts made enjoying what the resort had to offer easy.
Gillaspia suggests that you request a bungalow facing the sunset — and one with more privacy, as some are more private than others.
He went on to tell TravelAwaits, "My favorite aspect of the bungalow was just being able to hop in the ocean and go snorkeling at any moment and coming across lots of marine wildlife like triggerfish and even sharks. I would not hesitate to make another booking at the Conrad Maldives!"
Bungalows here start at $655 a night and can go up to over $1,000 nightly depending on the type of bungalow you book.
4. Meeru Island Resort And Spa
Meeru Island, Maldives
This turquoise-water paradise, also in the Maldives, is the only resort on Meerufenfushi Island in the North Male Atoll. The resort offers a variety of room accommodations including jacuzzi water villas, which are overwater bungalows. These bungalows offer "a Jacuzzi for two under the stars" according to the resort's website.
Laura Peters, the owner of Mike and Laura Travel, told TravelAwaits, "This resort was everything we could've wanted: buffet dinners, special room amenities, and even a hot tub on our balcony that looked out at the stars at night."
For eco-friendly travelers, this bungalow might check off another box on your list. "Our favorite part of the island was how eco-friendly the resort was. They focused so strongly on reducing waste and eliminating plastic," said Peters.
You can book a bungalow here starting at $556 a night.
Learn more about how to travel to the Maldives by consulting our comprehensive guide that covers everything from when to visit to the best activities on and off resort.
5. Thatch Caye, A Muy'Ono Resort
Dangriga, Belize
If you're looking for an all-inclusive private island resort, then you might have a winner with this secluded getaway in Belize. Experience a deserted-island feel while staying at an overwater bungalow off the coast of Dangriga, a Carribean coastal town in southern Belize. Thatch Caye is so peaceful, you'll feel like you're on an island alone. How do they create this feeling? Only 30 guests are allowed to stay at a time!
Keeping with the deserted-island feel, you can completely disconnect during your stay — Wi-Fi is only available in common areas.
Bungalows here start at $319 a night for two guests.
6. Khao Sok Lake
Surathani, Thailand
Khao Sok Lake in Khao Sok National Park offers 14 different overwater bungalows. Each of the bungalows falls into one of four categories: Bamboo Bungalow Bliss, Modern Comforts, Lake Superior, and Luxury on the Lake.
Erika, a long-term backpacker, and blogger at Erika's Travelventures told TravelAwaits, "The bungalows were great because of their remoteness and the sense of community it creates for the people staying there. Tourists arrive at the bungalows by a 1-hour-long boat ride. The boat speeds over a massive lake with many limestone rock formations jutting out of it. There are maybe two dozen floating bungalows, all lined up in a row so everyone had a lake view. Some bungalows were for two people, some for four people, and they are all connected by a walking path with a kitchen and dining area in the center."
A one-night stay for two in a Bamboo Bliss bungalow starts at just under $200 and prices go up from there.
7. Punta Caracol Acqua Lodge
Bocas Del Toro Island, Panama
Head to sunny Panama for a tropical bungalow escape. When staying in one of these brightly colored cabins, you can look at the sunset off of your private terrace.
This resort is environmentally friendly as well — there are solar panels giving electricity to the bungalows and a bio-digester that filters sewage water to avoid pollution.
Room prices start at approximately $170 a night and the lodge has a two-night minimum stay.
So, what are you waiting for? A memorable overwater bungalow vacation is out there waiting for you — no more research required. Just choose from one of these seven stunning places and start packing your bags!