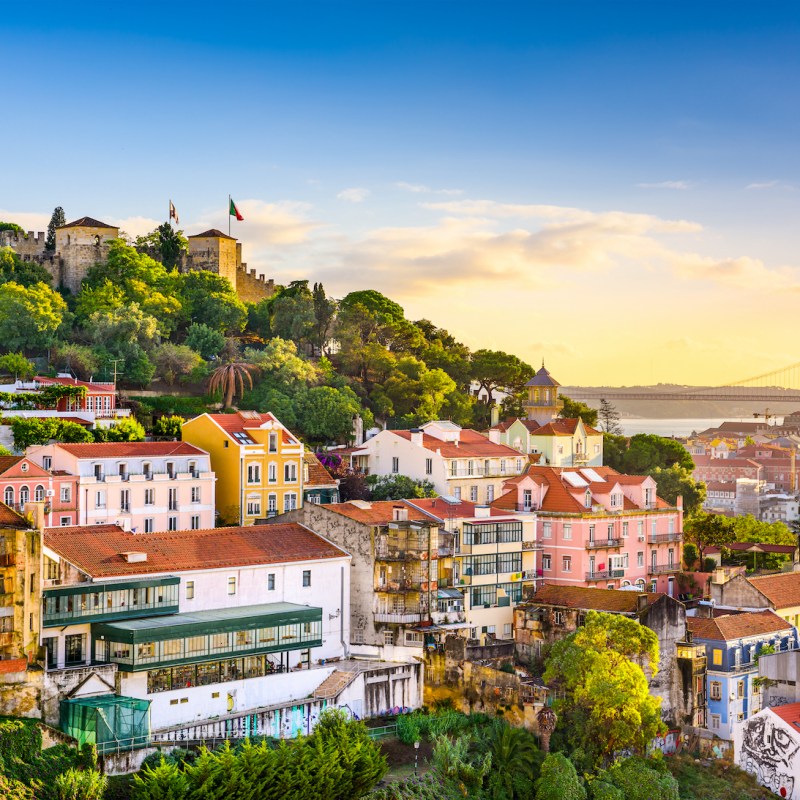 Lisbon, Portugal's capital and largest city, is a popular vacation destination. Not only is this urban area a teeming port, but it also boasts tons of culture, history, and tradition. Lisbon has much to offer travelers, even those who are only spending one day in the city.
Think storied old neighborhoods, unbelievable cuisine, charming architecture, celebrated museums, outdoor splendor, and more. Plus it's a very walkable city with excellent public transportation options.
Here's how to spend a day in Lisbon, plus tips on what to do if you have more time in this lovely region.
The Best Time To Visit Lisbon, Portugal
Seasoned travelers know that summertime in Europe draws the largest crowds. So for the best experience in the continent's westernmost capital city, consider a trip during so-called "shoulder season." That term simply refers to the time between the peak season and the off-season for tourism. Lisbon's shoulder seasons fall from March through May and from September through November. During those times, the weather is pleasantly warm, hotel rates are more reasonable, and you won't have to battle tons of other globetrotter.
However, if you can't make it during those months, don't fret. Lisbon (amazingly) isn't in the top 10 most-visited European cities, so it will still be less hectic than other spots.
What To Do In Lisbon, Portugal
Ride Lisbon's Historic Tram
One of the most iconic images of Lisbon features a vintage yellow tram car circling the city. This car calls the 28E route home and is a great way to see a lot of Lisbon on a one-day itinerary. Just be sure to purchase your ticket (they're available at any metro station) beforehand, since they are more expensive on board. We recommend the day pass (good for 24 hours) so that you can hop on and off at will. It will cost you only 6 euros — an exceptional value! Board the tram in Martim Monic Square and depart at Prazeres. For the best views, try to get a seat on the left side of the tram. Be on the lookout for the most expensive street in Lisbon, Avenida da Liberdade. It's the city's main boulevard, full of fancy shops, fountains, and cafés.
The tram can be busy, so riding first thing in the morning or later at night may help to cut down on the wait time. If you'd prefer to stand rather than sit, there usually isn't a wait for that option. Additionally, if the line for this famous route is too long for your liking, any other route will still provide the experience of this charming form of transportation.
Sample Local Delicacies At Lisbon's Time Out Market
Another classic Lisbon experience is a visit to the Time Out Market in Mercado da Ribeira. This large food court boasts Michelin-star-winning chefs and any food you might be craving in its roughly 30 food stalls. It's the perfect one-stop-shop in which to sample local delicacies — for example, the decadent francesinha sandwich, which the Portuguese lovingly call "a heart attack on a plate." Operated by Time Out Lisboa magazine, this space has given the historic market area new life and energy since its 2014 founding.
Experience Breathtaking Views Of Lisbon, Portugal
For a bird's-eye view of the Portuguese capital, consider a trip to Belvedere of Our Lady of the Hill. The whole of the bright city of Lisbon is visible from this lookout point. It's even accessible from the aforementioned 28E tram — simply get off at the Graça stop and walk about 10 minutes uphill for the best views in Lisbon. Taxis and rickshaws are available to take you to the spot as well. In Portuguese, the area is known as Miradouro da Senhora do Monte. It's busy there all day long, but there are breathtaking views to scope out no matter the time of day.
Explore Lisbon's Belém Tower Area
This UNESCO World Heritage site pays homage to Europe's Age of Discovery. It was originally built as a fortress to protect Lisbon's harbor, but it also served as a launching point for many voyages to the New World. It is quite near the well-known Pastéis de Belém, home of the secret recipe for the famous Portuguese pastel de nata tarts. Belém Tower is also close to the grand Padrão dos Descobrimentos (Monument to the Discoveries) as well as the gorgeous Jerónimos Monastery, both of which are worth a visit.
Note: Admission is about 6 euros, and the tower is closed on Mondays.
Walk The Streets Of Lisbon's Oldest Neighborhood
No trip to Lisbon would be complete without time spent in one of its most historic and vibrant neighborhoods, Alfama. Narrow cobblestone streets wind up and down the hilly area. You'll see colorful laundry hanging from balconies, hear Portuguese music around each corner, and smell delicious traditional foods like salted cod. Be on the lookout for the famous azulejos, or blue-and-white tiles, that Portugal is known for. They provide a great photo backdrop and are common in Alfama. If possible, sample the official liquor of Portugal, ginjinha, in this area as well. It is a sweet-ish cherry product and a must-try. Conveniently, the 28E tram route goes right through the neighborhood, and you can enjoy Alfama from the train's windows if you're too tired to walk.
Listen To Fado
Another must in Lisbon is to hear fado, the soundtrack of this enchanting city. Fado is a poetic, melancholy form of singing that is distinctly Portuguese. You'll hear it in many restaurants and pubs in the evenings. In the Bohemian enclave of Bairro Alto, Café Luso is a great place to hear fado. This eatery is located inside the cellar of a repurposed 17th-century mansion. If time allows, wander through the neighborhood afterward to see the colorful street art.
The Alfama area is home to many great spots for fado as well. Páteo de Alfama offers a 30-minute show that explores the history of fado. The restaurant is open for lunch as well as dinner, making it a convenient option for day-trip visitors. There's a pretty open-air courtyard to enjoy as well as two large rooms inside.
Wherever you experience fado, it's something that will stick with you and is sure to make your trip to Lisbon memorable.
If You Have Extra Time…
Take A Day Trip To Sintra
Sintra, Portugal, is a quick train ride away from Lisbon's famous Rossio Station in the Baixa District. The ride takes about half an hour; it costs about 2 euros for the ride there and double for the ride back.
Sintra is a picturesque town known for its beautiful, diverse architecture. Visitors should be prepared to walk for half a day or so to see the highlights, including the Pena Palace, the National Palace of Sintra, and the Castle of the Moors. It's free to view the exteriors, but the entrance fees range from 8 euros to 10 euros.
The walk from the train station to the attractions is about an hour long and mostly uphill. It may be easier to catch the 434 bus to the palaces instead; it will only cost about 7 euros. Many companies offer guided tours of these attractions as well, with admission and transport costs bundled together. Consider that option for maximum convenience.
Visit Lisbon's Art Museums
Portugal's capital city is home to a number of museums that are sure to satisfy your appetite for art. A great one is the National Museum of Ancient Art, located near the riverfront. A carefully curated collection of Asian artwork can be found at the Museum of the Orient. There's even a National Tile Museum, where you can scope out the celebrated Portuguese azulejos. One other must-visit spot is the Calouste Gulbenkian Museum, which boasts one of the world's largest private collections of antiquities, including an Egyptian mummy mask.
While visitors with just a day to spend in Lisbon won't be able to experience all of its jewels, there's still a ton you can accomplish in the capital city on a short trip. With its historic neighborhoods, delicious cuisine, and haunting fado music, Lisbon offers a great backdrop for quick exploration.
Related Reading: