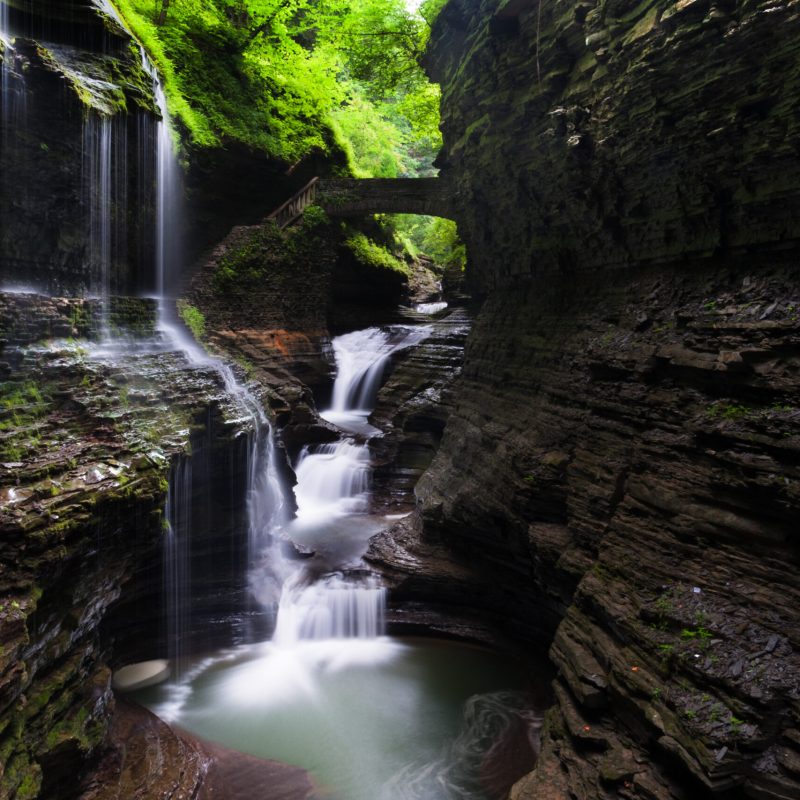 Rocks and water, soaring cliffs and narrow canyons, blistering desert heat and icy winter frost — these incredible destinations must be seen to be believed. Together, they showcase the spectacular diversity of the American landscape with topography, views, and natural formations that are utterly otherworldly. While they might look like film sets, they're 100 percent natural.
Here are 8 stunning places you won't believe are in the United States.
Find and save on Things to Do around the world!
1. Ice Castles, Midway, Utah
Utah's many attractions are gorgeous all year round. But come winter, there's one sight that really stands out. The Ice Castles of Midway, Utah, look like a set from The Nutcracker. The ice sculptures, ice carvings, and ice castles originated in founder Brent Christensen's front yard. What began as a fun winter project to amuse his children soon enthralled an entire neighborhood and expanded to include a six-location annual installation. The delicate curves of the icicles mimic the shapes of the state's many rock formations — you'd be forgiven for thinking that the castles have always been there!
2. White Sands National Park, New Mexico
Nothing on Earth rivals White Sands National Park's pillowy, smooth white sand. That might be because it's not sand at all — it's gypsum! White Sands is the world's largest gypsum dunefield, covering 275 square miles of desert. Located in the Tularosa Basin, between the Sacramento and San Andres Mountains of southern New Mexico, the natural marvel offers backcountry camping, cycling, hiking, and sledding. Yes — sledding! The soft gypsum dunes are perfect for sledding, and the gift shop sells flying-saucer-style sleds.
3. Antelope Canyon, Navajo Tribal Park, Arizona
From the narrowest of cracks in the surface of the earth, a magical underground slot canyon emerges, bathed in beams of light. Antelope Canyon, which is divided into upper and lower sections, is a photographer's dream. Narrow beams of light stream in from above and bounce around the stunning striped terra-cotta interior. Visiting requires some planning in advance: Since Antelope Canyon is located on Navajo tribal lands, you can only see the magnificent site on a designated guided tour.
4. Lake Superior Sea Caves, Munising, Michigan
With its roaring tides and crashing waves, Lake Superior has all the beauty and power of the ocean. If you don't believe us, just visit the Lake Superior Sea Caves near Munising, Michigan. Locals sometimes refer to the area as Michigan's Caribbean shore, since the dazzling caves and light blue waters look like something you'd find much farther south. In the summer, you can rent a kayak and paddle into and out of the caves. And in winter, when the shore freezes over, the caves become a magical wonderland that you can explore.
5. Watkins Glen State Park, Watkins Glen, New York
Steps away from the town of Watkins Glen, New York, is Watkins Glen State Park, arguably the most magnificent state park in America. The 778-acre park offers hiking trails and great opportunities for bird-watching, but the real star is the 400-foot-deep gorge. A relic from the Ice Age, the gorge is now a popular place for hiking and climbing. As you explore, keep track of all the waterfalls you see — there are 19 altogether. There are also 800 stone steps! Your legs will get a workout, but it's all worth it. This family-friendly park also offers picnic areas, camping, showers, swimming, and playgrounds.
6. The Wave, Paria Canyon-Vermilion Cliffs Wilderness Area, Arizona
There is something immensely peaceful about the Wave, a sandstone rock formation on the slopes of the Coyote Buttes in the Paria Canyon-Vermilion Cliffs Wilderness Area of Arizona. Its thousands of layers of color and rock make it absolutely irresistible to hikers, nature lovers, and photographers. In order to protect the fragile desert environment, the Kenab Visitor Center only issues 10 hiking permits to the natural phenomenon per day. Another 10 online permits are available for purchase four months in advance.
7. Ah-Shi-Sle-Pah Wilderness Study Area, New Mexico
Tremendously underrated and undervisited, the Ah-Shi-Sle-Pah Wilderness Study Area in New Mexico should be on every traveler's bucket list. The wilderness area has everything you'd expect from the stunning Southwest — and so much more. Multicolored badlands? Check. Sandstone hoodoos? Check. Petrified wood? Check. Dinosaur bones? CHECK! Yes — with a bit of luck, you can see fossilized, unexcavated dinosaur bones there (though removing them is not permitted). The area is an incredible place to explore, but be sure to go prepared — there are no amenities, water sources, or even roads in much of the wilderness area.
8. Ice Caves, Apostle Islands National Lakeshore, Wisconsin
When conditions are just right — the perfect combination of cold and consistency — you can walk across Lake Superior and explore the stunning Apostle Islands ice caves. The red sandstone cliffs of the caves, normally only glimpsed in summer by boat, are coated in ice. Waterfalls stand frozen in place and entire cliffs are encased in frost and icicles, glimmering like diamonds. With sturdy shoes and ski poles for extra stability, you can access the sea caves on foot, assuming that Mother Nature is on your side.
Photo Credit: matttrain / Shutterstock