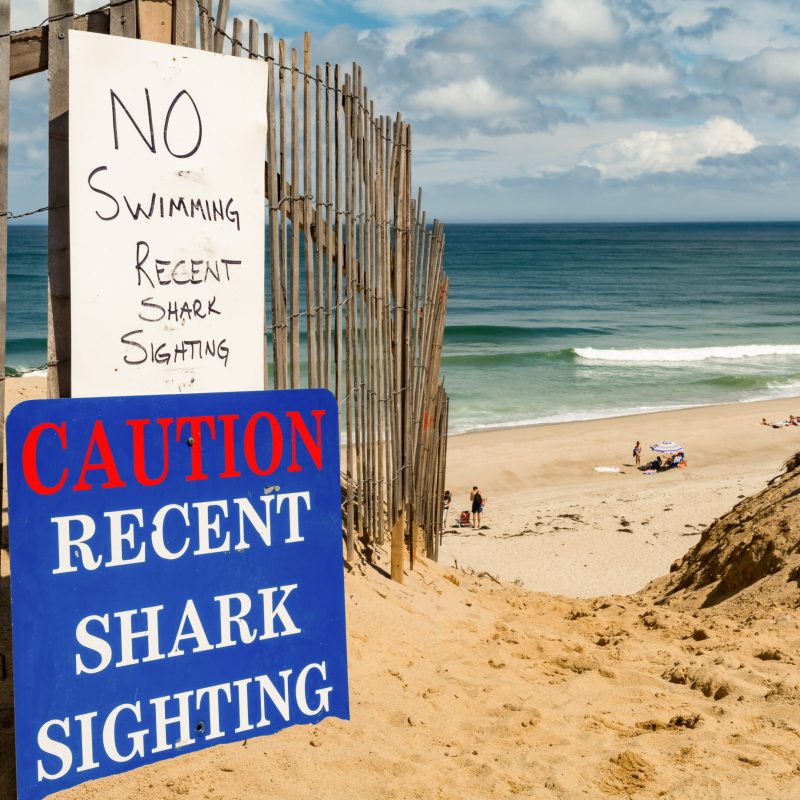 Cape Cod, Massachusetts, is typically associated with beautiful vistas, delicious seafood, and idyllic beaches, not shark attacks. Unfortunately, that's changing. This past fall, Massachusetts had its first fatal shark attack since 1936.
After more than 80 years without a fatal shark attack in Massachusetts waters, boogie boarder Arthur Medici was killed by a shark in the water off Newcomb Hollow Beach in Wellfleet, Massachusetts.
Medici's attack may have been the first fatal attack in years, but it was not the only shark attack in Massachusetts waters last year. In Truro, Massachusetts, a 61-year-old man was attacked by a shark approximately 30 yards offshore at Longnook Beach. Back-to-back attacks could result in Cape Cod's tourism to its beaches taking a hit and have sparked an on-going conversation in Cape Cod.
What preventative measures will be put in place to prevent future shark attacks? And who is responsible for protecting the safety of Cape Cod beach goers?
Two Attacks
On September 15, 2018, people's attitudes toward the waters of Cape Cod were officially changed. A 26-year-old man, Arthur Medici, was spotted around noon, 30 yards out into the water when a 10-to-12 foot shark attacked him, causing excessive bleeding from both of his legs. After being rushed to Cape Cod Hospital, Medici was pronounced dead.
Prior to that fatal attack, a 61-year-old man was reported as the first victim of a 2018 Cape Cod shark attack on August 15. The victim suffered from hip and torso puncture wounds. People at the beach helped to carry the man up a dune to meet EMS.
Ideas For Shark Attack Prevention
Shark sightings are not new for Cape Cod swimmers.
"We see these sharks every day along this coastline. They are there in big numbers. And people have to be vigilant and be aware of it," Greg Skomal, a marine biologist and Massachusetts Recreational Fisheries program manager, told CBS News.
However, given that two shark attacks happened within weeks of each other in 2018, officials are acting now — rather than later — to prevent more attacks. One prevention method: shark barriers around popular swimming beaches. Some people, however, aren't supportive of this idea.
"That's their habitat. We can't restrict their ability to swim. I think we can coexist, but occasionally attacks happen. It's just the reality," Cape Cod resident Beckett Rotchford told NBC10 Boston.
Another means of protection that town officials are exploring is dispersing contraception to seals or culling them. According to the Atlantic White Shark Conservancy, a nonprofit dedicated to raising awareness of white sharks, the reason the sharks have been spotted so close to shore is because their main food source is seals, which linger in the area. The Atlantic White Shark Conservancy told CBS News that sharks attack people primarily due to "mistaken identity."
"Sharks 'test the waters' with their teeth, much like we use our hands. It is how they determine if what they encounter is prey or something to avoid," the group told CBS News.
Unfortunately, swimmers can become victims mistaken for the shark's preyed upon food of choice — seals.
"The inshore waters off many Cape Cod and South Shore beaches are preferred feeding grounds for white sharks. They hunt and feed on seals in shallow water close to shore. While white shark bites on humans are rare, they have occurred off Cape Cod," the nonprofit organization said on its website.
The idea behind getting rid of the seals is to hopefully erase the reason the sharks come near swimming areas, therefore eliminating shark attacks.
Officials have not yet come to a final decision on how they should try to prevent future attacks. What they have planned for is the provision of new emergency call boxes, plus medical kits stuffed with tourniquets, lifeguards, and other lifesaving equipment. If you're planning to enjoy the waters of Cape Cod, note that these preventative measures will not be provided until late June 2019.
Photo Credit: Jay Ondreicka / Shutterstock
Photo Credit: Byron K. Dilkes / Shutterstock