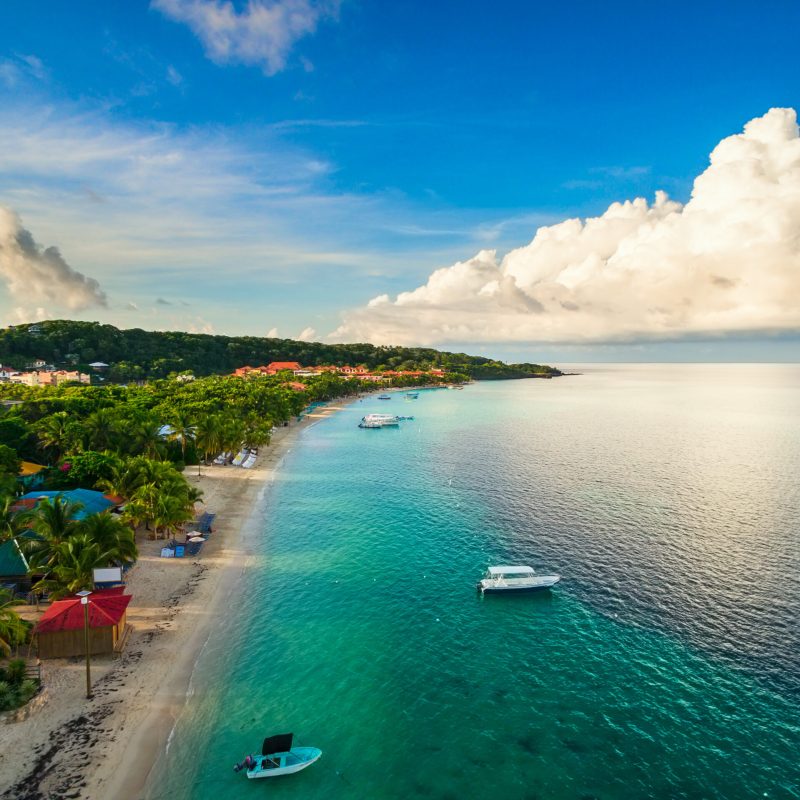 Roatán, a small island off the coast of the Central American country of Honduras, has become a wildly popular cruise port of call. While we only had a day there, we wanted to make sure we experienced as much of the island as we could. From horseback riding to combing the beach to making new four-legged friends, here's how we spent our day on this gorgeous island.
Port Pickup
Once our ship anchored at Coxen Hole, Roatán's largest city, we immediately went to find our driver. We booked our day-long excursion independent of the cruise line because we wanted the flexibility to explore as much as we could. We knew we wanted to go horseback riding, but the rest of the day was unplanned — and a complete adventure. In the end, we were glad we winged it!
Riding In The Rainforest Hills
Our driver took us to the lush, green hills overlooking Coxen Hole for a 90-minute horseback trip through the jungle. After a 20-minute drive, he dropped us off at a small stable, where the owner and his son got our horses saddled up and ready. We were novice riders, and the small horses were sweet, well tempered, and stuck to the rainforest trail. We took it slow; along the way, our guide pointed out different medicinal plants and trees and talked to us about the history of the island.
Soon, we reached the top of the hill and gaped at the stunning, sweeping ocean views. After stopping for a few pictures, we headed back down the way we had come. Once we arrived at the stables, we hopped off, bid our sweet horses goodbye, and gladly accepted the freshly cut coconuts given to us by the stable owner. After we were done with our drinks, we decided to head out for lunch.
Seafood Feast At Gio's French Harbor
Our next stop was the small seaside village of French Harbor, where each day shrimpers and fishermen head out to sea in the hope of a lucrative catch. Many of the treasures they bring in end up at Gio's Restaurant, a spot our driver recommended when we told him we wanted seafood for lunch. We were not disappointed. The lovely spot was situated right on the ocean, and we watched the gulls do their own hunting for little fiddler crabs while we waited for our food. We didn't hold back on our order, and we laughed when we saw it being brought to our table. We feasted on platters piled high with crab legs, lobster, shrimp, and scallops, all tremendously fresh and delicious! While the food wasn't cheap, the price was certainly fair for the amount and quality of food we enjoyed.
While we ate, storm clouds rolled in. The skies started to open up just as we got back to the car, so it appeared swimming and sunbathing weren't going to be in the cards. We decided that a tour of some of the island's lesser-known attractions would be a good way to buy some time for the rain to clear.
Exploring Sherman Arch's Iguana Sanctuary
This quirky spot in French Cay, quite near French Harbor, was like nothing we'd ever seen. Sherman Arch founded the sanctuary almost by mistake in the early 1980s, when he fed a wayward iguana on his property. More returned, and he eventually closed in the area to protect the creatures from poachers and hunters (iguanas are still a popular food source on Roatán and in much of Central America).
Today, more than 4,000 of the animals call the sanctuary home, and they are everywhere: in the trees, lounging in the sun, and even hanging out on the property's beach. During feeding time, visitors are given banana tree branches to feed to the lizards, which is not for the faint of heart, since feeding frenzies can often ensue! Volunteers point out the more docile animals who will tolerate petting and even handling, and there are nearly always babies around.
The sanctuary has become so popular that an award-winning documentary was made about Arch and his passion project. Admission costs $10 per person, which includes a feeding session at about 1 p.m.
Cruising Through Corozal
It was still raining, but we wanted to at least head toward the island's famed Half Moon Bay, so our driver took us across the narrow island and then headed south along the ocean. We passed through the village of Corozal. Our driver explained that the town was founded by the island's Garifuna community, an ethnic group descended from shipwrecked West Africans who married indigenous people. They were exiled from the bigger Caribbean islands by the British and sent to Roatán. Small villages that were founded by the Garifuna dot the Roatán coast, and the group's heritage was named a Masterpiece of Intangible Heritage in Humanity by UNESCO. We were grateful to our driver for pointing out the village, with its small, brightly painted homes and fascinating history.
Hiking Near Half Moon Bay
By the time we reached Half Moon Bay, the heavy rain had subsided and had been replaced by a light mist. It was clear we weren't going to enjoy any fun in the sun at the beach, and ultimately, we decided to forgo snorkeling as well. It was a shame, since the Mesoamerican Barrier Reef is located just off the coast of the island and is renowned for its biodiversity. We did, however, hike along the gorgeous, sandy stretch. There was no fee to access the West End beach, and we encountered locals and tourists alike. There were many cafés and snack shacks along the stretch, so grabbing a quick nosh and a cocktail was easy. We opted for a quick cup of rich, bright Honduran coffee before heading back to Coxen Hole.
Shopping
We did want to bring back a few souvenirs from our day trip to this gorgeous island. Our driver took us back to town, where there were several large shopping plazas. Admittedly, they catered to cruise-ship tourists and featured many Western brands. However, we managed to find a hidden gem, Made in Roatán, a small shop that was just a 5-minute walk from the main port. Everything sold there had been crafted by local artisans. Paintings, textiles, and jewelry were all on offer at reasonable prices. We especially loved the lava-stone and coffee-bean bracelets, which made sweet, easily stashed gifts to take home. The store is open whenever a cruise ship is docked in port, and many of the artisans work on their crafts on-site. Stop by, watch them work, and grab a few reminders of your time on Roatán.
Some Things To Keep In Mind
Roatán is a tropical rainforest, and so the weather there can be and often is mercurial. Keep this in mind, and plan/pack accordingly. We took along light rain gear as well as a waterproof camera and cases for our phones. Also, make sure to bring the bug repellent of your choice, especially if you'll be spending time in the rainforest or highlands. A couple of bottles of water will also come in handy; you won't want to drink the Roatán tap water.
Many excursion operators on the island can craft a personalized Roatán adventure for you. We suggest choosing a must-do activity, such as horseback riding, and then being flexible about the rest of your day. Take care of this well in advance, since tours do tend to book up. Of course, you can opt to purchase an excursion directly from your cruise line as well; however, we liked getting away from the tourist crowds and seeing the more local parts of the island.
We hope you enjoy your time on Roatán as much as we did!
Photo Credits: GTS Productions / Shutterstock
Photo Credits: Guayo Fuentes / Shutterstock