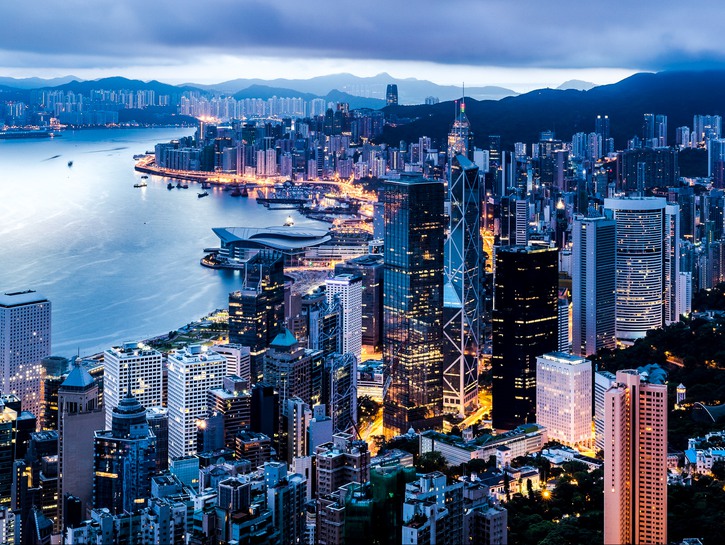 Hong Kong has long been known as a destination for shopping and food, but did you know it's also the perfect place to wet your feet as a solo traveler? From the moment you set foot in Hong Kong, your senses will be captivated by the lights, smells, and sounds of a city where East meets West and traditional meets modern.
Renowned for its shopping and food, the best of Hong Kong is hidden amongst the neon lights of the shops and the traditional tourist attractions. It's a destination that only truly reveals itself to those who want to venture away from the traditional tourist hotspots and explore the city for its essence and sense of place. Traveling to Hong Kong solo allows you a glimpse of a multicultural city and the freedom to explore at your own pace. Here are eight things to know about Hong Kong as a solo travel destination:
1. It's Easy To Get Around Hong Kong On Public Transport
What many people don't realize before they go is that Hong Kong is quite hilly. The steepness of the hills can be a challenge for any traveler who's unprepared or has limited mobility. As with any major city, taxis can be hard to come by and will quickly eat away at your travel budget. Luckily Hong Kong has a great system of public transport that includes trams, trains, ferries, and buses that will take you to all the places you need to go.
Traveling on Hong Kong's cheap, clean, and reliable public transport system will be one of the highlights of your solo Hong Kong adventures. Make sure you purchase an Octopus card at the airport when you arrive in Hong Kong so you can take an express bus into the city.
2. Cheap Accommodation May Not Be All It's Cracked Up To Be
In the 1960s Hong Kong went through a period of rapid growth. During this time, the city saw the construction of housing for its middle-class office workers. These buildings became known as "mansions," and you can see them throughout the city, particularly in Tsim Sha Tsui, Kowloon — a district of Hong Kong.
Perhaps the most famous — or infamous — of these buildings is the Chungking Mansions. In the past, Chungking Mansions was known for its concentration of drug-related activity and as a refuge for petty criminals, scammers, and illegal immigrants. Today, like many of Hong Kong's "mansions," it houses cheap accommodations, shops, and food outlets.
If you're planning a solo trip to Hong Kong, consider reviews carefully before booking a stay in a "mansion," or you might wind up stuck in accommodations that are a far cry from what you expected.
3. English Is Widely Spoken…
…And Hong Kong's best sites are easy to reach thanks to English signage. As a solo traveler, it's easy to get lost in new places. Being confident and not drawing attention to themselves helps keep solo travelers safe, and it's easier in Hong Kong than some other destinations.
Hong Kong was once a British colony, which makes English its second language. It's easy to find all the city's best tourist sites as signs feature both Cantonese and English. You'll see them all over the place. Thanks to the city's multilingualism, asking for your favorite meal or directions is easy in Hong Kong.
4. There Are Plenty Of Places To Escape The Crowds Of The City
Your Hong Kong solo trip would not be complete without eventually venturing away from the crowded downtown places. Hop on a ferry out to one of the islands (Lamma Island is a great choice) and you'll not only find an escape from the crowds and pollution, but a place where it would seem that time is somewhat forgotten. Hong Kong's islands are still inhabited by local fishermen, and you can still see how Hong Kong's Chinese people have lived for hundreds of years.
You don't necessarily have to go far to escape the crowded streets of Hong Kong as the city itself is also filled with wonderful parks and gardens that serve as little sanctuaries from the crowds. No visit to Hong Kong would be complete without the experience of taking the local bus out to Kowloon Walled City Park and witnessing the history of times gone by in Hong Kong.
For the solo traveler who wants to experience some of Hong Kong's tourist haunts, a trip up to Victoria Peak on the tram is a great way to see the city skyline and take a hike. Just make sure you set off early to catch the tram to avoid the crowds.
5. Food, Glorious Food
Of course no Hong Kong solo travel would be complete without indulging in the food. Eating alone is often the thing first-time solo travelers fear most. Luckily, the vast array of food options and street food stalls found in Hong Kong means you don't need to fear the solo restaurant experience, and it's a special treat to find "hidden" places where locals are eating in the street markets.
Hong Kong's food scene is vibrant and varied. You can easily sit down to a traditional Cantonese meal, English afternoon tea, or sample the food at a Michelin star-rated food truck. You'll not regret tasting the famous dim sum that can be found across the city.
6. There Are Plenty Of Free And Affordable Things To Do In Hong Kong
For the budget minded, a Hong Kong solo trip is just the trick, with plenty of free and affordable things to do during your stay. A visit to Man Mo Temple is a delight for your senses and you'll find it almost empty except for the occasional busload of tourists who frequent the site.
Hong Kong's streets are filled with things to see and do that won't break the bank. It's quite the treat to take the outdoor escalator up to the higher levels of the city. Wandering the side streets you'll find hidden treasures, antiques, and trendy cafes. Spend some time sitting in Hong Kong's Botanical Gardens to take a load off your feet after hours of exploring. In the evening, Hong Kong puts on a light show over Victoria Harbour. It's a delight to see, and is proof that Hong Kong is as lively at night as it is during the day.
7. Get Ahold Of A Map Of The City
Even though Hong Kong has plenty of sign posts, amongst all the high rises, you'll find that you can't rely on Google maps for directions. Download a tourist map before you go and you'll be set.
8. Take A Train Out To The New Territories To See How People Live Their Day-To-Day
The majority of people who live in Hong Kong reside out in the New Territories. A trip out on the public train will give you a sense of how people operate day-to-day. Wandering about in the suburbs, you'll pass lots of Buddhist temples and observe people doing tai chi and practicing their religion. It's also where you'll find the cheapest and most authentic food in Hong Kong.
Whether you're planning to stay a week or just a few days, Hong Kong is a great destination for your first or next solo trip. Why not give it a go?
Photo Credit: EarnestTse / Shutterstock, ESB Professional / Shutterstock