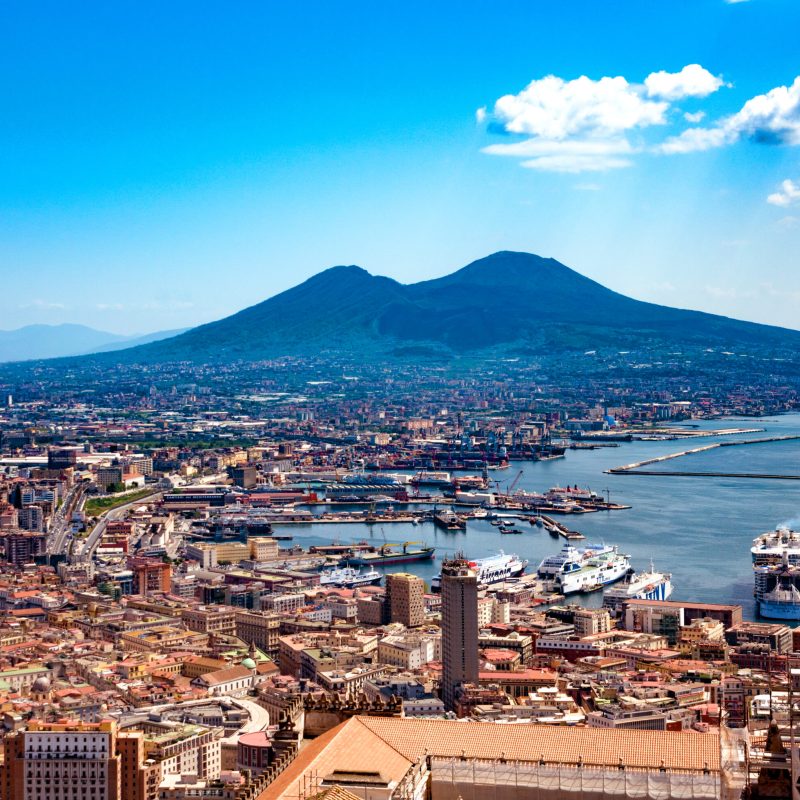 The arrival of high-speed trains has revolutionized travel in Italy, and day trips from Rome have never been easier or quicker. Italy's many historic sites and cultural attractions are more accessible than ever thanks to modern technology. Journeys that used to take several hours on the slow commuter trains can now be completed in under 1 hour and 30 minutes. Here are eight remarkable day trips from Rome that should be on every traveler's bucket list.
1. Pompeii
In A.D. 79, the thriving, cosmopolitan city of Pompeii was buried under nearly 20 feet of volcanic ash. The city has since been beautifully excavated and preserved, and archeologists are continually making exciting new discoveries.
What makes Pompeii so remarkable? Ancient graffiti by the residents is still intact — as are the scrawls left by the earliest site scavengers. Impossibly delicate frescoes are still vibrant, showcasing the faces of long-forgotten residents of the doomed city. The ruts from chariots are visible in the cobblestones. And nearby Mount Vesuvius, the culprit responsible for Pompeii's destruction, is accessible to hikers from April through late November.
Pompeii is 2 hours and 30 minutes from Rome by car or bus (and about 2 hours if you go as far as Naples by high-speed train). There are numerous guided bus tours that leave from Rome; these tours often combine a visit to Pompeii with visits to other nearby attractions.
2. Naples
While it's often combined with a visit to Pompeii as little more than an afterthought, Naples has enough to keep you busy for an entire day. The National Archaeological Museum of Naples should be at the top of your list. It's one of the finest museums of its kind in the world! If you visit in the summer and are eager to escape the heat, the San Gennaro Catacombs provide the perfect solution. Of course, you have to be comfortable with the fact that it's an underground space filled with thousands of skeletal remains, but that's all part of the adventure!
The Neapolitan food scene is arguably the best in Italy (though the Tuscans might have something to say about that!). Pizza was invented in Naples! Costing only a euro or two, Neapolitan pizza is probably the best food you'll ever get for such a low price. Go ahead and indulge in a second piece (or maybe six more pieces — no judgment!).
By high-speed train, Naples is just 1 hour and 15 minutes from Rome. The trip takes about an hour longer if you go by car.
3. Capri
Located in the Gulf of Naples, the island of Capri is 3 hours and 15 minutes from Rome by a combination of high-speed train and ferry. Long a haven for writers and artists, Capri is the embodiment of Italy's old-world glamour. And if you are sharp-sighted, you might just catch a glimpse of a celebrity or two (or, more likely, of the paparazzi that follows them).
Capri's most popular attraction, the Blue Grotto, was once thought to be the home of sea nymphs, and it's easy to believe they may still be there today. Equally worthy of investigation is the Green Grotto — a bit smaller, but far less visited.
Back on solid ground, the stately Villa San Michele has a beautiful interior and lush gardens. A little less modern, the nearly 2,000-year-old Villa di Tiberio (also known as Villa Jovis), once one of the grandest villas of the emperor Tiberius, reinforces the island's reputation as a sun-soaked haven for those who want to see and be seen.
And yes, in case you were wondering, many people who visit Capri do indeed wear capri pants! Don't hesitate to join in the tradition.
4. Orvieto
Just 1 hour from Rome by train, Orvieto is located in the Italian region of Umbria. The city is renowned for its ceramics and pottery, so there's no better place in Italy to pick up delicately hand-painted espresso cups or colorful bowls. Orvieto's stunning black-and-white striped duomo, or cathedral, is the crown jewel of this small city. The 14th-century church is filled with beautiful artwork.
Orvieto is built on a hill of volcanic rock, and a stroll around the city boundaries will provide incredible views, but you really want to take a walk under the city. Guided tours of the tunnels and caves that twist beneath the city can be arranged through the city's tourism office, which is located across the square from the duomo. On the same square, you'll find a small restaurant and wine bar, Enoteca al Duomo. It's the perfect place to try some local wine, bread, olive oil, and aged balsamic vinegar as you prepare for your trip back to Rome.
5. Florence
Just 1 hour and 15 minutes away from Rome by high-speed train, Florence, the capital of the Italian region of Tuscany, awaits. Florence is the birthplace of the Renaissance, and the city's artistic legacy is proudly on display at the Uffizi Gallery. The Uffizi is a treasure trove of Renaissance art, including Botticelli's The Birth of Venus. Plan to arrive in Florence as early as possible, with your Uffizi ticket pre-purchased, so that you can enjoy the museum before it gets crowded.
You should also purchase tickets in advance for the Galleria dell'Accademia, home to Michelangelo's David. The David is Florence's most famous piece of art, and it should be at the very top of your list.
While in Florence, you might hear the claim that the city is the birthplace of gelato. It's a hard claim to verify, but that shouldn't stop you from doing your research! Florence is a fantastic place to join a food tour to discover the city and its best eats at the same time. And your guide will be more than happy to dive into the legends and truths of the gelato story.
6. Pisa
By car, Pisa is 4 hours from Rome — a bit far for a day trip. But experienced travelers know to take the high-speed train to Florence (1 hour and 15 minutes) and then connect to Pisa (1 hour on the train plus a short wait at the station).
The Leaning Tower of Pisa will naturally be number one on your travel list, but there is so much more to explore in this small city. The Cathedral Of Santa Maria Assunta, Campo Santo, Museo Nazionale di Palazzo Reale, and Palazzo della Carovana are well worth checking out — if you go out of your way to see them, you will earn a lot of respect from the locals!
A visit to the city of Lucca, just half an hour from Pisa by train, really complements a visit to Pisa. Take a stroll along the beautiful city walls, visit the cathedral, and enjoy a cup of coffee in the public square. Lucca is much less popular than its famous neighbors, and it's a nice place to relax.
7. Siena
Siena is only 2 hours and 45 minutes from Rome by car or bus, but train connections to the city are a bit slower (unless you head to Florence by high-speed train and then backtrack south). Life in Siena is sedate and leisurely compared to life in its archrival Florence — except for two days in the summer during which Siena is the rowdiest place on Earth.
On July 2 and August 16, the different neighborhoods and districts of Siena come together for the heart-pounding spectacle known as the Palio di Siena. The Palio is a breakneck horse race around the city's central square — and so much more. It's tradition, it's community, and it's the heart and soul of the city. If you're feeling as adventurous as the locals, arrive early in the day to claim your claustrophobic spot with everyone else in town in the center of the track.
During the rest of the year, Siena is a perfectly chill place to stroll, shop, people-watch, sip a local wine, and watch the world go by.
8. Tivoli
Not every day trip from Rome necessitates a high-speed train trip to maximize your time. Nearby Tivoli, a 30-minute drive east, can easily be explored in half a day. While it's close to Rome, don't make the mistake of assuming it's little more than a suburb. Tivoli has its own distinct character and atmosphere. The city is home to many grand villas and estates that are open to visitors, a lovely cathedral, an ancient amphitheater, fun public art, and a nature preserve.
Villa Adriana (Hadrian's Villa), a UNESCO World Heritage site, comprises the ruins of a 120-acre estate that the emperor Hadrian constructed as a retreat during the second century. And while it's a tall order to overshadow anything owned by Hadrian, the Villa d'Este does so handily. Often referred to as the Tivoli Gardens, it's known as the most beautiful and best-landscaped garden in Italy and is a must-see destination.
Photo Credit: Noppasin Wongchum / Shutterstock
Photo Credit: Roman Babakin / Shutterstock