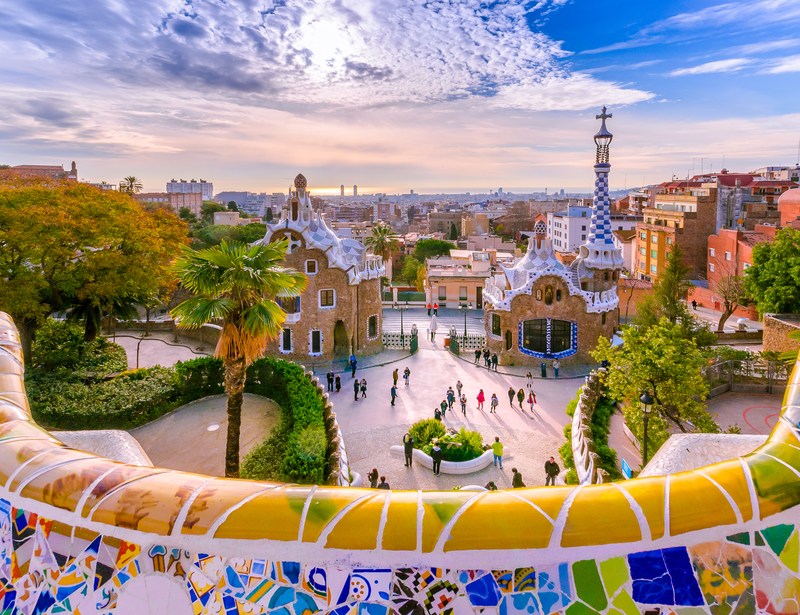 Woody Allen's Vicky Cristina Barcelona and Alejandro González Iñárritu's Biutiful are both films that depict Barcelona in a way that makes it nearly impossible not to fall in love with the incredible Catalonian city. These films inspired me to visit Spain's most-toured city and eventually to move to the country for four years.
Perhaps I was blindsided by Javier Bardem's devilish charm, but I found Barcelona irresistible, and I can guarantee that anyone who visits the city will understand why.
Barcelona is best known for its Gaudian architecture. La Sagrada Família, Antoni Gaudí's masterpiece, is one of the most unique churches on the planet. The architect's artwork can be found in every corner of the city and is one of Barcelona's main draws.
The Picasso Museum is another must-see attraction for art aficionados or anyone who wants to gaze upon some of the best-known works by the beloved Spanish painter.
Barcelona sits on the Balearic Sea, making it an ideal destination for those who love the beach. Because of its proximity to the water, Barcelona is home to world-class seafood and boasts perfect weather to sip sangria year-round.
There's so much to see in Barcelona that you could spend weeks there and still only see a fraction of the city. We've highlighted the most important things to see and do during a trip to Barcelona — no matter how short your stay, these things simply can't be missed.
La Sagrada Família
As I mentioned earlier, La Sagrada Família is one of Gaudí's most awe-inspiring works of art, a one-of-a-kind church that is most famous for the fact that it still isn't complete.
Construction of La Sagrada Família began in 1882 under architect Francisco de Paula del Villar y Lozano. In 1883, Gaudí took over as the church's chief architect. He incorporated elements of both the Gothic and Art Nouveau styles into the structure.
Today, La Sagrada Família remains unfinished. Some speculate that Gaudí intentionally left the church unfinished because he wanted the people to pay for it. During the Spanish Civil War of the late 1930s, work on La Sagrada Família came to a halt, and parts of the basilica and Gaudi's models and workshop were destroyed. After the war, work on the church continued under a series of architects. The steeples and most of the church's structure are due to be completed by 2026.
The Nativity façade and crypt of the church are part of a UNESCO World Heritage site celebrating Gaudí's works of art in Barcelona.
La Sagrada Família is open daily from 9 a.m. to 6 p.m. from October through March and from 9 a.m. to 8 p.m. from April through September.
Lines at La Sagrada Família can be incredibly long, so you might want to buy a fast-track entrance ticket in advance.
Park Güell
To see more of Gaudí's stunning architectural works, be sure to visit Park Güell, another UNESCO World Heritage site.
Located on Barcelona's Carmel Hill, Park Güell offers some of the best panoramic views of the city. Visitors can stroll through the park and enjoy Gaudí's modernist works; the park is full of vibrant colors, animal sculptures, and plenty of greenery.
Park Güell is situated slightly outside of the city center and can be reached by taking the metro line L3 (green line) to Lesseps or Vallcarca. You will see signs guiding visitors to the park, and you should expect a 15-minute uphill walk.
The park can also be reached by taking Bus 24 from Passeig de Gràcia or Plaça de Catalunya. The bus will stop directly in front of the gates of the park.
The park is open daily from 8:30 a.m. to 7 p.m., and admission costs 10 euros.
Casa Milà And Casa Batlló
To complete your Gaudí architecture tour of Barcelona, don't forget to stop at Casa Milà and Casa Batlló, both UNESCO World Heritage sites.
Casa Milà and Casa Batlló are just a 7-minute walk from one another on Passeig de Gràcia. Casa Milà, popularly known as La Pedrera, is known for its eccentric and asymmetrical shape and was Gaudí's last private residence before his death in 1926.
Head south on Passeig de Gràcia and you'll reach Casa Batlló, another Gaudí masterpiece. Casa Batlló offers a SmartGuide tour — an augmented reality guide providing a unique and immersive experience — with service in 11 languages.
Gothic Quarter
Barcelona's Gothic Quarter, also known as the Barri Gòtic, is a charming area with medieval-era streets, trendy bars, clubs, and authentic Catalonian restaurants.
It's hard to visit Barcelona without stumbling into the Gothic Quarter, since many of the city's main attractions are found in this area: the Cathedral of Barcelona, Las Ramblas, the Museum of the History of Barcelona, and so forth.
Artisans sell leather and jewelry in the Gothic Quarter, and there's an art market every weekend in Plaça del Pi.
Magic Fountain Of Montjuïc
At the bottom of Parc de Montjuïc lies the Magic Fountain of Montjuïc. Constructed for the 1929 Barcelona International Exposition, this magical fountain is the centerpiece of an extraordinary show featuring colors, lights, music, and water acrobatics.
The Magic Fountain of Montjuic performances begin at 8 p.m., 9 p.m., or 9:30 p.m. depending on the time of year. Each show lasts about 20 minutes, and there is a 10-minute interval between shows.
Beaches Of Barcelona
Some of Barcelona's most well-known beaches include Platja de la Nova Icària, Barceloneta Beach, and Sant Sebastià.
Barcelona's beaches invite visitors to take a dip in the warm water, to stroll along the shoreline, or simply to sit and sip sangria while people-watching at a café. A trip to Barcelona wouldn't be complete without spending at least some time lounging on the beach!
Picasso Museum
Housing one of the most complete permanent collections of artwork by the celebrated Spanish artist Pablo Picasso, the Picasso Museum features 4,251 works by the painter.
The museum is open from 10 a.m. to 5 p.m. on Mondays; from 9:00 a.m. to 8:30 p.m. on Tuesdays, Wednesdays, Fridays, Saturdays, and Sundays; and from 9 a.m. to 9:30 p.m. on Thursdays. Admission to the Picasso collection and temporary exhibits costs 12 euros, and admission to the temporary exhibits only costs 6.50 euros.
Camp Nou
If you're as big of a soccer (fútbol) fan as the Spaniards, then you'll want to visit Barcelona's prized 99,354-seat Camp Nou, home stadium of FC Barcelona.
Camp Nou is the highest capacity stadium in Europe and the third highest capacity stadium in the world.
There truly isn't a more Spanish experience than attending a Barcelona fútbol game, but tickets can come at a hefty price. Even if you can't make a Barcelona game, a visit to the Camp Nou stadium is worthwhile.
You can find more information on Camp Nou's opening times for touring here.
Eating In Barcelona
Since Barcelona is the most-toured city in all of Spain, it shouldn't come as a surprise that it is home to some of the best restaurants in the country. While you can eat at a three-star Michelin restaurant during your trip to Barcelona, I suggest another experience that, albeit a bit touristy, still offers some of the best authentic eats in the city.
La Boqueria, situated in the Ciudad Vieja (Old Town) district of Barcelona, is an exhilarating foodie experience, a sensory overload filled with mysterious smells, vibrant colors, and friendly locals. This bustling public market allows visitors to get a taste of all the essential Spanish and Catalonian delicacies, including Iberian ham, tortilla de patatas (an egg-and-potato casserole), bacalao (cod), paella, and crema Catalana (think crème brûlée with a Catalonian flare).
Although seafood paella originated in Valencia, it is a Barcelona specialty. Here are a few tips for finding the best and most authentic paella restaurants in Barcelona and throughout Spain:
Avoid looking for a paella restaurant in touristy areas (near Las Ramblas, the beach, etc.) The best paella will be found in tiny, tucked-away restaurants out of sight of tourists.
Paella is traditionally eaten on Thursdays (this is because fish was once purchased on Mondays, and restaurants wouldn't receive the fish until later in the week), so if you see a restaurant busy on a Thursday night with a lot of locals eating paella, you've come to the right place.
NEVER eat paella at a restaurant with picture menus. This is a dead giveaway that the place is a tourist trap that's overpriced, inauthentic, and that serves previously frozen paella.
Don't eat paella at a restaurant where a waiter tried to lure you in. These are also usually tourist traps and won't offer authentic, fresh paella.
Shopping In Barcelona
The type of spender you are will determine where you should shop in Barcelona.
If you're simply looking for souvenirs to take back home, look no further than La Rambla (referred to by locals as Las Ramblas). Located in central Barcelona, Las Ramblas is a picturesque tree-lined boulevard frequented by street performers and artists and containing all of the knickknacks and souvenirs one can imagine.
For cheap shopping in Barcelona, you can visit Portal del Angel, an 820-foot-long street with all of the major European clothing chains: Pull&Bear, Zara, Mango, Massimo Dutti, H&M, and Bershka.
For high-end shopping in Barcelona, head to Passeig de Gràcia. This luxurious shopping street features posh shops like Dolce & Gabbana, Armani, Gucci, Diesel, Burberry, Jimmy Choo, Cartier, Rolex, and Chanel.
Photo Credit: Pajor Pawel / Shutterstock
Photo Credit: Georgios Tsichlis / Shutterstock