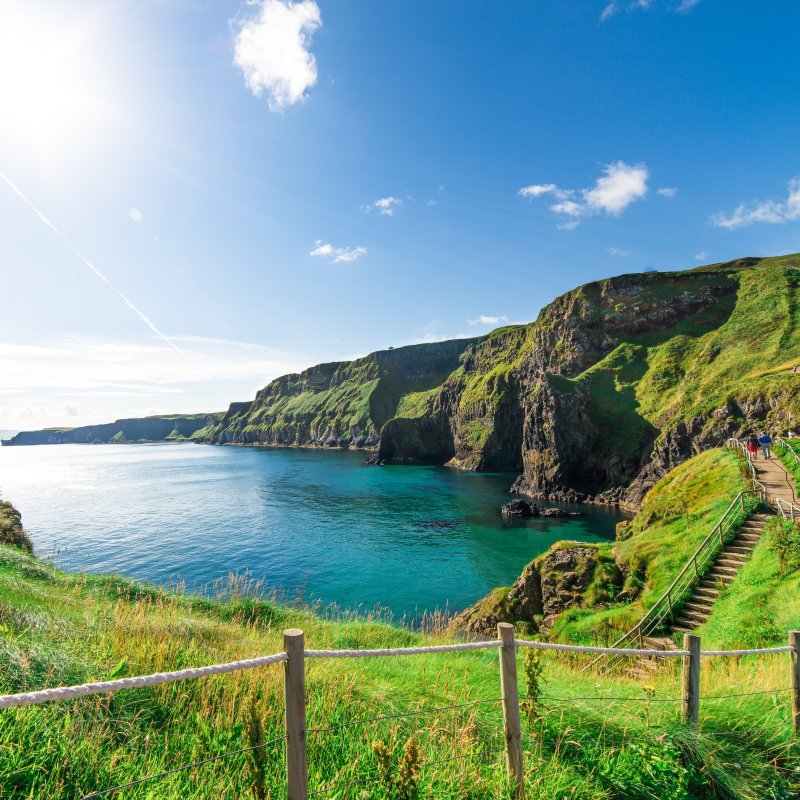 It's easy to plan day trips from Dublin, since Ireland is so compact. You can easily drive west, south, or even north to explore — and still make it back in time for dinner and a bit of fun at the pub! Dublin is sublime, but to get a good feel for Ireland, it's critical to explore beyond the capital city.
1. The Cliffs Of Moher
Just over 700 feet high at their peak and about 5 miles long, the Cliffs of Moher are one of Ireland's most popular tourist attractions. The showstopping cliffs, stormy Atlantic Ocean, and surrounding lush, green countryside are the spitting image of the Ireland you've long dreamed of visiting.
Ireland's notorious coastal weather can dampen your trip in more ways than one. Wear warm, waterproof clothing when visiting the Cliffs of Moher — and don't forget sturdy shoes. The Cliffs of Moher visitors center is worth experiencing to properly appreciate the area's ecological and cultural significance. Most day tours include free time to visit the center as well as the chance to walk along the cliff trails.
Using a combination of public buses and trains, a trip to the Cliffs of Moher can take nearly 5 hours. Driving there is a much better option — the trip takes about 3 hours. Many coach tours depart from Dublin and include other stops along the way to help break up the trip.
2. The Wicklow Mountains And Glendalough
Just a 45-minute drive from central Dublin, the gorgeous countryside of the Wicklow Mountains offers a taste of Ireland's wild, unspoiled side. It's one of the most popular guided coach tour options from Dublin, since it allows visitors to see a lot in a short amount of time (and given the lack of easy public transportation here, joining a tour is really the only alternative to driving yourself).
Along the way, you'll see the film locations of Braveheart and P.S. I Love You plus wildflowers, lakes, bogs, and fields of heather. Once you've reached the Wicklow Mountains, you'll enjoy dazzling views of Lough Tay, also known as Guinness Lake. Most tours also include a stop at Glendalough, home to the ruins of a monastery built in the sixth century by Saint Kevin. The site features a 10th-century round tower.
I was lucky enough to spot deer in the forest when I explored here — but I can't guarantee that for everyone!
3. The Boyne Valley
If you're enamoured with ancient Celtic history, the Boyne Valley is an irresistible excursion. It's home to the UNESCO World Heritage site of Newgrange, a prehistoric passage tomb dating to 3,200 B.C. That's older than Stonehenge and the Egyptian pyramids! While visiting, don't fret about getting photos. It's hard to capture the site in a way that does it justice. The visitors center sells beautiful postcards to commemorate your visit.
The Boyne Valley is also home to the Hill of Tara, where the ancient Irish High Kings were crowned at the Stone of Destiny. Legend has it that the stone will roar when the rightful king touches it — so don't forget to give it a tap!
Day tours to the Boyne Valley often include some free time in the seaside village of Howth, a stop to see the high crosses at Monasterboice, a visit to Trim Castle and Slane Castle, or a stop at Bective Abbey. Read your tour itinerary carefully to be sure you're getting the best value for your time and interests.
Newgrange is just a 1-hour drive from Dublin. If you're renting a car, be sure it includes a GPS — or take along a friend who is skilled at navigating! There are more than a few narrow country lanes in this part of Ireland.
4. Howth
If your day trip to the Boyne Valley doesn't include a stop at Howth, it's easy to get there on your own. The pretty seaside village is just a 30-minute drive from Dublin's city center, and it's an inexpensive trip by bus, taxi, or train. This is the perfect option for anyone who's on a tight schedule and can't spare a full day to explore outside Dublin. You can enjoy the best of Howth in a few hours — I recommend taking a late afternoon trip there to enjoy the seashore at dusk before sitting down to a delicious dinner. Alternatively, on Saturday morning or Sunday morning, you could drop in to the community market, which is really close to the train station.
In Howth, you'll find beautiful views, easy coastal hikes, and the 12th century Howth Castle, which is open during the summer months. If you have some extra time, you can catch a ferry to Ireland's Eye, a small island that is home to the ruins of a sixth-century monastery.
5. Northern Ireland
There was a time when Dublin and Belfast felt much farther apart. Today, travel between Northern Ireland (which is part of the United Kingdom) and the Republic of Ireland is easier than ever before, and you can get to Belfast from Dublin by public bus, shuttle bus, train, or car (the drive is less than 2 hours long). There are good public transportation options for visiting Giant's Causeway and Derry (also known as Londonderry) as well, but the wait times between connections add up quickly, making joining a tour the most practical option for seeing more than one site. Driving is a good option, too.
Belfast's attractions include Belfast Castle, the Botanic Gardens, and the popular Titanic Belfast museum. A short drive away is Giant's Causeway, an incredible geological formation which may or may not have been formed by the thunderous footsteps of giants. Derry/Londonderry is a beautiful walled city with a tragic past; guided city tours help to put its complex history into perspective. Derry/Londonderry is one of my all-time favorite travel destinations and one of the most underrated cities in Europe. It's well worth the effort to go there!
6. Blarney Castle And Cork
Legend has it that if you lie on your back and bend back to kiss the stone of Blarney Castle, you'll be graced with the gift of gab. I can't say for sure that it worked — I'm prone to chattering already! — but I can say with certainty that Blarney Castle is a fantastic day trip from Dublin. Personally, I enjoyed exploring the castle grounds (and the delightful Witch's Cave) more than my rather perfunctory rock-kissing experience, but it was still fun to be a part of the tradition.
Blarney Castle is just a short trip from Cork, Ireland's third-largest city and a terrific foodie destination.
It only takes 3 hours and 30 minutes to drive from Dublin to Blarney Castle. Rent a car or join a group tour to make the most of your time.
7. Limerick And Adare
Limerick dates to A.D. 812 — possibly even earlier — and in the 16th and 17th centuries it was called the most beautiful city in Ireland due to its buildings of white marble. In later years, the city fell on hard times. Today, Limerick is back to its former glory and is notable for its thriving art and literary scenes. The Limerick City Gallery of Art, the Hunt Museum, and the Frank McCourt Museum are all worth visiting. The city's Shannon Airport, the birthplace of Irish coffee, was home to some of the earliest transatlantic flights, and aviation fans will enjoy a visit to the Shannon Air Museum.
The nearby town of Adare has the distinction of being named the prettiest village in Ireland. Adare Manor, a posh hotel, is a fantastic place for enjoying an elegant afternoon tea or a round of golf you'll always remember.
Limerick is a 3-hour drive from Dublin. It takes about 2 hours and 30 minutes to get there by bus and train.
8. Kilkenny And Waterford
A 2-hour drive from Dublin, the town of Kilkenny is often described as "charming," but a better word would be "bewitching." It's Ireland's best-preserved medieval town, and there are tantalizing stories, legends, myths, and fables aplenty. Be sure to ask the locals about the witch who killed her four husbands! The town is easy to get to by public transportation for a day trip, but I have to say that it's a delightful place to stay for a night or two to enjoy the local pub life — and the ghost tour!
The nearby small village of Thomastown is home to Jerpoint Abbey, a partially ruined Cistercian abbey from the 12th century that is famous for its stone carvings. If you have a car or you're intrepid with rural buses (I sure was!), it's well worth checking out.
Just down the road in Waterford is Waterford Crystal's famous manufacturing facility. You can take a guided tour of the facility and enjoy the massive display of crystal in the company's showroom.