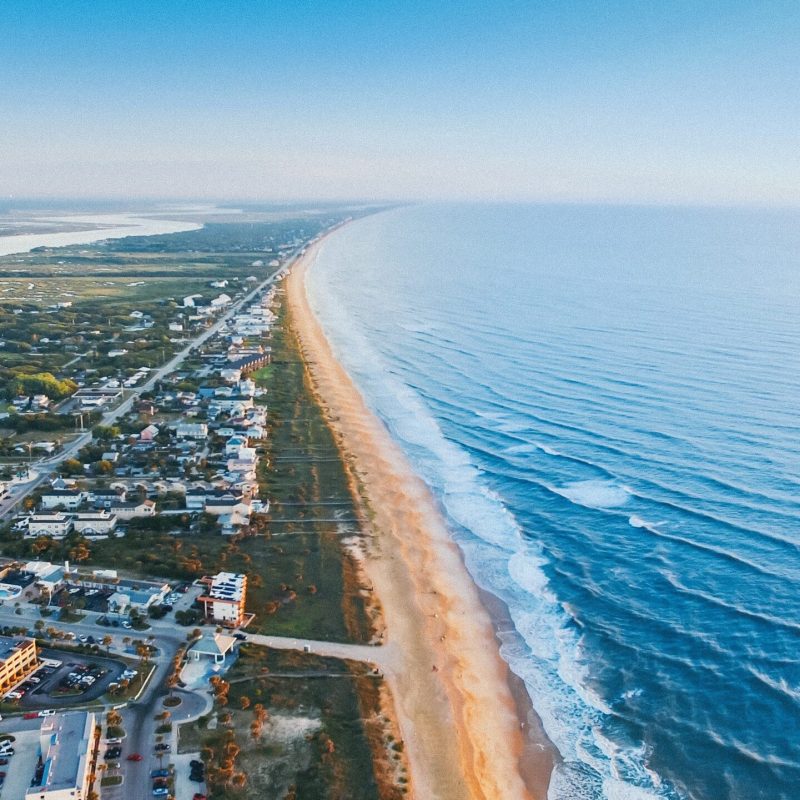 Sometimes, the best adventures are the shortest. If you're not willing to take weeks off work–or if a two-week trip isn't in your budget–a weekend getaway can be exactly what you need to rest, recharge, and enjoy some fresh experiences in a new city.
Of course, when you're vacationing for a few days at a time, location matters. Depending on where you live, a great vacation may be a day-trip away–or it might take all weekend to arrive in the first place!
That's why we looked for ideal weekend vacation spots all over the United States. Whether you live in rural New England or deep in the heart of Texas, a place or two on this list will be accessible to you. This summer, consider taking a brief trip to one of these cities.
Niagara Falls, Ontario
Many of us plan our weekend getaways with our spouses, and if you're looking for something romantic (not to mention awe-inspiring), it's hard to do much better than Niagara Falls.
Over 30 million people visit Niagara Falls each year, so if you're looking to avoid the crowds, you might want to plan your trip for late summer. Around Labor Day, the crowds clear out, and the weather's still pleasant. The Canadian side of the Falls offers better views and a wider variety of experiences. You can book a quick boat ride to experience the natural landmark in all of its glory (just make sure to bring a poncho).
So, what do you do when you're not gazing at waterfalls? If you're traveling with your family, head out to Clifton Hill for food, rides, and other activities. If you're looking for something more subdued, consider a winery tour (our pick is Château des Charmes, but Niagara Falls Tourism has a full list of wineries and breweries to peruse). The area also has tremendous golf courses, casinos, and spas. For more on how to spend an amazing weekend in Niagara Falls, check out our Niagra Falls dos and don'ts.
Asheville, North Carolina
Known for its bustling arts scene and historic architecture, Asheville is well worth a longer visit, but it's a great place to spend a weekend, too.
The quirky downtown area offers a number of exceptional restaurants; stop by artisan donut shop Hole for fresh-baked delights, or head over to Cúrate for Spanish tapas. The town's festival series provides an abundance of musical entertainment, and open-air markets and boutique shops offer opportunities for souvenir seekers.
History buffs will want to check out the Carl Sandburg home, where the late "poet of the people" spent much of his adult life, and the Biltmore, a 250-room American castle on a bucolic 8,000-acre estate. Alternately, you can just make your way through the city–there's no shortage of historic landmarks, and the Gray Line hop-on/hop-off trolley tours make exploration easy.
If you're after fresh air, you'll want to take a hike in the nearby Blue Ridge Mountains; trails are only a short drive from downtown.
Bend, Oregon
Oregon is often overlooked as a vacation destination, but if you're looking to beat the summer heat and explore some wilderness, it's hard to do better than Bend.
The largest city in Central Oregon, Bend provides easy access to a plethora of hiking trails. Make your way up Pilot Butte for incredible views or explore the region's caves with help from an experienced guide via Wanderlust Tours.
Stay in the city, and you'll want to check out the Bend Ale Trail, billed as the "largest beer trail in the West." You'll visit breweries, distilleries, and wineries, many of which offer family-friendly tours. The town's quirky personality shines through, and whether you're looking for live music, theater, or a relaxing night at the pub, you'll find plenty of options.
Oh, and before you leave town, be sure to rent a movie at Blockbuster. No, seriously: Bend is home to the world's last Blockbuster store, which has become a popular tourist attraction in recent years. It's a nostalgic throwback, right down to the '90s carpeting, and it even has its own beer ("The Last Blockbuster Sinistor Black Ale," produced by the nearby 10 Barrel Brewing Company).
Edisto Island, South Carolina
For many travelers, a summer vacation isn't worthwhile unless you're spending time outdoors. Edisto Island, located about 45 miles south of Charleston, features several gorgeous beaches, but it's an especially attractive destination for mature travelers thanks to its beautiful plantations and quiet overall atmosphere. It's secluded, historic, and relaxing–perfect for a quick getaway.
Wildlife lovers will want to visit the Edisto Island Serpentarium to watch alligator feedings and learn about unique species of snakes, turtles, and other reptiles native to the region. If that seems a little too…slithery, try taking a drive through the Botany Bay Plantation Heritage Preserve, a 4,600-acre stretch of undeveloped beachfront.
The island also features a number of fine dining options (including local seafood offerings, of course), and with a golf course, marina, and rental houses, it's a true hidden gem.
Portland, Maine
Sure, few people travel just for the cuisine, but Portland might change that. This peninsular city has some of the best restaurants on the East Coast, and whether you're staying for a couple of days or a couple of weeks, you certainly won't run out of things to do.
If you love seafood, you'll want to book a lobstering tour on Casco Bay, where you'll learn to bait traps and catch your own lobster (you can purchase your catch at wholesale prices after the cruise, then have it cooked across the street at Portland Lobster Company). For travelers who don't want to work for their dinner, the legendary Fore Street restaurant offers an ever-changing selection of farm-to-table dishes.
Portland's many trails offer an ideal experience for cyclists and hikers. The city has an online map of 31 of its trails, all of which are fairly well kept. In the summer, there's plenty of tree coverage, so you can enjoy a temperate, comfortable walk in most weather conditions. If you've got your sea legs, you can also head to one of the many nearby islands via Casco Bay Lines ferries.
Napa Valley, California
Every aficionado–and every casual wine fan–should make a trip to Napa Valley at some point. While the nearby Sonoma Valley offers a more laid-back, pastoral experience, Napa Valley is arguably more refined; you'll find world-class hotels, Michelin-rated restaurants, and, of course, tasting tours.
The region has more than 400 wineries, including Louis Martini, Salvestrin, and Hewitt Vineyard, each of which offers tours at reasonable prices. You can also visit the American Canyon Wetlands Trail, enjoy a round of golf, or if you're especially adventurous, spend an hour or two in a hot air balloon. It's a surprisingly family-friendly destination, and Napa's nightlife is both refined and energized.
With that said, we'll be perfectly honest: If you're not planning on tasting, Napa Valley probably isn't for you. However, if you can appreciate a great cabernet, you can easily plan an adventure-filled weekend.
Boston, Massachusetts
Spend a weekend in Boston, and you'll feel like you've taken a much longer vacation. It's hard not to pack your days with activities; whether you're walking the legendary Freedom Trail, watching dolphins and whales, or heading over to Martha's Vineyard for a day trip, you'll stay busy.
Of course, if you're a sports fan, you owe yourself a pilgrimage to Fenway Park. Other landmarks like Boston Common (the oldest city park in the U.S.) and the Faneuil Hall Marketplace should interest history buffs. First-time visitors should check out a hop-on/hop-off trolley tour, but part of the fun is exploring on your own.
At night, head to the waterfront for the Summer in the City Entertainment Series and sample fresh seafood from some of the best restaurants on the East Coast. It's easy to fill up an itinerary, so if you prefer to spend your vacations on the move, you'll be satisfied.
St. Augustine, Florida
St. Augustine bills itself as "the nation's oldest city," and while that fact is somewhat debatable–many cities founded by indigenous people are much older–we can't deny that it's a wonderful place to spend a couple of days. There's a definite European vibe thanks to St. Augustine's historic architecture and multicultural heritage, and with art galleries, theaters, live music, and horse-drawn carriages, St. Augustine manages to feel both quaint and vibrant.
Adventurous travelers will want to check out the town's many festivals and public events, and a quick ride on an Old Town Trolley Tour provides a great way to jumpstart your trip. Of course, St. Augustine's beaches are the main draw for tourists, and if you're simply looking for a place to relax and soak up the sunlight, you won't be disappointed.
Be sure to check out the Visit St. Augustine smartphone app, available on iOS and Android. The interactive travel guide provides an easy way to plan your stay.
Looking for the best summer towns for your Fourth of July weekend getaway? Check out our favorites, coast to coast.
Photo Credit: Lance Asper / Unsplash