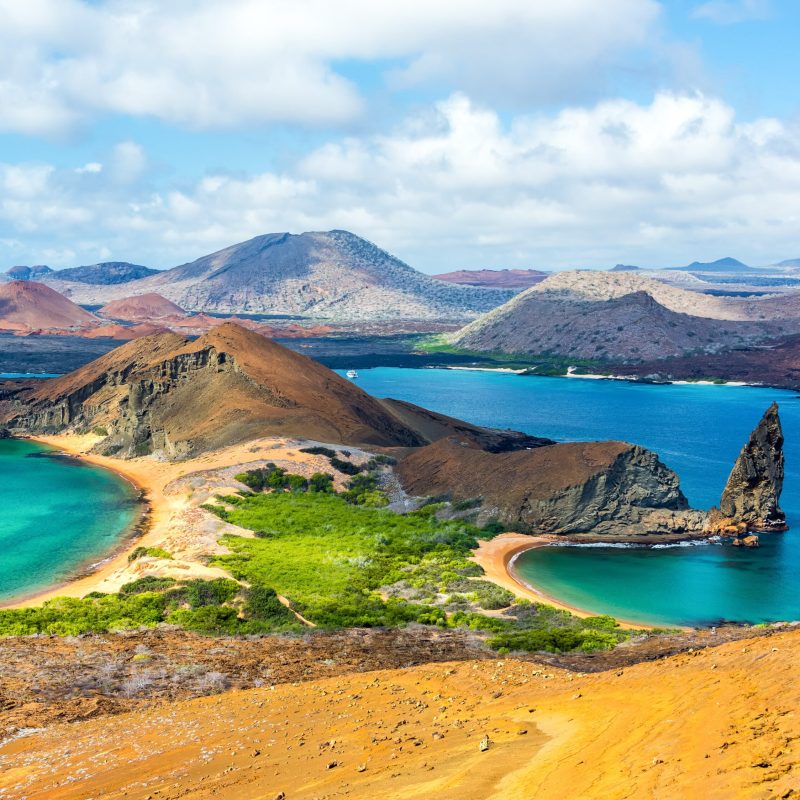 When you think of the far-flung Galapagos, several things probably come to mind. The island chain's biodiversity is world-famous. Charles Darwin's theory of evolution first took shape there. And of course, there are the rugged and pristine landscapes that vary island to island. Indeed, this amazing archipelago more than 600 miles off the coast of Ecuador is a bucket list travel destination. Here's what to consider when planning your own adventure there.
How To Get To The Galapagos Islands
It's a schlep! Your first stop will be either Quito or Guayaquil in Ecuador. Several domestic airlines in Ecuador offer flights from those cities to Galapagos. Your best bet is to arrive on Baltra Island.
Baltra is a small volcanic outcrop located just north of the chain's most populated island, Santa Cruz. After a three-hour flight, you will take a short ferry to Santa Cruz, then hail a taxi. You will most likely travel to Puerto Ayora, the tourist hub to the south of the island. Expect to pay between $400 and $600 for a roundtrip flight from Ecuador to the Galapagos.
During the drive to Puerto Ayora, keep your eyes peeled for "Tortoise X-ing" signs on the side of the road. If you're lucky, you might even spy one of the island's famed residents meandering down the highway or in a field. It's your first hint that you've landed in a very special place.
The Best Time To Visit The Galapagos
There isn't really a wrong time of year to visit, but be advised, summer is high tourism season in the Galapagos; mid-December through mid-January is also quite crowded. If you plan to travel at that time, make arrangements well in advance.
The islands are so close to the equator that the temperature remains fairly constant. There is an increased rain risk from December to May, but most showers flare up and move on fairly quickly. Expect temps in the 70s and 80s with direct sun year round.
Where To Stay
You'll need to decide if you want to cruise or opt for lodgings on land. There are a variety of cruise options, lengths, and luxe levels. All will include room and board, plus you'll have the added benefit of a built-in itinerary. Travel between islands takes place at night, allowing you to maximize your stay at each spot. Most yachts also provide snorkel gear. Cruising can be a great option if you're looking for an all-inclusive experience. Most depart from Puerto Ayora. (Quick aside: A whopping 12,000 people live in Puerto Ayora. This gives you an idea of how isolated and minimally developed these islands really are!)
If you don't want to stay on a boat, you can call one of the four inhabited islands–Santa Cruz, Isabella, San Cristobal and Floreana–your home base. To cut down on guesswork and planning-related stress, consider staying on Santa Cruz in or around Puerto Ayora, then take day trips either via ferry or private hire to the surrounding islands for scuba, snorkel, or hiking trips.
We adored the rustic but comfortable Hotel La Casa de Judy in Puerto Ayora. We paid about $80 a night, breakfast was included, and we had an amazing view of the sea. To really splurge, check out the Finch Bay Galapagos Hotel. Rooms there start at $560 a night and the on-site restaurant serves meals with locally grown produce and, of course, fresh seafood.
What To Do In The Galapagos
Get Wild
Wherever you stay, you can spy amazing wildlife without much effort. On land, look out for giant tortoises, marine iguana, and sea lions. Look to the skies to spot Darwin's famous finches, the impressive Galapagos hawk, or the adorable blue-footed boobie.
Set Sail
Gear up and head out for a snorkel or scuba adventure. The underwater worlds surrounding the Galapagos are truly a sight to behold. Hire day tours in advance, and book your destination according to the animals you'd most like to see. Santa Fe, an island about 45 minutes southwest of Puerto Ayora, is home to Galapagos sharks and curious sea lions, which will often swim within feet of snorkelers and divers. You might catch glimpses of Galapagos penguins, sea turtles, and parrotfish in waters off Bartolome, and hammerhead sharks can often be spied near Wolf Island.
Visit the Galapagos Conservancy website for more information on which animals can be spotted where, and at what times of the year. Day cruises start at $150 and go up in price according to destination; some include simple meals onboard the boat. Most tour operators will have snorkels, masks, and wetsuits to loan out, but we brought our own TRIBORD masks.
Scientific Discoveries
The Galapagos remain one of the planet's premiere research sites. Check out the Charles Darwin Research Station in Puerto Ayora to see how scientists are still learning from observations made here. This non-profit center is dedicated to studying, preserving, and protecting biodiversity, and works with institutions from around the world on various research projects. Visitors are welcome and entry is free of charge.
Come Out Of Your Shell
If you want to get up close and personal with the famed Galapagos tortoises, check out any one of a number of reserves scattered across the islands. El Chato and Rancho Primicias are favorites on Santa Cruz, while Galapaguera Cerro Colorado is where you can check out these big guys and gals on San Cristobal. Each reserve features wide open fields with plenty of cool, shady spots where these gentle giants can meander in peace. Remember to keep a respectful distance (at least 6 feet) from the animals. Entrance fees are modest, ranging from $3 to $5. Do not forget your camera!
Get Your Beach On
Tortuga Beach (named for the sea turtles who lay their eggs there) on Santa Cruz is perhaps the most famous in the islands. It's a stunner, but you will also be blown away by the unnamed tucked-away stretches you happen upon during breaks on your day cruises. Your guides will know the best spots and will often anchor in them between snorkels or dives. Just remember, take nothing with you, and leave nothing behind.
Head For The Trails
Each Galapagos island has its own unique terrain. Take a grueling 374 steps, past lava tubes and outcroppings, to the top of Bartolome Island for a bird's eye view of the famous Pinnacle Rock. On Santa Fe, wander through a cactus forest while watching the majestic Galapagos hawks circling overhead. And on North Seymour, keep a close eye out for the frigate birds, who have the showiest mating display around.
What To Eat
With all of the adventures on land and sea, you're bound to work up an appetite during your Galapagos stay. Of course, fresh fish–grilled or served ceviche–is always on the menu, as are plantains and other tropical fruits.
Restaurants scattered across the islands range from fine dining to pub grub and feature varying price points. A favorite place to nosh in Puerto Ayora is Charles Binford Street. At night, this small thoroughfare is blocked off and food stands open up. You can choose a just-caught fish and have it grilled as you watch. Rice and plantains are often served on the side. For dessert, stop into a sweet shop for an ice cream or a decadent slice of tres leches cake.
Important Things To Pack For The Trip
Remember: The sun here is fierce and it will sizzle any part of you that's not covered or blocked. Bring high SPF sunscreen and clothing with SPF protection. A floppy hat or neck gaiter and sunglasses should also be on your list. Hiking gear, including boots and a water bottle, is a must. (Note: Do NOT fill that bottle with tap water. Only purified H2O!)
Consider taking personal snorkel gear and an underwater camera.
Have cash on hand. There is a $100 cash-only park entry fee per person once you touch down at Baltra. If you don't have it, you're not leaving the airport! U.S. dollars are accepted throughout the islands.
One more thing to bring: your sense of wonder. These untamed islands are truly one of the world's last outposts. Enjoy every moment!