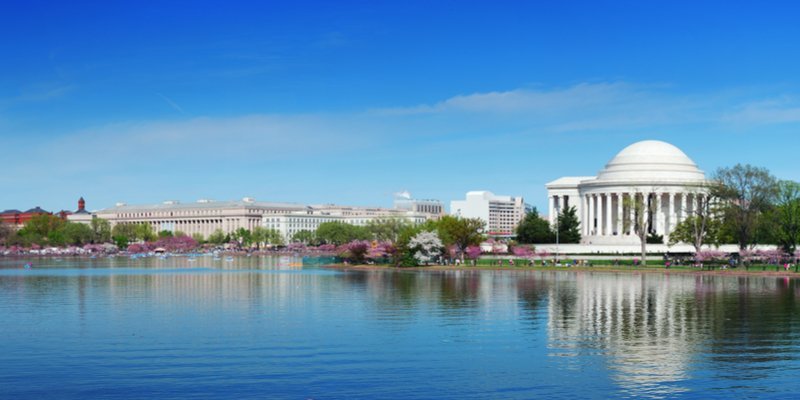 With its spring blooms and its gorgeous, sunny weather, May just might be the perfect month for a weekend getaway to a new United States city. Travelers recovering from cabin fever are never more excited for festivals, food tours, hiking trails, and craft fairs. And, for the most part, muggy summer days and furious mosquitoes are still a month or two away! Here are 12 cities that should be on every traveler's bucket list.
1. Washington, D.C.
After the National Cherry Blossom Festival ends in April, the capital of the U.S. again becomes quiet — and becomes the perfect place for visitors. The weather is beautiful, the blooms are bountiful — you didn't think the colors ended with the cherry blossoms, did you? — and the city is free of the tourists and students who crowd the museums and other attractions during June. Add in a host of world-class museums that offer free admission, and you have the makings of a fantastic spring getaway.
2. Boston, Massachusetts
No city embraces spring quite like Boston. The city suffers from unforgiving winters, so it's no wonder that the residents are always so excited for the Boston Marathon in April. It might be one of the world's most grueling sporting events, but hey, at least everyone's outside again! That enthusiasm continues into May, which includes plenty of outdoor events, excursions to the shore, and cozy nights spent sipping beer on heated patios.
3. New Orleans, Louisiana
In early May, New Orleans is swinging to the sounds of the city's Jazz & Heritage Festival, which has been held annually since 1970. The festival is one of the most respected jazz events in the world. Today, visitors can expect 12 stages, events spread out over two weekends, and diverse musical acts. The Rolling Stones will be headlining in 2019! With its balmy, summery weather and growing food scene, New Orleans is the perfect place to spend a May weekend.
4. Hampton, Virginia
If you've always wanted to sail the high seas, you might want to wait until June to head to Hampton. That's when the city celebrates its annual Blackbeard Pirate Festival. But if you're more of a landlubber, May is a fantastic time to visit. The city is all spruced up for spring and hard at work preparing for the festival attendees, so it's really putting its best foot forward for guests. The area is rich in history and has spectacular beaches, museums, and family-friendly activities and attractions.
5. Portland, Oregon
Tons of coffee and craft beer, a rapidly growing restaurant scene, and gorgeous hotels — there's enough happening in Portland to keep you busy for an entire weekend and then some. But the best reason to travel there in May is to explore the great outdoors. There are fantastic hiking trails in and around the city, and in May, the weather is beautiful and the mosquitoes aren't out in force.
6. Kansas City, Missouri
Kansas City is fun — there's no other way to say it. Sure, there are pretty buildings and interesting museums, but that's not why people travel there. In Kansas City, indulgence is the name of the game, and you can indulge in anything from messy, finger-licking barbecue, brisket, and steak to craft beer on tap. Did I mention that the cocktail scene is second to none? Kansas City is the perfect place to celebrate the return of warm weather.
7. Cleveland, Ohio
For years, Cleveland has been flying under the radar, slowly assembling an irresistible lineup of attractions while other cities have been toying with trends. Today, Cleveland is home to the phenomenal Rock & Roll Hall of Fame, a great art museum, and one of the best orchestras in the world. It's also home to a host of canoe, kayak, and even stand-up paddleboard outfitters. And while Cleveland has grown considerably, it's still a manageable size for a weekend getaway.
8. Nashville, Tennessee
Nashville is all about food, music, more food, more music, and plenty of good times. There are some fantastic stores there, too (including the flagship Draper James store, home to Reese Witherspoon's lifestyle brand), but if you're on a budget, Nashville has plenty to offer. Many of the city's live music venues offer free or low-cost admission. More than 150 food trucks offer plenty of delicious eats that won't break the bank. But take note: Nashville is one of the most popular locations in North America for bachelorette parties. If you prefer a quiet escape, stick to small hotels and cozier bars and restaurants.
9. Albuquerque, New Mexico
If you want your creative spirit to soar, Albuquerque is the place to go. Gorgeous, desert-friendly gardens, colorful houses, and a lot of artists and artisans call the city home. Albuquerque is also home to a generous selection of galleries, art centers, and festivals. Every October, hot-air-balloon enthusiasts crowd the city for the annual International Balloon Fiesta, but you can enjoy a romantic flight at any time of year.
10. San Antonio, Texas
If you think that Texas is nothing but wide-open spaces, you need to walk the beautiful, historic streets of San Antonio — they will have you falling in love with their coziness. Sometimes called the Venice of America, thanks to the Pearl District River Walk and waterfront restaurants, San Antonio is brimming with charm. A bonus? The San Antonio Missions, a UNESCO World Heritage site, will remove any notion you may have that the United States's only world-class historic sites are to be found on the East Coast.
11. Traverse City, Michigan
Known as one of the prettiest small cities in America, Traverse City is home to several independent bookstores, a historic movie theater, and adorable cafés. Everywhere you go, cherries are on the menu. They're placed on top of the treats sold at fudge and confectionery shops, added into the salsa at the brew pubs, and baked into the homemade granola bars served up at fancy spas. Cherries are a significant part of the economy in Traverse City, but many farmers are diversifying, and some are beginning to plant grapevines. May is the perfect time to visit to enjoy leisurely downtown strolls, to play some golf, and to sample some of the city's most famous fare.
12. Cedar City, Utah
With Zion National Park, Dixie National Forest, and the Cedar Breaks National Monument in its backyard, Cedar City is a fantastic base for exploring the American Southwest and the great outdoors. But don't be surprised if your conversations around town take on a decidedly literary bent. The city hosts a well-known Shakespeare festival each summer, and locals go batty for the Bard. The Frontier Homestead State Park Museum, the Southern Utah Museum of Art, and the historic Cedar Theatre round out the list of great things to do.
Photo Credit: Songquan Deng / Shutterstock