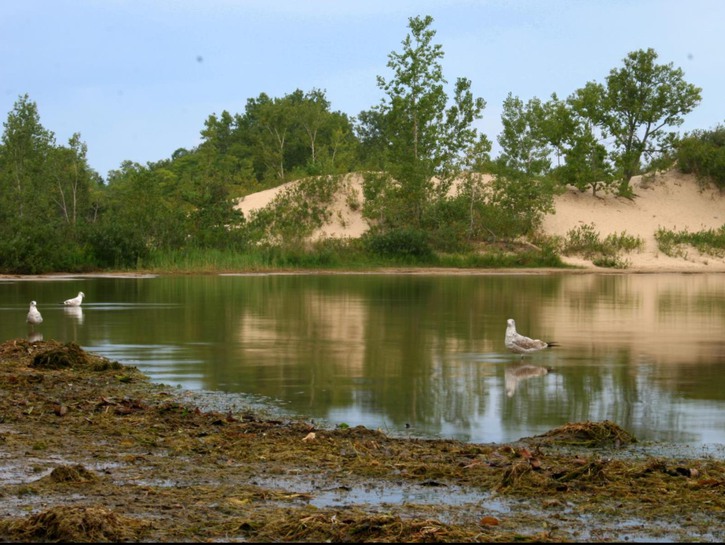 Stunning sunsets, lazy days at the beach, hikes through ancient forests–and lots of delicious s'mores. The best parts of a Canadian summer are spent at the campground, and the provincial parks of Ontario are among the most well-known and beloved in the country. They've inspired some of Canada's most famous artwork and have earned a place in the hearts of travelers nationwide and around the world. As a passionate traveler–and camper–these are some of my favorite haunts that I return to year after year.
Sandbanks Provincial Park
Picton, Ontario
With spectacular white sand dunes and gentle, warm waters, Sandbanks Provincial Park is a little bit campground and a little bit tropical paradise. The striking beaches along the shores of Lake Ontario rival anything found on the ocean's coastline and, with plenty of services and amenities for day visitors, there's a good mix of overnight campers and shorter-term guests. Sandbanks is large enough to support some impressive amenities, including a camp cafe with ice cream bar and a large dog beach. However, despite its size and multiple campgrounds, it still books up well in advance, especially on popular weekends. This isn't necessarily the best choice for a last minute visit.
Nearby Picton is a charming town that features antique shops, art galleries, craft stores, and well-reviewed cafes. It is also home to a branch of Cooke's Fine Foods, perfect for picking up gourmet groceries, imported food products, local cheese, and fresh-roasted coffee.
Bon Echo Provincial Park
Cloyne, Ontario
In operation since 1965, Bon Echo is one of the older provincial parks–and it's the guardian of a positively ancient treasure. Mazinaw Rock, the park's most beloved feature, is accessible by canoe and features over 260 indigenous pictographs, the largest visible collection in Canada. It's also the nesting site of the peregrine falcon and many other species, making it a beloved favorite of bird watchers. For thrill seekers, Mazinaw's 100-meter-high cliffs and 145-meter-deep waters (the second deepest lake in Ontario) are perfect for rock climbing and underwater exploration. For my part, I happily swam in waist-deep waters that provided plenty of thrills for me!
Yurts and rustic cabins are available with advance booking for guests who prefer a slightly more structured alternative to pitching a nylon tent!
Presqu'ile Provincial Park
Brighton, Ontario
With 338 recorded bird species and the largest area of protected marshland on the north shore of Lake Ontario, Presqu'ile is a must-see location for nature lovers and sustainable travelers. However, history lovers will adore it as well. It's home to the province's second-oldest operating lighthouse and even has its own interpretive center dedicated to educational programs.
In the town of Brighton, Mrs. B's Country Candy is a favorite of locals and campers alike for stocking up on sweets and indulging in hand-scooped ice cream. Many moons ago, I got a cone with a scoop of roasted marshmallow and a scoop of rhubarb ginger, and I'm still dreaming of the incredible combination!
Rideau River Provincial Park
Kemptville, Ontario
Just 40 minutes from Ottawa, Rideau River is a calm, quiet campground that provides a nice retreat from the city. The grassy campsites and relaxed atmosphere are a go-to for families and multi-generational groups. The park also provides a Discovery Drop-in program for kids that's hugely popular.
The river itself is part of the Rideau Waterway, a UNESCO World Heritage Site, and offers good fishing. The park office has rod and reel rentals available. It's also a favorite spot for kayakers, canoers, hikers, and picnic-loving day trippers.
Fitzroy Provincial Park
Fitzroy Harbour, Ontario
Another family-friendly provincial park within driving distance of Ottawa, the real appeal of this campground is that it makes an ideal base for exploring the nearby community of Carp. Carp is home to a superb fairground with an indoor-outdoor farmers market on Saturdays. The market offers everything from English-style meat pies to cool, creamy, Vietnamese coffee and homemade hot sauce and preserves. You can also appreciate and purchase a classic market assortment of produce, flowers, and herbs. The Diefenbunker, Canada's Cold War-era nuclear bomb shelter turned museum is also nearby, as is KIN Vineyards, home of arguably the coldest-climate chardonnay in the world (they painstakingly bury their vines by hand each winter to protect the plants from the extreme cold).
Within the campsite itself, 100-year-old pines and 200-year-old oaks keep the sites shady and cool. The easy, under-a-mile Carp Trail is a relaxing way to enjoy the majesty of these trees.
Pinery Provincial Park
Grand Bend, Ontario
Grand Bend is a small town with plenty of vacationer-centric amenities and a bit of a reputation for the party life. But the Pinery couldn't be more relaxed. Situated on a narrow strip of land along Lake Huron, Pinery boasts beaches beautiful enough to rival Sandbanks and an ecosystem on par with Presqu'ile. The oak savanna and coastal dune ecosystems, for example, provide shelter to over 800 plants. Within the park, the Old Ausable Channel, a wetlands area, is perfect for canoeing and kayaking–in fact, its sheltered waters are much more calm than the lake itself! The Channel is also home to the park's Ooze n' Gooze program that'll let you "get your hands wet as you wade through the marvel of life that thrives in the Old Ausable Channel." It's a hit with kids, but there's nothing stopping adults from joining in–provided they don't object to a bit of muck and slime.
Rustic cabins and yurts are available and there are year-round camping options for hearty souls seeking out winter camping adventures.
Algonquin Provincial Park
Whitney, Ontario (And Other Access Points)
Everything about Algonquin Provincial Park is legendary. First, there's its age. Formed in 1893, it's the oldest provincial park in Canada, established just 21 years after the world's first national park (Yellowstone) was signed into law. Next is its size. At nearly 3,000 square miles, it's 50 percent larger than the province of Prince Edward Island. It's also home to more than 2,400 lakes. And, of course, Algonquin Park's diverse, sprawling beauty has served as a muse for Canada's most famous painter, Tom Thomson, as well as the Group of Seven artists who came after him.
For Thomson devotees, a trip to Algonquin Provincial Park's Canoe Lake, where he died in 1917 and a tribute plaque stands today, is a bucket-list pilgrimage. Equally important is Algonquin's Achray Campground, from where you can set off on a short, well-marked walk to visit the site of Thomson's most famous painting The Jack Pine. The tree in question no longer stands, but the walk and resulting view are well worth the effort.
Artistic expeditions aside, visitors to Algonquin are spoiled for choice. The park's huge size and diverse topography offers everything from highly developed drive-in campgrounds with excellent services, amenities, and programs to rustic and remote back-country sites that can only be accessed by canoe. One thing that should be on every Algonquin Park camper's bucket list is the Thursday night "Public Wolf Howl." It includes a program on wolf ecology and a group wolf howl (don't worry–the park's actual wolves have the good sense to keep far away from campers!)
Achray Campground ranks as my personal favorite spot, and the proximity to The Jack Pine trail is a big part of that. But I also appreciate the relative remoteness of the location, especially given that it still allows for the ease of drive-in car camping and features a small park desk. The small campsite size and radio-free rules make for an intimate feel, and the late night loon calls are crisp and clear as a result.
Killbear Provincial Park
Noble, Ontario
Chances are good that you won't ever see Killbear's most famous residents–the massasauga rattlesnake and the black bear. Still, like in all provincial parks, taking heed of notices to protect your food stores and clean up your campsite is a good idea. While I never managed to see a bear, a chipmunk, a Blanding's turtle, and a young bobcat were spotted in my years of camping here!
Several of Killbear's campsites are directly on the rocky shores of Georgian Bay, giving you your own defacto private beach (albeit one where you'll probably want water shoes for comfortable navigation). Rocks also feature prominently along the lighthouse trail, a half-mile walk to the lighthouse that boasts phenomenal views of the Bay. Thankfully, these rocks are set up for easy walking! Other trails along the rocky shoreline offer the perfect setting for a popular presentation by the park staff on dragonflies and damselflies–my personal favorite.
Voyageur Provincial Park
Chute-à-Blondeau, Ontario
Located within walking distance of the Quebec-Ontario border, Voyageur is popular with long-term campers and RVers who frequently set up shop for a month or more to be in the best possible position to take advantage of the park's four campgrounds. But even weekend warriors will love the park's amenities, which include groomed cross-country skiing trails for those hearty enough to visit during winter. Warm weather fans will love the gentle, beginner-friendly canoeing. The park's location on the reservoir of the Carillon Dam of the Ottawa River means calm waters and easy navigation. The park also operates a large camp store and cafe, which is perfect for relaxed campers who are keen to grab burgers and fries instead of struggling with a campfire.
Montreal is just over an hour away, making this park the perfect base for visiting the city and exploring western Quebec.
Photo Credit: Wikimedia Commons