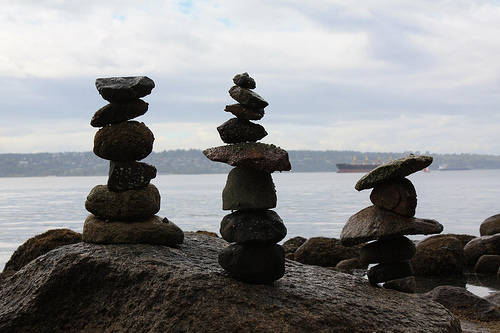 In 2014, Vancouver's Stanley Park topped a TripAdvisor list of the best 25 parks in the world. But Vancouverites didn't have to be told just how lucky they are — they've been crowing about Stanley Park ever since it opened in 1888.
This beloved landmark and gathering place isn't just a local favorite. Over eight million people visit Stanley Park each year, but it rarely feels crowded. Instead, it feels like the city has suddenly opened up into your own private nature oasis, one that you might occasionally share with picnicking families or dedicated joggers. Stanley Park contains over 1,000 acres of green space, so you could live in Vancouver for years and still not be familiar with all of the park's best nooks and crannies. So if your time in Vancouver is limited, here are some not-to-miss park highlights.
First Beach, Second Beach, And Third Beach
Nature-loving Vancouverites might have you feeling guilty for not focusing more on fitness. Vancouver is a city of annoyingly fit people! But a visit to any of Stanley Park's beaches will have you just as excited about exercise as everyone else. First Beach, Second Beach, and Third Beach are the only accessible swimming beaches on the park's rocky shoreline. While you might see daredevils take their chances in a few other spots, the sharp rocks and choppy waves aren't worth the risk — especially when the main beaches are so beautiful.
First Beach (also known as English Bay Beach) is the most popular of the beaches, but Second Beach is home to a heated swimming pool (perfect for kids and seniors) and spectacular views. Third Beach is the most secluded of the three and offers soft sandy shores, the perfect place to spend a lazy day with a good book and a delicious picnic. Everyone in the city has an opinion about which one is best, so don't hesitate to ask your host or favorite café what they recommend.
Gardens And Vineyards
If fitness isn't your thing, Stanley Park is equally wonderful as a relaxation destination. The Rose Garden is nearly 100 years old and contains over 3,500 specimens. It's the ideal location to take a book, seek out a bench, and enjoy a bit of solitude. Like many other areas of the park, parts of the Rose Garden are recovering from a terrible windstorm that happened in 2006. As a result, new varieties of roses are always being planted. While roses are usually associated with summer, the careful planning here ensures there are roses and other flowers from March to October.
If you happen to be visiting in early May, the Ted and Mary Greig Rhododendron Garden is especially lush with bountiful blooms. The Shakespeare Garden nearby is wonderful at any time of year, especially for literature fans.
The Stanley Park Pavilion is host to a bar and grill where the wine menu features varieties from local vineyards — the perfect place for any traveler whose interest in botany leans less toward roses and more toward grapes!
Brockton Point Lighthouse
Stanley Park isn't only known for its beauty and amenities. The lighthouse in the park at Brockton Point isn't just decorative — it played an important role in helping ships navigate British Columbia's rocky coastline.
If you enjoy people-watching when you travel, you should visit the lighthouse and watch the boats go by — from tiny pleasure crafts to massive cruise ships. Just don't be (too) surprised if you hear a bit of an explosion. Every day a gun is fired at 9 p.m., a tradition from the late 1800s when the gun was used to help mariners set chronometers.
If boats aren't your thing, rest assured that Stanley Park has other kinds of transportation to check out. Young explorers will love the Stanley Park Railway and its vintage-style passenger locomotive. There are seasonal train activities at Easter and Halloween.
Easy Ways To Explore
Stanley Park is perfect to explore by bike or foot, but if you prefer a guided experience (or simply to rest your feet!), there are options to tour the park by shuttle trolley or by horse-drawn carriage. This isn't your typical romantic carriage for two or four — two horses pull 20 people, and it's one of the most unique forms of transportation in the city!
Visiting a park isn't on everyone's travel bucket list, but in Vancouver it absolutely should be. Stanley Park is a beautiful, fun, unique destination, and spending some time there brings you closer to the heart of the city.