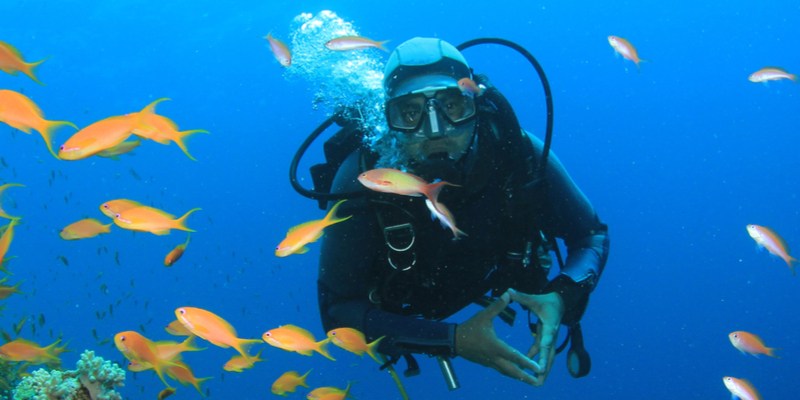 For most people, vacations mean time to kick back and relax while soaking up some rays and maybe sipping a few tropical drinks. Others may prefer the peaceful serenity of an exclusive mountain getaway, where a fire crackles and a cold beer or a glass of bourbon isn't far off.
But a growing number of people are looking to learn something new while on vacation. Ed-ventures from Space Camp for adults to a behind-the-scenes look at the Rose Bowl combine education, adventure, and new opportunities for those looking for something more.
1. Bamboo
Bamboo sends baby boomers to underdeveloped countries and helps them to give back to those countries. The founders say that it's "essential that travel in developing countries must be giving back to the communities that it visits." Their goal is to combine travel with global volunteering and make it as much fun as possible.
The company offers tours and volunteer opportunities all over the world in developing countries like Cambodia, Thailand, Nepal, India, Vietnam, Tahiti, Costa Rica, Bali, and Uganda. There are separate tours for those 18 to 49 and for those 50 and older. Participants can explore a destination on their own for a day or two before joining their group for various educational and cultural activities and helping the local community by teaching them English, building them houses, or digging drainage ditches to ensure fresh water.
Tours range from $2,000 to $3,000 per person, and you can pay your trip off in advance in installments. The company also offers travel vouchers that allow you to secure financing for your trip at a future date.
2. Road Scholar
Formerly known as Elderhostel, Road Scholar is an educational tour company that organizes over 5,500 tours in 150 different countries. Some of their more popular offerings include tours of Scotland, Ireland, Sicily, Australia, and New Zealand. But the company offers tours in all 50 U.S. states as well. From a behind-the-scenes look at the Rose Bowl parade in Pasadena, California (where you actually get to work on one of the floats for a day), to a week canoeing the boundary waters of Minnesota to five nights on Virginia's famed Chincoteague and Assateague Islands in search of wild ponies and sea life, Road Scholar has something for everyone. Tours include meals and lodging as well as activities and expert educators who can assist you on your journey of discovery.
For the all-out grand adventure, check out the company's World Academy tour — it's an around-the-world adventure where you'll travel across three oceans and visit 24 countries on five continents over the course of 131 days. Tickets start at $50,000.
3. Go Ahead Tours
Go Ahead Tours hosts small tour groups of 14 to 35 people and gets you into exotic locales with experienced tour directors and local guides. Part of EF Education First, the tours cover popular destinations as well as some unusual ones. From tours of Iceland to tours of the volcanoes of Costa Rica to tours of the Alps, Go Ahead has it all and will take you to some of the most beautiful spots in the world.
The tour company also works with Ancestry to offer complete genealogy tours that take you to the countries of your heritage. A genealogist will help you build your family tree and give you an idea of what life would have been like for your ancestors.
The company also offers numerous sales and discounts to help keep the costs of travel down. A special referral program allows you to earn a free trip by referring friends to the tour company. Prices start around $1,600 based on double occupancy.
4. Smithsonian Journeys
A branch of America's premier museum, the Smithsonian Institution in Washington, D.C., Smithsonian Journeys is a travel program offering tours of more than 350 destinations on seven continents. The program's special-interest tours include the Italian Cars tour, which takes travelers behind the scenes at Lamborghini and Maserati (with a race car rally thrown in for good measure), and the Inside the Russian Space Program tour.
The company also offers tours perfect for multigenerational travel groups with activities for kids, parents, and grandparents alike. And for those who'd like something no one else can say they've done, the company offers tailor-made trips that cater to the clients' whims. Whether you travel by private jet, river cruise boat, car, or train, Smithsonian Journeys will have something to delight you.
5. Overseas Adventure Travel
Catering to travelers over 50, Overseas Adventure Travel provides excursions for single travelers as well as for those traveling with a companion. The company believes in a more intimate experience for travelers — going by smaller boats, traveling in groups of 14 to 22, and blending in with the locals instead of rushing around like tourists. The smaller groups allow travelers to better get to know the area they are visiting.
Travelers have the opportunity to join the Sir Edmund Hillary Club, a members-only club that provides members with discounts on trips, the opportunity to suggest locations and activities for future trips, and the ability to book upcoming trips before others.
6. Travel With The Met
It's not every day you get to learn about art and architectural history with experts. A program of the Metropolitan Museum of Art in New York, Travel with The Met hosts several tours per year that combine international exploration with behind-the-scenes looks at art and artifacts with some of the leading experts in the field.
This year's destinations include Morocco, Armenia, the United Arab Emirates, Barbados and Antigua, Cuba, Thailand, and Poland, among many others.
7. EarthWatch
The Earthwatch Institute gives everyday citizens the opportunity to work alongside some of the world's leading scientists to battle the planet's most pressing environmental issues. On these tours, you're not just taking in the spectacular views — you're getting hands-on experience and science education while visiting some of the most amazing destinations on the planet.
With Earthwatch, you can work to preserve the coral reef in San Salvador Island in the Bahamas, be a part of an archaeological dig in Portugal, or help save the manta rays in Peru. You will work alongside researchers and other like-minded travelers to be a part of history instead of just observing it.
8. Wilderness Inquiry
Wilderness Inquiry is a tour company that allows its travelers to get up close and personal with nature. The company provides a customizable travel experience for people of any age or level of physical ability, and it employs guides with experience helping those with disabilities. In several countries and in states across the U.S., travelers can learn about nature by being a part of it. For example, a trip along the boundary waters of Minnesota lets travelers canoe through the more than one million acres of the Superior National Forest while waiting to spot moose, lynx, wolves, and bald eagles amidst the pine trees, tamarack bogs, and birches.
9. Waring House
The Waring House in Ontario not only gives its customers gourmet food but teaches them how to make it. During special package weekends, the hotel, conference center, and restaurant teaches guests how to cook like professional chefs. At Waring House, you will stay in the lap of luxury and eat like a true gourmand.
10. Oceanic Society
In 1969, the Oceanic Society was founded to take action against the threats that humans impose on our oceans. In 1995, the Society introduced Oceanic Society Expeditions to specifically focus on travel for ocean conservation. On Oceanic Society tours, travelers can forge a deeper connection with the ocean and help to clean it up and learn more about it.
Expeditions like the Borneo Ridge to Reef adventure allow travelers to see the vast impact oceans and waterways have on our planet. In Borneo, travelers spend time in the jungle viewing the wildlife and travel to the coral reefs near Mataking Island for snorkeling. Travelers also receive a private tour of the Bornean Sun Bear Conservation Center and the world-class coral reefs at Sipadan, known for its abundant sea turtles.