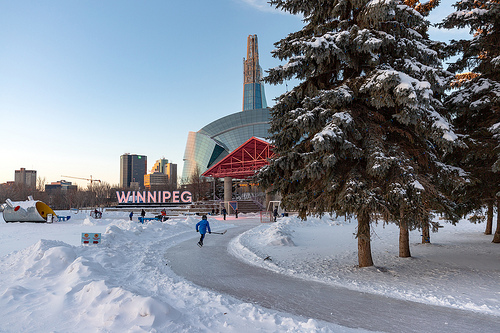 No stranger to winter, the Canadian city of Winnipeg, Manitoba knows how to embrace the season of snow, cold and sunshine. There are many fun ways to experience the refreshing briskness of winter in the city sometimes referred to "Winterpeg."
1. Skate on the Longest Naturally Frozen Trail
The Red and Assiniboine Rivers meet in the heart of Winnipeg. When the rivers freeze over each winter, they become the home of the Red River Mutual Trail, which holds the Guinness World Record for the longest naturally frozen skating trail in the world. You can see the sights of Winnipeg as you skate, walk, run or sled along the daily-groomed trail. Each year an art and architectural competition is held to select a handful of winning Warming Hut designs. These innovative structures are built along the trail in late January.
The trail is accessible from The Forks, Winnipeg's number one tourist attraction and meeting place. Here you'll find restaurants, shops and public entertainment venues. Skate rentals are available at the Forks Markets from 10 am to 10 pm daily. After your time on the ice, warm up with coffee or hot chocolate inside the Forks Market or the Johnston Terminal.
2. Snowshoe at a Nature Preserve
Snowshoes have been used by Indigenous Peoples in Canada for thousands of years. With a frame made of flexible ash wood and lacing of deer, caribou or moose hide, snowshoes distributed the weight of the foot over a larger area so it didn't sink completely in the snow. Today, snowshoeing is a form of hiking. You can rent snowshoes and go on a winter hike at FortWhyte Alive, a nature preserve and recreation center at the edge of the city. You can snowshoe on your own at any time the facility is open, but if you'd prefer a group experience join the Saturday morning Snowshoe Club led by a volunteer interpreter.
3. Ice Fish Without Leaving the City
FortWhyte Alive also offers "catch and release" ice fishing suitable for both beginners and seasoned fishers. Four of its five lakes are stocked with Northen pike, perch, walleye, common carp and black crappie. Basic fishing gear is available for rent.
Because FortWhyte Alive is a privately-owned facility, a Manitoba Fishing License is not required. They periodically offer guided fishing experiences and workshops.
4. See a Hockey Game
Winnipeggers love hockey. Catch the enthusiasm as they cheer on their National Hockey League team, the Winnipeg Jets, in a home game at Bell MTS Place in the heart of downtown. If you can't get tickets for the game, many taverns and bars feature home and away games on large flat screen televisions.
The Manitoba Moose, the Jets' American Hockey League affiliate team, are also based in Winnipeg. Catch their home games at the BellMTS Iceplex at the western edges of the city.
5. Discover Curling
Curling is a sport in which players slide granite stones on a sheet of ice towards a target area segmented into concentric rings. Points are scored for the stones resting closest to the center ring. Curling originated in Scotland and was brought to Canada in the eighteenth century. During the winter months, you'll find amateur leagues playing at curling clubs throughout Winnipeg.
To get a flavor for the game, head to Old Market Square in the historic Exchange District. The park, which sees a variety of outdoor performances in summer, is turned into an outdoor skating rink in winter. Curling rocks are brought out at lunch time for people of all skill levels to have a try.
For a quirky twist on the game, check out the Crokicurl game in front of The Forks Market. Crokicurl, which was first introduced to the world at The Forks in 2017, is a combination of curling and the board game crokinole.
6. Find Your Way Through a Snow Maze
The fall corn maze at A Maze in Corn in St. Adolphe, Manitoba, 25 kilometers (15 miles) south of Winnipeg, has been a popular attraction for years. The facility created its first giant snow maze for the 2018-2019 winter season. In March 2019 it was awarded the Guinness record for longest snow maze. Want to visit? The maze is open Thursday and Friday evenings, Saturdays from 11 a.m. to 10 p.m. and Sundays from 11 a.m. to 9 p.m.
Bundle up and try to find your way out of the maze. There are emergency exits should you get hopelessly lost, as well as warming fire pits throughout the maze. There are also outdoor washroom facilities and a snack shack. Bring a flashlight on an evening visit.
7. Party Like a Voyageur
For ten days in mid-February, Winnipeg hosts Western Canada's largest winter festival. Festival du Voyageur celebrates French Canadian culture and the "joie de vivre" of the fur trade era voyageurs, who transported furs and other goods via canoe.
Interpreters at Fort Gibraltar, a reconstructed early-nineteenth century fort, bring voyageur, Métis and First Nations history to life. Attractions at the Fort and other locations include snow sculptures, fiddling and jigging contests, horse-drawn carriage rides, voyageur games that include log sawing, tug-o-war and leg wrestling, and over one hundred musical acts. Feast on traditional foods such as tourtière (a French Canadian meat pie), pea soup, poutine and maple sugar pie. Roll your own snow taffy. Sip a shot of Caribou, a beverage of red wine, whiskey and maple syrup.