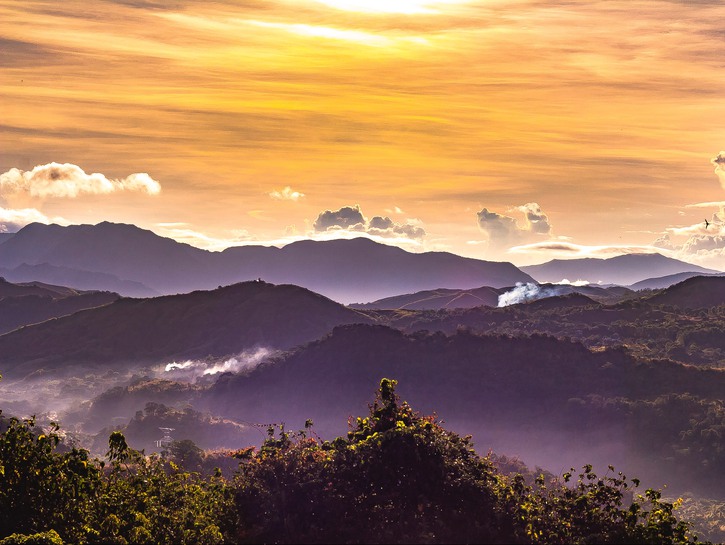 The Philippines is exponentially gaining popularity among globetrotters for offering some of the most salubrious white sandy beaches, accompanied by some of the friendliest locals on the planet.
Beyond its spectacular beaches, the Philippines is renowned for its Spanish colonial history, fresh seafood, and rich biodiversity.
If you're thinking about booking a trip to the Philippines but aren't sure where to go, check out the following most beautiful destinations in the country to get your travel bug buzzing!
1. El Nido
El Nido is a municipality situated in the Philippines' Palawan province, just about 150 miles northeast of Puerto Princesa, another one of the most beautiful places in the country, listed below.
El Nido is known for its island-hopping adventures, delicious seafood, world-class snorkeling and scuba diving, and its overall laid back island-life mentality. With its dramatic limestone cliffs and crystal clear waters, El Nido tops our list of the most beautiful places in the Philippines.
If you're wondering just how pristine El Nido's beaches are, take Condé Nast Traveler's word for it. It is currently ranked #4 on their list of the 20 Most Beautiful Beaches in the World, and CNNGo named it the "best beach and island destination in the Philippines."
Getting to El Nido
The best way to get to El Nido would be by flying into Puerto Princesa and then taking a van from the airport.
Once you exit the terminal, several van drivers will approach you offering rides to El Nido. Just make sure you're getting a good deal! Vans to El Nido from Puerto Princesa average between 500 and 700 PHP (roughly between $9 and $14 USD). The ride to El Nido takes approximately five to six hours.
2. Puerto Princesa
While we previously mentioned Puerto Princesa as being a hub to reach El Nido, the coastal city has plenty to offer travelers in itself, and Puerto Princesa International Airport allows more and more international tourists the opportunity to book cheap flights to this stunning Philippine destination.
Puerto Princesa can be defined by the same stunning natural beauty found throughout much of the Philippines — but what makes it stand out is the potential for island-hopping around Honda Bay, diving, snorkeling, kayaking, water sports, and off-roading opportunities.
Another part of Puerto Princesa that can't be missed is Puerto Princesa Subterranean River National Park, commonly known as the Underground River and listed as a UNESCO World Heritage Site. The river is unique for submerging directly into the sea, creating tidal influences in its lower section.
If you want to island hop around Honda Bay, be sure to check out Luli Island, Cowrie Island, and Starfish Island, an area known for having, you guessed it, a large population of friendly starfish!
3. Cebu
Cebu is situated in the Philippines' Central Visayas region, comprising Cebu Island and more than 150 other neighboring islands and islets.
Cebu is particularly reminiscent of the Philippines' 16th-century Spanish colonial past, with historical architecture including the Basilica del Santo Niño, Fort San Pedro, San Miguel de Arcangel Parish, and the Church of Nuestra Señora del Pinar.
Cebu remains one of, if not the, leading destination for swimming with whale sharks, a bucket list adventure that everyone should try. And don't be afraid! Whale sharks are truly harmless gentle giants of the sea. While swimming with whale sharks can be a controversial topic in terms of animal exploitation, it's hard to deny that it is, in fact, an incredible experience.
If you want to swim with them, head to Oslob Whale Sharks for more details, including tour packages for snorkeling, canyoneering, and trips to Kawasan Falls.
4. Boracay
While Boracay is known for being the ultimate party hotspot in the Philippines, it attracts international visitors for more than just its wild nightlife.
Apart from its renowned nightlife and white sand beaches, Boracay is recognized as being one of the world's leading relaxation destinations.
Situated less than 200 miles south of Manila and a little over one mile off the northwest tip of Panay Island in Western Visayas, Boracay was ranked #1 for best relaxation destinations by Agoda.com, a popular hotel booking site who conducted a survey from over 100,000 guests after their stay in various such places across the globe.
Besides laying back and recharging their batteries on the beach, travelers visiting Boracay should be sure to embark on cliff-diving adventures, go island hopping, and indulge in some local specialties, such as calamansi muffins, suckling pig (known as lechon), and, of course, any fresh seafood they can get their hands on!
5. Boljoon
While I was visiting Cebu to swim with whale sharks in Oslob, I stayed in Boljoon, a lesser-known but stunning destination — the reason I'm deeming it my official insider's pick for one of the most beautiful destinations in the Philippines.
As previously mentioned, Cebu is home to some of the nation's most prized Spanish colonial architecture, and those heading to Boljoon can gaze upon some of these centuries-old structures at Nuestra Señora del Patrocinio de Maria Parish Church and Patrocinio de Maria Street.
It's no secret that the Philippines is, in general, known for its abundance of hidden waterfalls, and Boljoon is no exception to the rule. Dayhag Falls in Boljoon is one of the town's best-kept secrets, a five-tier waterfall where you're permitted to swim and relax.
Where to stay in Boljoon
If you're looking for a cozy and affordable seaside accommodation in Boljoon, book a room at Noordzee Beach Hostel.
Noordzee Beach Hostel is a full-service coastal lodging option equipped with a beach spa, rooftop restaurant, beach bar, and beach loungers, offering accommodations and amenities for both the adventurous budget and luxury traveler.
6. Bohol
Ideally situated in the country's Central Visayas region, Bohol is yet another destination in the Philippines popular for its white sand beaches and coral reefs. But Bohol is, uniquely, home to some of the nation's most unusual geologic formations: the Chocolate Hills.
Although their exact number is unknown, Bohol's Chocolate Hills are said to number between 1,260 and 1,776, spread over an area of more than 12,000 acres. The Chocolate Hills received their name due to their grassy green slopes, which turn brown during the dry season.
Other than the Chocolate Hills, travelers visiting Bohol can spend their days relaxing at Panglao Island, Balicasag Island, Caohagan Island, or Alona Beach.
Adventure seekers will love Hinagdanan Cave, a naturally-lighted cavern with a deep lagoon, featuring many large stalagmites and stalactites.
7. Osmeña Peak
Osmeña Peak is known as one of the highest peaks in Cebu Province, and due to its stunning natural beauty and deeply unusual land formation it receives a ranking of its own as one of the most beautiful places in the Philippines.
Rising to more than 3,000 feet above sea level, Osmeña Peak offers dramatic views of jagged cliffs with glimpses of the Cebu Strait in the distance. This popular peak is often compared to Bohol's Chocolate Hills, but instead of softly rounded hilltops, Osmeña's peaks are rough and sharp-edged, making for a truly unique sight to see in the Philippines.
8. Mindanao
Still commonly known as Southern Philippines, Mindanao is the nation's second largest island, an area known for its traditional dances, bamboo buildings, white water rafting, and the Mount Apo volcano with its endless hiking and biking trails.
Tinago Falls is yet another breathtaking waterfall in the Philippines, where visitors must descend around 500 steps down a winding staircase, leading to the foot of this azure lagoon, with an enchanting hidden cave behind the falls.
Arguably Mindanao's most magnificent attraction, Hinatuan Enchanted River is a magically clear blue saltwater river hidden in the Philippine jungle, flawlessly flowing into the Pacific Ocean. Vans and buses will take travelers from either Davao City or Bancasi Airport in Butuan near the river's front entrance, where travelers will then have to pay a small fee to be taken down to the river by motorcycle.
If you're planning to visit the Philippines, we hope you'll make time to visit at least a couple of these little gems. You'll truly be blown away by their beauty, and by the hospitality of the people. Happy trails!