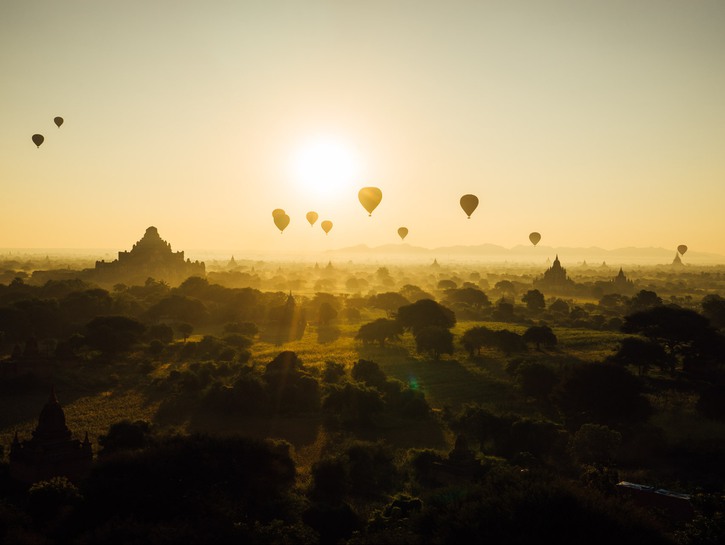 If you're traveling through Southeast Asia and want to get off the beaten path, visit Bagan, Myanmar.
Bagan is an ancient city in central Myanmar (formerly Burma), known for its Bagan Archeological Zone, consisting of more than 2,000 Buddhist monuments towering over misty green plains.
This ancient Burmese city is also gaining popularity for its hot air balloon season, when visitors can either hop in a basket themselves or just sit back and watch them take flight. (The balloons launch each morning as the sun rises.)
Exploring the ancient city of Bagan is an experience like no other. Detailed below is information on how you can get there, and what to do once you arrive.
Getting to Bagan
The fastest way to reach Bagan would be by flying into Mandalay, then taking road transportation from there. Mandalay is the nearest major city to Bagan, and flights will be cheapest if you're flying here first. Travel times from Mandalay to Bagan will also be the shortest.
The two best ways to reach Bagan from Mandalay are by bus or by hiring a private taxi. You can determine which option is more feasible for you based on your budget, comfortability, and time constraints.
By Bus
Traveling to Bagan from Mandalay by bus will without a doubt be your cheapest option. Though the buses can be a little bit cramped and aren't the most comfortable form of transportation, they are in fact reliable and air-conditioned.
You can head to Myanmar Bus Ticket and search for different dates and options for booking a bus ticket from Mandalay to Bagan. This specific website provides various bus companies to choose from, and tickets average around $9 USD for a one-way fare.
When I traveled to Bagan from Mandalay, I used the JJ Express Highway Bus and booked my ticket through Scapetour. The JJ Express leaves Mandalay for Bagan daily at 8:00 a.m., 10:00 a.m., 3:00 p.m., and 5:30 p.m., and takes approximately five hours to arrive.
Though this bus costs a bit more ($16 USD+ fees for a one-way fare), I chose this option because it provides a convenient pick-up and drop-off service to and from your accommodation, saving you a trip and added hassle by having to take a taxi to your hotel from the bus station.
By Private Taxi
If you're looking for the most comfortable transportation option to get you from Mandalay to Bagan, hire a private taxi through Viator.
Though you'll have to shell out around $70 USD, by opting for a private taxi, you can choose your own departure time, pay with a credit card in advance to avoid haggling with taxi drivers in person, and make stops along the way for breaks or photo-ops. Hiring a private taxi could also shave off up to an hour of travel time.
If you're not too concerned with your budget and are looking for the most comfortable option, then I suggest hiring a private taxi.
Exploring the ancient city of Bagan
Renting motorbikes
Before you freak out about the following information, note that motorbikes in Bagan aren't the same as motorbikes in other parts of Southeast Asia.
I tried to ride a proper motorbike once while visiting Laos, almost crashed it, and promised myself I would never try to ride a motorbike alone again in SE Asia.
When I arrived in Bagan and was told the only true way to see the city is by renting a motorbike, I was pretty bummed and started looking for alternative options to see all of Bagan's ancient temples — to no avail.
Speaking to the receptionist where I was staying, I was assured that the bikes in Bagan are electric, known as E-bikes, not motorbikes, and are much, much easier to ride. I didn't really believe her, but I gave it a shot, and she was right.
Bagan's E-bikes can only go up to 30 mph and don't require the coordination and balance that proper motorbikes require. If you're worried about hiring an E-bike, I can assure you from my experience that you don't need to be.
Just take this traveler's word for it, and see what they had to say about riding E-bikes in Bagan, where you can hire one on your own, and how much they should cost.
Wake up before sunrise and watch the hot air balloons
Like Cappadocia in Turkey or the Albuquerque International Balloon Fiesta in New Mexico, Bagan is known for its hot air balloon season, occurring every year from October to mid-April.
Bagan's hot air balloons are one of its main attractions, lifting off at sunrise every morning, rising across the horizon over the city's ancient temples, an incredible sight you just have to see in your lifetime.
If you want to experience Bagan's hot air balloons the right way, wake up at least an hour before sunrise, hop on that E-bike I just convinced you not to be afraid of, ride along Bagan's main road (just ask someone at reception), and head to any temple for stunning sunrise views of the hot air balloons.
If you catch yourself having trouble finding a good spot to see the balloons (I did), there will usually be locals who will offer to guide you to a good spot — for a small fee, of course. I was skeptical of this at first, but the woman assured me she would take me to a good spot, and she did as she said.
Now, if you're one of those luxury travelers (I'll get there one day), and want to really experience Bagan's hot air balloons, you can pay around $400 USD and soar through the sky yourself on one of these majestic carriages.
Click here for more detailed information on how to experience a unique bird's eye view of Bagan through a hot air balloon ride.
Go temple hopping
During the day, the best thing to do in Bagan is to get back on that E-bike and go temple hopping.
Wherever you're staying, they will provide city maps of Bagan, highlighting the major temples around the city. Most of the temples are situated along dirt roads, making for (sometimes) bumpy rides, but with extraordinary views from all angles.
Riding on an E-bike through Bagan's dirt roads, surrounded by ancient temples, and out in the open was one of the most liberating and humbling experiences I've had while traveling. I truly believe Bagan should be at the top of any traveler's bucket list.