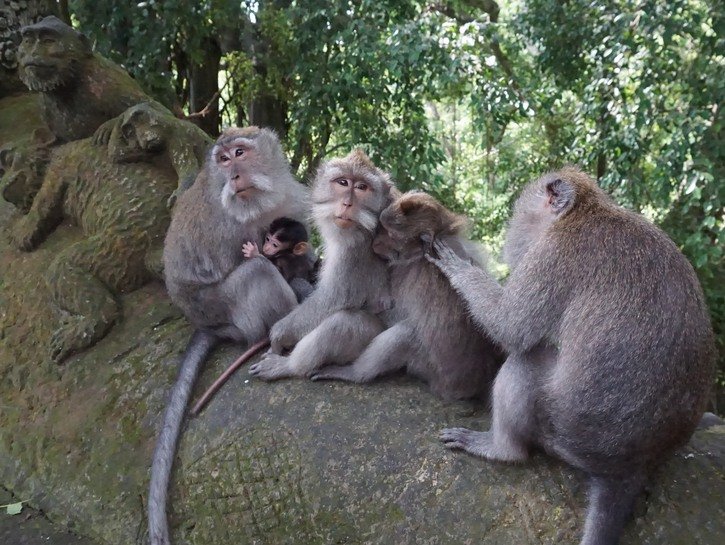 The most vital lesson I've learned while living abroad is that there are a lot of unnecessary first-world comforts we don't actually need to survive, and ridding yourself of these will provide you a sense of freedom you never knew existed. I downsize my belongings a little bit more each year that I'm away, taking pride in the fact I can fit everything I need to live in one suitcase and one traveler's backpack.
Having a best friend coming to visit and freak out over the fact I only own one towel, or having my mother say things like "how can you live like this?" for lack of kitchenware are just instances that make me laugh under my breath, knowing that if there were an apocalypse tomorrow, I'd at least survive longer than these two.
After a year of living in Bangkok, I was headed out for a three-week long Southeast Asian tour of Myanmar, Cambodia, and Indonesia. Since Indonesia was the last leg of my trip, I was strapped for cash and knew I had to do what I do best as a proud frugal traveler: ball out on a budget in Bali.
I only had two days on this unparalleled island, and it was without a doubt the most anticipated part of my trip. Thus, contrary to how I normally travel as a laidback and carefree wanderer without a plan, I wanted to cram as much as I possibly could into those next two days for fear of not being able to return.
How was it that I was possibly going to reach all corners of this island in only two short days and not break my bank account?
How to get around
For those visiting Bali with little time and money (and who refuse to risk their lives renting motorbikes) do yourselves a favor and rent a cab for a day or two. For a whopping 540,000 IDR per day (approximately $38 USD), travelers get 10 hours of driver service, unlimited mileage and hotel pick-up and drop-off, with fuel and tax included. If 10 hours isn't enough, you can pay 54,000 IDR (around $4 USD) per extra hour. Split between three people, the total cost came to about $14 USD per day and I was able to see the entire island, from Mount Batur in the north to Uluwatu in the south.
Choosing tourist attractions is completely up to the traveler, and routes can be discussed with the driver. Have a plan ahead of time, otherwise, the driver will choose a route for you that probably won't last the full 10 hours you paid for.
Maintaining the "ballin' on a budget" status quo, it should be noted that entrances into most tourist attractions in Bali range from about 10,000 to 20,000 IDR, or $1 to $2 USD. Detailed below are all the tourist attractions we hit on our two-day Bali cab tour, with information on entrance fees, hours and dress codes.
Day 1
1. Tegenungan Waterfall
Entrance Fee: 10,000 IDR ($0.69 USD)
Hours: Mon.-Sun., 6:30 a.m. to 6:30 p.m.
Dress code: None
Like a scene from The Jungle Book, Tegenungan Waterfall is one of Bali's predominant cascades, nestled between Ubud and Denpasar, the island's provincial capital.
This picturesque waterfall can be reached by climbing down a set of about 150 steep steps, so arriving earlier in the day is suggested to avoid Bali's blistering heat. A great photo opportunity, Tegenungan is a prime destination for nature lovers wishing to take a little break from the more urban Ubud and Denpasar.
2. Goa Gajah
Entrance fee: 15,000 IDR ($1.03 USD)
Hours: Mon.-Sun., 8:00 a.m. to 4:30 p.m.
Dress Code: Modesty is appreciated, though no known dress code; sarongs provided free of charge if knees are uncovered
Goa Gajah, otherwise known as the "Elephant Cave," is a 19th-century sanctuary that is believed to have been built for the purpose of spiritual meditation.
A walk through this dark, mystic cave is filled with the aroma of burning incense, and a stroll through the cave's surrounding gardens will transport travelers through jungles of flora and fauna, fountains, rice paddies, and miniature waterfalls. Goa Gajah has been listed as a tentative UNESCO World Heritage Site since 1995.
3. Pura Tirta Empul
Entrance Fee: 15,000 IDR ($1.03 USD)
Hours: Mon.-Sun., 9:00 a.m. to 5:00 p.m.
Dress Code: Swimsuit should be worn, sarongs also provided
A spiritual experience worshippers from around the world come to take part in, Pura Tirta Empul is a Hindu Balinese water temple located near the town of Tampaksiring. As the busiest and most visited water temple in the country, Tirta Empul was founded in 926 A.D. It is dedicated to Vishnu, the Hindu God of Water.
When first dipping into these frigid waters, visitors and worshippers alike queue at each spout (minus the 11th and 12th), and follow the tradition of dunking their heads, splashing their faces, and sipping and spitting out a gulp of water three times each, in this order.
4. Tegallalang Rice Terrace
Entrance Fee: 15,000 IDR ($1.03 USD)
Hours: 24/7, 365, though restaurant and cafe are open daily from 9:00 a.m. to 6:00 p.m.
Dress Code: None
One of Bali and Ubud's top attractions, Tegallalang Rice Terrace features stunning rice paddies hanging over cliffs 600 meters above sea level.
Utilizing the subak, a traditional Balinese cooperative irrigation system, the rice fields are famous for their scenic hilly vistas and lush greenery extending for what seems like miles across idyllic 360 panoramic views.
For a small additional cost, travelers can take a ride on a giant swing, haggle for souvenirs being sold by locals, or have a snack at the terrace's cafe and restaurant.
5. Ubud Monkey Forest
Entrance Fee: 50,000 IDR ($3.44 USD)
Hours: Mon.-Sun., 8:30 a.m. to 5:30 p.m.
Dress Code: None
A sanctuary and natural habitat for Balinese long-tailed monkeys, the cherished Ubud Monkey Forest lies within the village of Padangtegal and is considered by residents to be a vital educational, economic, spiritual, and conservation center.
Boasting more than 700 monkeys in total, the popular attraction invites visitors to walk through the giant forest to catch some fresh air, feed the monkeys, and gaze upon its 186 species of trees.
Day 2
1. Pura Tanah Lot
Entrance Fee: 60,000 IDR ($4.13 USD)
Hours: Mon.-Sun., 7:00 a.m. to 7:00 p.m.
Dress Code: None unless entering the temple, then a sarong and/or covered knees and shoulders are required
A Hindu temple towering atop a vast rock formation that appears to be floating mid-water, Pura Tanah Lot near Tabanan sits on a colossal offshore rock that has been continuously shaped by the ocean tide.
The rock formation is home to the ancient Hindu pilgrimage temple and has been an aspect of Balinese mythology for centuries.
2. Pura Luhur Uluwatu
Entrance Fee: 30,000 IDR ($2.07 USD)
Hours: Mon.-Sun., 9:00 a.m. to 6:00 p.m.
Dress Code: Mandatory sarongs provided free of charge at the entrance
This Balinese Hindu sea temple sits on a precipice similar Ireland's Cliffs of Moher, located on the south-western tip of the Bukit Peninsula. As the number four surf destination in the world, Uluwatu and the Pura Luhur Uluwatu temple are a prime destination at sunset, with a traditional Kecak dance based on the Ramayana being performed daily at 6:00 p.m. on the temple's cliff-side.
Insider Tip: Be extremely careful of your belongings. Monkeys WILL try to steal any loose bags, clothing, sunglasses, phones, etc. In the case that belongings do get stolen, there are on-site employees with motorbikes who will help retrieve belongings when notified.
3. Mount Batur Hot Springs
Entrance Fee: 150,000 IDR ($10.33 USD)
Hours: Mon.-Sun., 7:00 a.m. to 7:00 p.m.
Dress Code: Swimsuit required
After an attempt to trek Bali's famous Mount Batur failed due to rain, our cab driver told us we could drive down to Mount Batur Hot Springs, and this ended up being our favorite destination on our two-day cab tour of the island. Although it's a pricier tourist attraction, the hot springs are situated at the bottom of Mount Batur with incomparable views of Lake Batur and the surrounding area. A welcome drink, snack, towel, and locker are included in the price.
Insider Tip: If you get carsick, take a Dramamine before heading down the mountain to the hot springs. The 15 to 20-minute drive is curvy and winding and will cause motion sickness.
There you have it: if you're looking to do Bali in a hurry or on a budget, take Alexandra Mahoney's advice. And don't let those monkeys steal your phone!