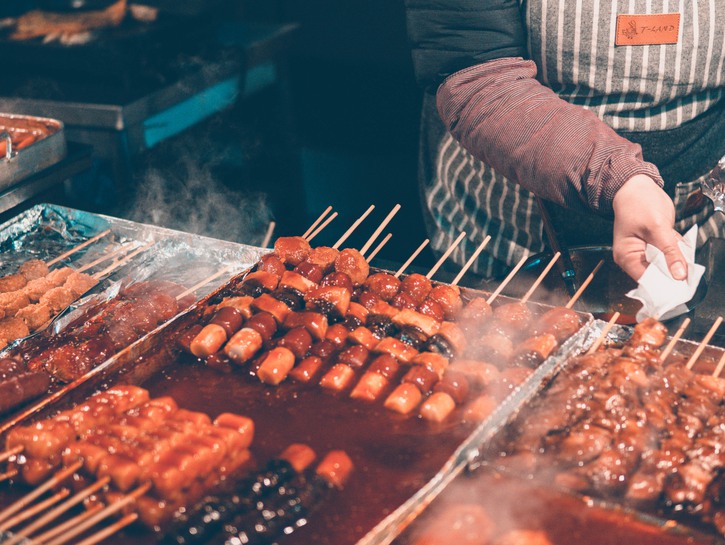 Street food. Food sold on the street. As in, no real kitchen, no real seating except for maybe a few colorful plastic stools and a makeshift table. Perhaps it's wrapped up and you're expected to eat "it" standing up. No matter what "it" is, it's just you and your food on the side of the road. No matter where you are or what you are about to indulge in, the prevailing question is, "Should you eat that?"
This is a guide to street food around the world, and there's a lot of it. From back alleys in Southeast Asia to food trucks in Portland, Oregon, to freshly-flamed tacos in Mexico, the world wouldn't be the same without street food. For the most part, it's fresh, simple, and authentic.
The late Anthony Bourdain championed street food in several of his No Reservations episodes. As he stated, "Street food is important. [It is a] reflection of who we are, where we come from and what we love… The ingredients, whether they are dried, they are pickled or preserved, these are reflections of long, often painful histories… It's the countries that struggle that make the most of what they have who, over time, learned to make wonderful things."
So, in this article we're going to give you a continent-by-continent breakdown of the world's best street food.
The Worst That Could Happen
The thing about street food is that, like anything else you're about to ingest, it could be a risk. When you've spent all year planning a 10-day vacation, you want to be healthy for every single moment of the adventure. Nevertheless, you don't want to miss out on all the local delicacies.
When I first moved to Buenos Aires, I became violently ill and was bedridden for over two weeks. If this had been a short vacation, I would have only seen the inside of my hotel room and its bathroom. I realized shortly after I became ill that I had eaten an empanada de choclo (corn-filled pastry) off of the same grill that served up raw meat, intestines, and other animal delicacies that my body certainly wasn't used to. That grill had probably served hundreds, if not thousands, of people without being cleaned.
How to know what you should and shouldn't try?
Street Food Principles: Should You Eat That?
This is a horror story that you don't want to be repeated in your own body. Over the years, however, I've pretty much nailed the system of street food. There are times when you want to head the other direction, but most of the time, street food is a cheap and delicious way to get to know another culture's cuisine. There are a few principles to street food:
Think about the quality of tap water used in that area. If it's bad, skip the foods and beverages rinsed with water or made with ice, like fruit cups or smoothies.
Don't visit a stand that tries to be the jack of all trades. The good places usually do one or two things and do them well.
Just like hole-in-the-wall establishments, the more people are around, the more credibility a place has.
If it's hot and flies are abuzz, run away from products that can't be refrigerated (like meat or dairy products).
You wouldn't want the last donuts on the shelf at the end of the day; if what you're eating has been pre-made, try getting it in the morning when it's fresh.
While foods that are fried aren't so great for your waistline, they're well-cooked. Try to avoid raw foods at all costs.
A Guide to Street Food Around the World
Street food around the world is just as diverse as language, religion, and traditions — if not more so. I could easily spend the rest of my life writing about the delicious fare you'll find in every single country. This list is by no means comprehensive and serves instead to show you the variety of foods that you can get no matter where you are on the globe. What's even better is that, for the most part, most of these dishes can be made veggie-friendly.
Africa
Tanzania — Chipsi Mayai
Tanzania is known for its culinary diversity, as the country has been influenced by centuries of trading. You'll see food stalls pop up at all hours of the day. Chipsi mayai, which means "chips and eggs" in Swahili, is one of the main staples. It's a fried egg served over crisp French fries with a side of vegetables and tomato sauce.
Egypt — Koshari
Throughout Egypt, you'll run into a ton of eggplant, beans, meat, and potatoes. They cook up these ingredients in interesting combinations. However, one of the most curious dishes is also a favorite among locals. Koshari is a heavy dish that seems as though someone opened the pantry and put in everything they could find: garbanzo beans, lentils, rice, a variety of pastas, onion, and garlic. It's cheap, filling, and surprisingly delicious.
Antarctica
As you may have expected, with its sub-zero temperatures, the South Pole isn't exactly the best place to have outdoor eateries. As French scientists soon discovered, food becomes frozen and inedible quickly in these extreme temperatures. In a few seconds, your dinner is more art than alimentation. If you're traveling throughout Antarctica, try carrying a chocolate bar around; you won't find street food here.
Asia
Eastern Asia
Vietnam — Bánh Mì
Life happens outside in Vietnam, so it makes sense that street food would be so prevalent here. From Vietnamese coffee to pho to spring rolls, arguably some of the world's best food originates from Southeast Asia. Bánh mì is the Vietnamese version of a sandwich, drawing on its French influence by using a baguette. It is then stuffed with meats like beef or pork belly, layered with an egg, and then topped with veggies like pickled carrots, cucumber, coriander, and of course chili sauce.
India — Dosa Masala
Many people think of India as being a vegetarian-only country, but the truth is, it's a culinary heaven no matter what you usually eat. The dishes range greatly from north to south, but get ready for plenty of fried treats, rotti (bread), and legumes no matter where you go. Personally, my favorite was the dosa masala, which is a pancake made from rice and lentils, stuffed with spiced potatoes and topped with chutney. It originates in Southern India and is generally vegan.
The Middle East/Western Asia
Israel — Falafel
No matter where you go in Israel, you won't leave hungry. From shawarma to shakshuka to fresh pomegranate juice, this country is filled with deliciousness. In fact, Tel Aviv is known as the world's vegan capital. Nonetheless, when you get here, you have to try the falafel. There are different theories on where this dish originated, but no matter. Chickpeas are fried into falafel balls, set in a fluffy pita smothered with hummus, and topped with cucumbers, peppers, eggplant, and hot sauce.
Turkey — Çig Köfte
When walking the city streets of Turkey — especially in Istanbul — you are sure to be lured into carpet shops and lamp stores with the temptation of tea or coffee. When it comes to food, Turks are just as likely to show their eagerness to please. You'll see stalls for kebab, lahmacun (minced-meat pizza), and baklava everywhere. An underrated favorite, however, that happens to be accidentally vegan, is çig köfte. Its translation is "raw meatball," but it's made from bulgur wheat and tomato paste, wrapped with lettuce, and flavored with spicy pomegranate sauce.
Australia
Much like in the United States, Australia's street food scene consists mainly of food trucks and open-air markets. They draw culinary influence from a variety of other cultures and are very much oriented toward meat-and-potatoes when it comes to their grub. However, you can find interesting twists like beetroot in hamburgers or grilled kangaroo—if you're able to eat this cute marsupial.
Europe
Spain — Churros
I first fell in love with churros in Coyoacán, Mexico when I went to Frida Kahlo's blue house. I stumbled upon a cart selling chocolate-stuffed churros and was hooked. Little did I know, churros originate in Spain. When I finally got to Europe, I realized just how incredible these fried, cylinder-shaped, doughy treats really are. There is so much street food in Spain — like espinaca con garbanzos — but seriously: grab a churro filled with chocolate or dulce de leche, sip on some coffee, and you'll be in heaven.
France — Crêpes
Crepes have made their mark all around the world, served savory or sweet, filled with anything from mushrooms and cheese to strawberries and powdered sugar. However, if you're visiting France, there is nothing like a fresh, steaming buckwheat pancake purchased from the local food cart. Originating in Breton, this simple staple has stuck around, and gained popularity, for a reason.
North America
Canada — Poutine
Like Bourdain had mentioned, some of the best recipes come out of necessity and creativity. In the 1950s, an accidental dish was created in Quebec, Canada. While poutine's exact origins are debatable, you won't want to leave the country without trying some. French fries, cheese curds, and gravy are thrown together to make a delicious, greasy meal that's heavy on carbohydrates. "Poutine" is Québécois French for "mess." Indeed; it is one beautiful mess. If you're lucky, you might just find it served up with some additional, more exotic ingredients!
Mexico — Tacos
Ever heard of #TacoTuesday? Unless you live on a remote island, chances are that you've indulged in what is arguably the world's most coveted street food. A simple corn tortilla filled with your choice of meat, onions, cilantro, a squeeze of lime, and you're ready to go. Tacos are cheap, delectable, and nowadays, filled with anything from vegetables to cow tongue. You can't leave Mexico without sampling your share of tacos, but also indulge on other streets foods like tortas, sopes, and elote.
South America
Colombia — Arepas
If you land in any of Colombia's cities, you'll see arepas being sold on almost every corner — from tiny food carts to international fast-food chains. These thick, tortilla-like discs are made from ground corn and often stuffed with cheese. They're great for breakfast alongside a cup of coffee, or served for lunch with fried plantains. Remember, arepas vary according to the region, so you'll want to stick around Colombia to try them all.
Brazil — Bomba de Açai
Brazil's culinary diversity is as vast as its range of landscapes and cultural influences. It's also the largest country in South America, so you'll encounter distinct cuisine within each region. Nonetheless, if you're visiting the larger cities, you'll frequently come across street food like pao de queijo, feijoada, and coxinha. Since fresh fruit is in such abundance here, you'll also find healthier snacks being sold — like the bomba de açai. Also known as açai na tigela, or 'açai in a bowl', it's a frozen superfood that's topped with bananas, granola, coconut, and other berries. It's very healthy, easy to find, and perfect for the tropical heat.
There you have it, your guide to street food around the globe, covering all seven continents. Keep in mind that this is only a snapshot of what the world has to offer when dining away from restaurants. When it comes to the question, "Should you eat that?" most often the answer is, "Yes. Most definitely, yes." Just be practical when it comes to cleanliness and other factors mentioned above. Some of the best meals I've had have come from a lone vendor and his or her mobile kitchen.