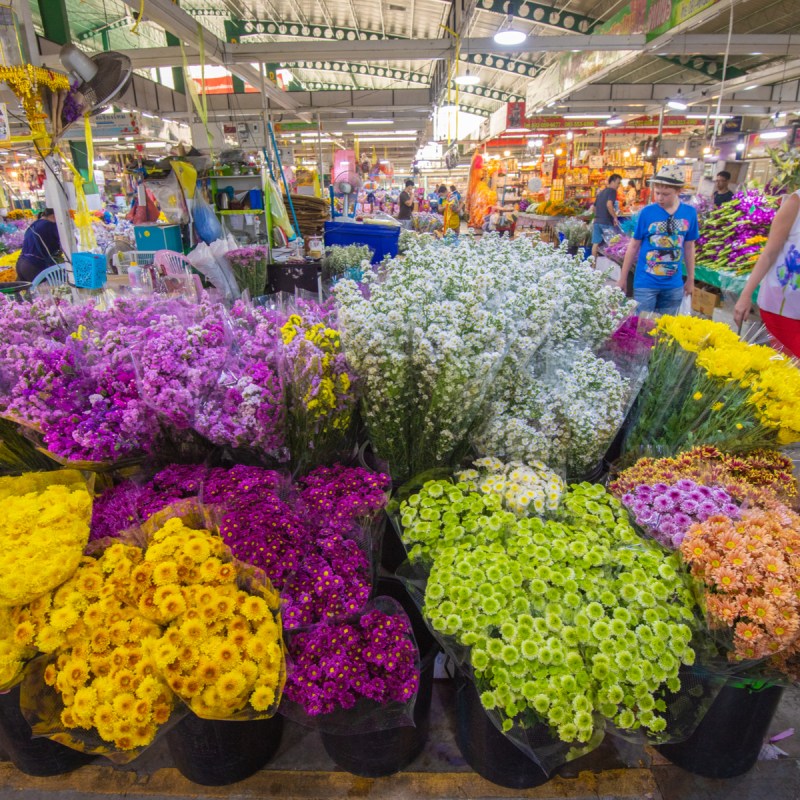 Editor's note: This experience has since been shut down due to COVID but their parent company, Expique, still offers food tours in Bangkok.
If you thumb through any basic guidebook on Thailand, an unexpected word will stand out in the lexicon. Among the usual greetings, phrases for directions, and expressions of gratitude, is something a bit unlooked-for. It's "aroy" (sometimes seen as "aroi") and according to Chef Kwang, there's no more important phrase.
"Aroy" translates to "delicious!" and it's an essential exclamation in food-obsessed Bangkok. If you take a cooking class, you'll definitely need it in your vocabulary.
The Market Experience
I said "aroy" a lot under Chef Kwang's tutelage. We spent a morning together in an attempt to help me master the basics of Thai cooking. There are a wide variety of cooking classes and experiences available in Bangkok, but none can hold up to what Chef Kwang teaches with The Market Experience. It's not just the spontaneous vocabulary lessons that make The Market Experience class so memorable; it's the only cooking class to take place in the heart of Bangkok's flower market!
The Yodpiman Flower Market hummed with activity as hundreds of vendors sold fresh produce, prepared products like sweets and spices, and, of course, heaps of flowers. I was in heaven! Flowers were everywhere in this paradise, with colourful blooms and heady scents on every corner.
But on the second level mezzanine where the cooking class takes place, life was a bit more sedate. Large fans kept the temperature cool and the first course, a juicy fruit salad made from local produce, started things off on a refreshing note.
It's A Wrap
The spice and skill level both went up a notch as we tackled making a platter of "miang kham." Miang kham translates roughly as "one bite wrap" and it is VERY "aroy"!
Crunchy edible leaves were pinched to form tiny cups and were then filled with a sprinkling of finely chopped classic Thai ingredients. I loved how we could mix and match the different flavors to suit our own personal preferences.
For my first miang kham, I loaded up on ginger, garlic, and lime before topping things off with a smattering of toasted coconut. For my second, lemongrass, shallots, peanuts, and chewy, dried pieces of tofu were the stars. With my confidence rising, I soon embraced bird's eye chilli, tempering the heat with all the other flavors exploding in my mouth. The platter was prettily decorated with edible flowers, which I happily used to top my final leaf.
With my yearning for nibbles satisfied — at least temporarily — we prepared to explore the market below. Before leaving, we checked the progress of two glass containers which contained a curious mixture. Using natural dyes from flowers, two batches of noodles were slowly transforming from basic white to navy blue and purple. It was an unconventional step in the preparation of Pad Thai, the country's signature dish, but it was one I was especially looking forward to. It didn't seem right not to jazz things up a bit when we were surrounded by so much incredible colour in the market.
While my first instinct was to stuff my nose into the nearest bouquet and inhale deeply, Chef Kwang warned us against it. Many of the flower arrangements, garlands, and bouquets being prepared around us were done so as offerings for funerals and other memorials. To grab one of the delicate posies and inhale deeply would be akin to "using" the flowers, and therefore they couldn't be sold as new. It was a perspective I hadn't considered before and I was grateful for her insight.
Another important lesson I learned along the way was to refrain from snacking on any flowers unless they were part of our official menu. Unfortunately, few of the gorgeous flowers are grown without the use of chemicals. Embracing edible, organic flowers hasn't gone mainstream yet in Bangkok, making The Market Experience cooking class all the more unique.
Purple & Papaya
With a few extra supplies on hand, it was back to the classroom to pound out some new recipes — literally. With mortar and pestle in hand, the ingredients for a traditional green papaya salad took shape in my bowl. Just like with the miang kham, every participant could customize their salad to their personal preference when it came to heat and seasoning. I added extra peanuts into the concoction I was pulverizing and succumbed to the temptation to slip a few extra cloves of Thai garlic into the mix. Aroy, indeed!
Refuelled and reenergized, we paused to sip cups of brilliantly blue tea made from the butterfly pea flower and lemongrass. Despite its vibrant color, the flavor was light and mild. We learned that if you serve the butterfly pea tea iced and add in a generous squeeze of lime, the mixture instantly turns purple! It was a fascinating lesson in the power of manipulating pH levels.
Purple and blue were the themes of the morning as we checked on our noodles waiting to be transformed into Pad Thai. They were beautiful and good to go, but plenty of other work remained. Flexing our culinary muscles, ingredients were soon chopped, diced, julienned, and minced. Before long, the Pad Thai prep was put on pause and new mortars and pestles were brought out for another round of pounding.
This time, we were taking on a task that would have seemed insurmountable for me even just the day before. We were making Thai curry paste from scratch, a step that Chef Kwang said even most busy Bangkok residents don't bother with much these days. Garlic, shallots, turmeric, Thai lime peel, lemongrass, coriander root, ginger, and more were slowly, laboriously transformed into a silky paste. The smell was divine! We were surrounded by dozens of tiny bowls, each with an ingredient begging to be added to the pan. A feast was on the horizon.
Pad Thai
Following Kwang's step by step instructions, we quickly whipped up a steaming pan of Pad Thai, followed by a fragrant bowl of freshly made coconut milk curry with our homemade paste. The smells and sizzles coming from the kitchen were fantastic! With a final flourish, we added beautiful decorative flowers and leaves to the dishes, making them a feast both for our stomachs and for our eyes.
The curry was velvety smooth, at once both robust and delicate. The Pad Thai was bursting with flavor, with the sweetness of the palm sugar competing for space with salty fish sauce and astringent lime. And the special noodles were the showstoppers! With a rousing final cheer of 'aroy!' we dug in, letting the space around us grow silent as we took in the meal of a lifetime
Extra Information For Visitors
Bangkok doesn't suffer a shortage of great accommodation choices. I was thrilled with my selection, the iSanook Hotel. Located on a quiet, narrow street, the clean, somewhat austere rooms include tiny balconies, refrigerators, modern bathrooms, and solid air conditioning. iSanook is about a 20-minute drive from the Yodpiman Flower Market and with rooms starting at $30 it's a great value even when you take into account the cost of transportation.
Speaking of transportation, Bangkok's reputation for maddening traffic is well earned. Allow yourself generous extra travel time no matter your route.
Yodpiman Flower Market is always open to visitors. Tourists should remember that it's a busy, working market and vendors, especially those pushing heavy carts, have right of way.
The Market Experience's "Thai Cooking With A Twist" class starts at 1,750 Bhat. Classes can be modified to accommodate those with special dietary requests, such as vegetarian diets with advanced noticed. Popular add-ons include flower garland making and fruit carving classes.