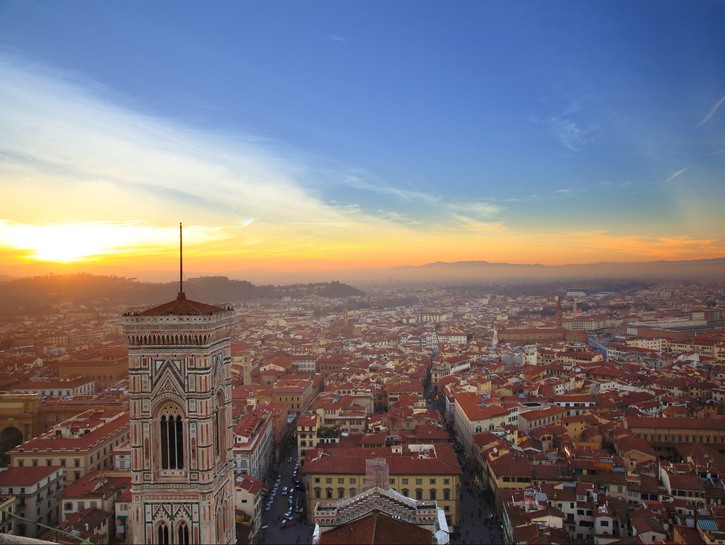 Florence is one of the most amazing cities in the world, the birthplace of the Renaissance, neoclassical architecture, and the Italian language itself. It is the home of Dante, Machiavelli, and the resting place of Galileo. (Or at least parts of him.) For centuries, Florence was the center of cultural life in Western Europe. Today, it's a city of 350,000 or so, a monument to its own glorious past. But it still wears its legacy proudly on its sleeves.
From great art and architecture to historical sites to the rustic elegance of the Tuscan countryside, Florence has no shortage of ways to beguile you. Here are 6 of the things you should see if you only have a day or two to spend — some popular must-sees and some less-well-known attractions too!
Visiting Florence? Book now the best things to do and save!
The Florence City Pass
First, a general note for everyone: if you're planning to tour some of Florence's most famous museums and galleries, consider availing yourself of the City Pass. It provides access to some of the city's most storied places — the Uffizi Gallery, the Galleria dell'Accademia, the Galileo Museum etc. Best of all, a day pass for one adult will only set you back €59,90!
Plus it's unlikely you'll struggle to fit a number of excursions in; the historic center of Florence is quite compact, making it eminently walkable.
1. The Uffizi Gallery
Okay, we'll get to some weirder, more obscure options. But I would be remiss not to mention one of the most famous art galleries in the world, where you can walk halls lined with the treasures of the Renaissance. Here, you'll see the works of Raphael, Da Vinci, Michelangelo, Botticelli, and many other masters whose names sound like high-end Restaurants.
As you might imagine, just showing up at the Uffizi on any given day without a ticket is a great way to spend hours in a line. And while the architecture of Florence is enthralling, you'll really want to see what's inside. Not to worry: if you call ahead and book your tickets in advance, they will e-mail them to you on your phone and you can skip the line when you get there!
General admission is €20, and there's a €4 fee for booking in advance. But €4 beats waiting 4 hours!
2. Stop at the pharmacy
This ain't your local Rite Aid.
Florence is home to many curiosities, one of which is the oldest pharmacy in the world. The Santa Maria Novella pharmacy was founded by Dominican friars in the 13th century, who were anxious to treat sickly people who sought refuge in their monastery.
The Santa Maria blossomed into a famous apothecary's shop, producing "hygienic" rosewater, vinegar mixtures to ward of plague, herbal potions, and even perfume for fancy ladies. The friars also dabbled in alchemy and turned their primitive pharmacological practice into a public enterprise with considerable success. (So I guess in a way they really did transform a bunch of random stuff into gold!)
The pharmacy still operates in its original building, which you can visit today. You can even sample some of their old-timey products if you've a hankering for some of that legendarily efficacious Medieval medicine.
3. Galleria Dell'Accademia
Here's another gallery we simply can't not mention.
The Galleria contains tranches of splendid paintings and statues, many of which were donated by the last members of the old ruling Medici family so that they could be admired by posterity. This is where you'll find Michelangelo's most famous sculptures — Prisoners, St. Matthew, and his iconic depiction of David.
The Galleria also includes a Museum of Musical Instruments which showcases many historic and unique pieces by the masters of that craft, such as Stradivari. So whether you're a lover of the visual or performing arts, you'll find something here to tickle your fancy.
As with the Uffizi, popularity is the curse of beauty. Your best bet is to book ahead so you don't spend hours in line. And don't bother bringing your camera; flash photography is strictly forbidden.
4. The Galileo Museum
This museum isn't solely dedicated to Galileo; its former name is the Museum of the History of Science. You can muse over and marvel at all the old gizmos and thingamajigs that early Renaissance scientists used to learn about the world around them, and in so doing lay the foundation for the modern world of comfort and convenience we inhabit today.
But you'll also find a more macabre memento from the past here. This is the final resting place of one of Galileo's middle fingers, which was removed from his body by some scallywag a century after the great scientist's death and subsequently passed around for a couple hundred years. Today the middle finger rests permanently in a glass cass, forever sending a message to those who would deny basic, demonstrable facts. Not that we're mentioning any names…
5. La Specola
A recurring theme you'll notice in Florence is the supremacy of the Medici family — even though it no longer exists. This ambitious, even brutal clan ruled Florence in its glory days, guiding it through a period of cultural efflorescence unprecedented in human history. Fortunately, many of the art works, scientific gadgets, and curiosities they sponsored and collected have outlived them.
One of the stranger examples is the menagerie of wax anatomical human replicas on display in the Museum of Zoology and Natural History (La Specola). The oldest museum in Europe, these depictions of the human form in wax are probably its most famous offering — it's like the Bodies Exhibition except not made of real people.
The museum also includes interesting taxidermy work, and representations of animals that no longer exist.
6. Come hungry
You're in Italy, after all! Why not take a cooking class? Try your hand at concocting some sublime Italian food for yourself and come home with a little bag of tricks to impress your friends and family at your next dinner party. Visitors who take classes at MaMa Florence consistently rave about the experience, grateful for the opportunity to learn something about Tuscany's unique dishes, how they are prepared, and ultimately how they taste.
By Italian standards, Florence is actually not especially noted for its food scene. Rather than fancy Michelin-starred restaurants, Florence is more about local old-school trattorias that don't even take reservations. In a way, that makes it a great place to get an authentic taste of Tuscan cuisine.
Michela Fantinel of Rocky Travel is a native Italian. "I know I'm biased but the excellent food you get you will not get it anywhere else," she says of her country. But she cautions: "I would not eat the touristy stuff or menu but more of the local recipes."
Florence is one of the best places to get away from touristy restaurants and eat like a real Italian. Don't look online for somewhere to eat; wander into a trattoria (and that is the operative word), and sample some of Tuscany's traditional dishes like bistecca alla Fiorentina (Florentine steak), paperdelle (a thick pasta served in equally thick sauce), and ribollita (a soup made of bread, beans, and tomatoes).
Florence also has lots of street food — especially lampredotto, a kind of tripe sandwich — so don't be afraid to eat on the go.
We hope this article helps you fill your Florence itinerary — though there's so much to do you may just find yourself coming back! Happy trails.