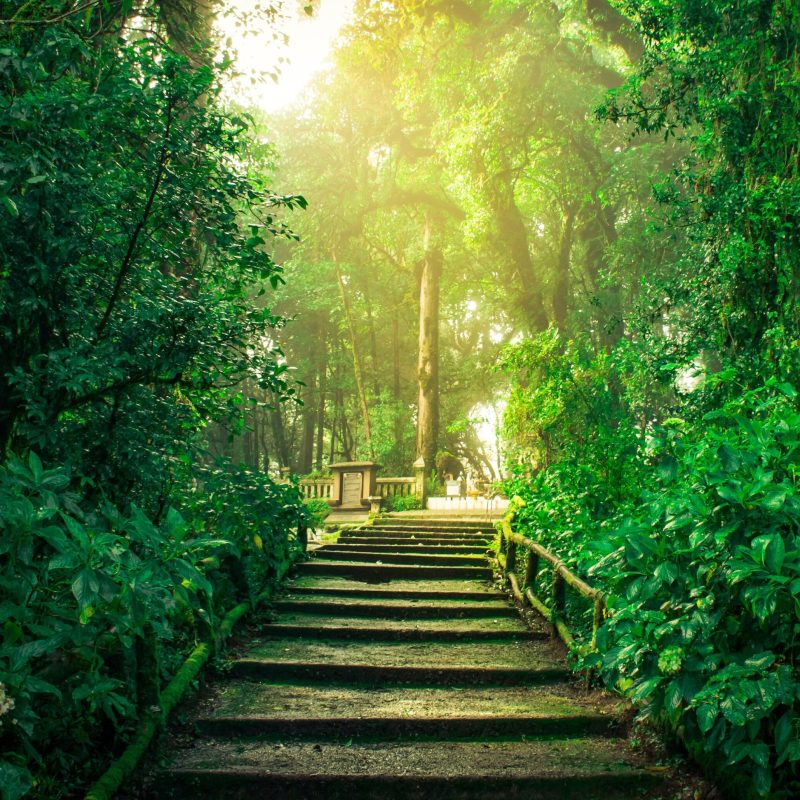 It's hard to narrow down the most beautiful places in Thailand. This exotic Southeast Asian country is alive with pristine beaches, beckoning outdoor adventures known by few, and thousands upon thousands of Buddhist temples.
As one of the world's most popular tourist destinations, Thailand offers travelers some of the most exquisite experiences, from mountainous regions in Northern Thailand to the 1,430 islands situated predominantly along the country's southern coast.
Here are 9 of the most beautiful places in Thailand.
Thailand's Most Beautiful Islands
1. Ko Lipe
A paradise island in the South Andaman Sea, Ko Lipe is best known for its white sandy beaches and turquoise waters, like many of Thailand's most beautiful islands.
Situated near the border of Malaysia, Ko Lipe is part of Tarutao National Marine Park, consisting of 51 islands in the Strait of Malacca and famous for its coral-rich waters. While in Ko Lipe, be sure to also check out Pattaya Beach, Sunrise Beach and Sunset Beach.
When deciding where to dine in Ko Lipe, head to Elephant Koh Lipe for epic breakfasts, crafted coffees, games to play, books to read, a welcoming staff and live music every night.
2. Ko Lanta
An island district in Krabi province situated on Thailand's Andaman coast, Ko Lanta is characterized by coral-fringed beaches, mangroves, lush rainforests and stunning vertical limestone cliffs.
Renting a motorbike is undeniably the best way to easily explore this pristine Thai island. Long Beach is one of the island's most beautiful strands, stretching three kilometers and ideal for leisurely walks and unparalleled sunset views.
Mu Ko Lanta National Park extends to the district's largest island, Ko Lanta Yai, home to the semi-nomadic sea people known as Chao Leh.
While in Ko Lanta, be sure to also check out:
Khao Mai Kaew Cave
Scuba diving at Koh Haa
3. James Bond Island
Made famous as the filming location of the popular 1974 James Bond film The Man with the Golden Gun, Khao Phing Kan, more commonly referred to as James Bond Island, is part of Phang Nga Bay just northeast of Phuket.
A popular speedboat tour stop from both Phuket and Krabi, James Bond Island features a tall 20-meter islet called Ko Ta Pu, pictured below.
If staying in Phuket and wanting to take a tour of James Bond Island, consider TripAdvisor's James Bond Island by VIP Speedboat from Phuket option.
Northern Thailand's Most Beautiful Outdoor Adventures
1. Phu Chi Fa
A practically unknown outdoor adventure in Thailand with few international tourists and predominantly Thai visitors, Phu Chi Fa is a remarkable mountain area and national forest park in the Chiang Rai Province of Northern Thailand. This is one of Thailand's best-kept secrets, probably why many people have never even heard of it.
You'll have to wake early in order to see the sunrise phenomenon at Phu Chi Fa, the fundamental reason tourists flock to this extraordinary mountaintop. After a steep 20-minute hike in the dark (make sure to bring a flashlight), you'll be parallel with endless fluffy white clouds overlooking the Laos border, as seen in the image below.
Where To Stay In Phu Chi Fa
For only 1,500 THB a night, or $45 USD, Banpakphucheefah Resort is a guesthouse where each room features a balcony with stunning views overlooking Phu Chi Fa.
This beautiful accommodation is filled with fresh, crisp air, a welcoming staff, and a delicious authentic Thai breakfast included in the price and served each morning
2. Doi Suthep
One of Thailand's most sacred sites, Doi Suthep, also referred to as Wat Phra That Doi Suthep, is a Theravada temple in Chiang Mai Province in Northern Thailand. In order to reach the temple, visitors must brave a 306-step staircase bounded by vibrant serpents, a climb intended to help devotees accrue Buddhist merit.
To get to Doi Suthep, travelers can simply ask their hotel or accommodation to arrange a return journey by songthaew, a pick-up truck passenger vehicle that will take you on the 15-kilometer trip up the winding mountain for around 500 THB, or $15 USD.
3. Doi Inthanon National Park
Another hidden gem in the Chiang Mai Province of Northern Thailand, Doi Inthanon is the nation's tallest mountain, standing 8,415 feet tall.
Doi Inthanon is one of Thailand's most famous national parks amongst Thai nationals, famous for its waterfalls, cool weather and picturesque viewpoints.
Also referred to as the "Roof of Thailand," Doi Inthanon is best reached by hiring a private car because the area is rather spread out and there are several checkpoints along the way. Sedan taxi transfers offer roundtrip services for around 3,000 THB, or $100 USD.
"The most beautiful and affordable city I've visited is Chiang Mai Thailand. I stayed four nights in a hotel for $134. The food is very cheap. My favorite thing about it is the combination of mountains and city views."
— Bisa Myles, blogger, Myles To Travel
Thailand's Most Beautiful Temples
Located on the grounds of Bangkok's beautiful Grand Palace, Wat Phra Kaew, or the Temple of the Emerald Buddha, is regarded as the most sacred temple in Thailand.
The Emerald Buddha is a potent religiopolitical symbol and the palladium of Thai society; it was meticulously carved from a single block of jade.
Dating from the 15th century A.D., the Temple of the Emerald Buddha is raised on a series of platforms and, three times each year, the king performs a robe-changing ritual on the statue that is said to bring good fortune to the country.
Where to stay in Bangkok
When visiting Bangkok, a unique and environmentally-friendly accommodation option is Bangkok Tree House.
Bangkok Tree House is located just 30 minutes outside of the city center, away from the hustle and bustle. This quiet and cozy accommodation is dedicated to going green, with air quality control, bamboo structures, carbon-free cooking and energy-efficient lighting.
When staying at Bangkok Tree House, be sure to take advantage of their free bicycles for a day cycling through the nearby Green Lung.
2. Ayutthaya Historical Park
A UNESCO World Heritage Site, the historic city of Ayutthaya was founded in 1350, becoming the second Siamese capital after Sukhothai and preceding Bangkok.
Ayutthaya flourished from the 13th to the 18th centuries where it grew to be one of the world's most cosmopolitan urban areas and a center of global diplomacy and commerce. Destroyed by the Burmese in 1767, Ayutthaya's remains are dotted with reliquary towers and enormous monasteries.
Wat Chaiwatthanaram is Ayutthaya's most impressive and most visited temple, located on the banks of the Chao Phraya River.
Thailand's most heavenly temple, Wat Rong Khun, commonly referred to as the White Temple, is one of over 33,000 Buddhist temples in the country.
Thai artist Chalermchai Kositpipat began building the temple in Chiang Rai in 1997, and due to a lack of funds from the government, has spent 40 million THB of his own money to build this one-of-a-kind wat.