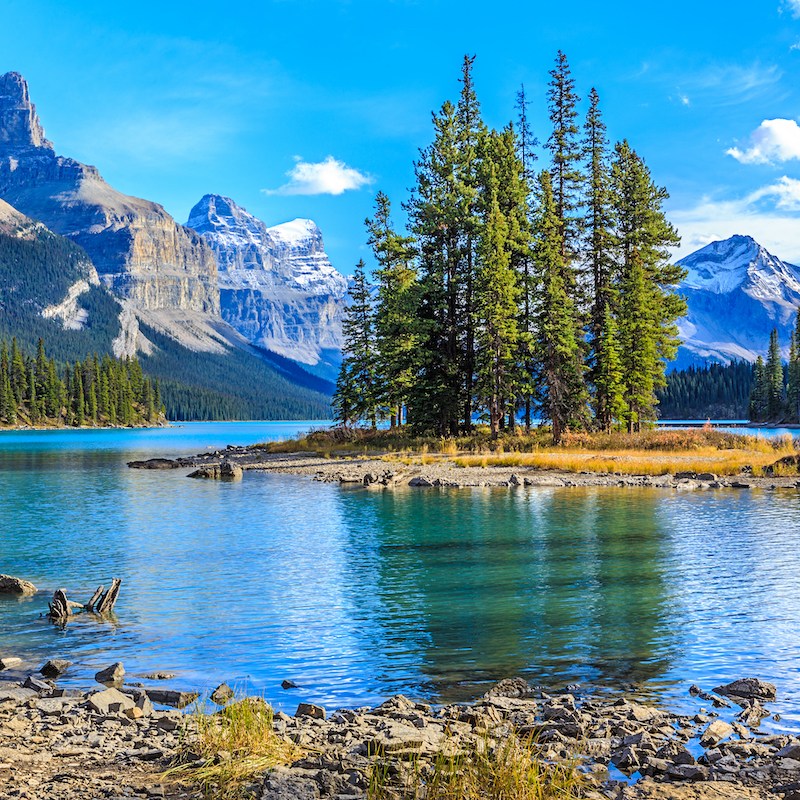 Alberta is a Canadian province with a lot to offer visitors who are looking for natural beauty, adventures of all kinds, and friendly people to boot. With so much to explore, it was hard to narrow down the province's offerings to just five, but we did our best to give you a taste of what this province has to offer with our top picks of things to do in Alberta, Canada.
Banff National Park
Banff National Park is a nature lover's paradise. This park is one of the most frequented tourist attractions in Alberta, for good reason. Here you can explore glaciers, mountains, stupendous fall colors, and (of course) plenty of Canadian wildlife. It's common to encounter grizzly and black bears, wolves, caribou, and elk.
While hiking is a major draw to visitors, you can still scale the peak of Sulphur Mountain by Gondola. At ground level, you can take in Lake Louise, a stunningly turquoise blue glacier-fed lake that is perfect for canoeing. No matter what your adventure, have your camera ready at Banff National Park!
Edmonton
If you've had enough of the great outdoors, or simply want to spend a bit more time inside, head over to Edmonton. You can take a step back in time and learn about Canadian history at Fort Edmonton Park, or experience one of the world's largest shopping centers, The West Edmonton Mall, which includes an indoor water park, mini-golf, a theme park, and, of course, plenty of shopping.
Drawing from British influence, you can experience Royal Tea & Tour at the Fairmont Hotel MacDonald during the weekends. Guests can pick from a unique assortment of teas and nosh their way through a selection of fine finger sandwiches, fresh pastries and plenty of Devonshire cream. If that's not enough for you, you can satisfy your sweet tooth with world-renowned pastries at Duchess Bake Shop.
Royal Tyrell Museum
Just northwest of Drumheller and about an hour and a half from Calgary sits an archaeological gem waiting to be explored. The Royal Tyrrell Museum of Palaeontology is a must-do for anyone who loves fossils and learning about dinosaurs. You can even look on as paleontologists study and preserve fossils to add to exhibits during your visit.
As Canada is rich in fossils and prehistoric science to discover and learn about, a visit to the Royal Tyrell Museum of Paleontology is a great way to explore Canada's past.
Calgary
Calgary is a big city that still retains its wild west feel and rustic charm. If you visit the city of Calgary in July, you can attend the Calgary Stampede and enjoy a live rodeo, or kick up your heels and dance in the dance hall. Visitors also can wrap up the night with a fireworks display that takes place during the summer months.
For some outdoor fun, you can spend an afternoon at the Canada Olympic Park for an outdoor playground that boasts a plethora of both summer and winter activities suited for a variety of age groups.
You can also take a bike or a long stroll in Prince's Island Park and take a photo at the iconic Peace Bridge, a bright red walkway bridge. When you've spent the day meandering around the city, you can cap off your visit to Calgary with an elevator ride up to The Calgary Tower, a 190.8-meter free-standing observation tower to take in the sights from above.
Jasper National Park
Jasper is a more remote and secluded National Park, and will typically see less foot traffic than Banff. So if you're going during peak tourist times you likely will have just enough company, but not too much. Here, you can traverse glaciers and take in some stunning ice formations without some of the crowds that Banff typically sees. You'll be able to enjoy this national park at your pace, without worrying about loud crowds or long lines to enter the park.
You can take the SkyTram up to the top of the Canadian Rockies for around $46.95 US and enjoy the views with a knowledgeable tour guide before grabbing a bite at the top of the summit. After you finish exploring, be sure to stop in to Jasper Brewing Company for a pint of a local microbrew to cap off your day and perhaps bring a pint glass home! With all there is to see in Jasper, take a minute to sit and sip before you wrap up your visit.
Alberta, Canada is a destination with plenty to offer travelers of all stripes — from the foodie to the nature enthusiast. This Canadian province holds promise for everyone to find what they need for a memorable vacation.