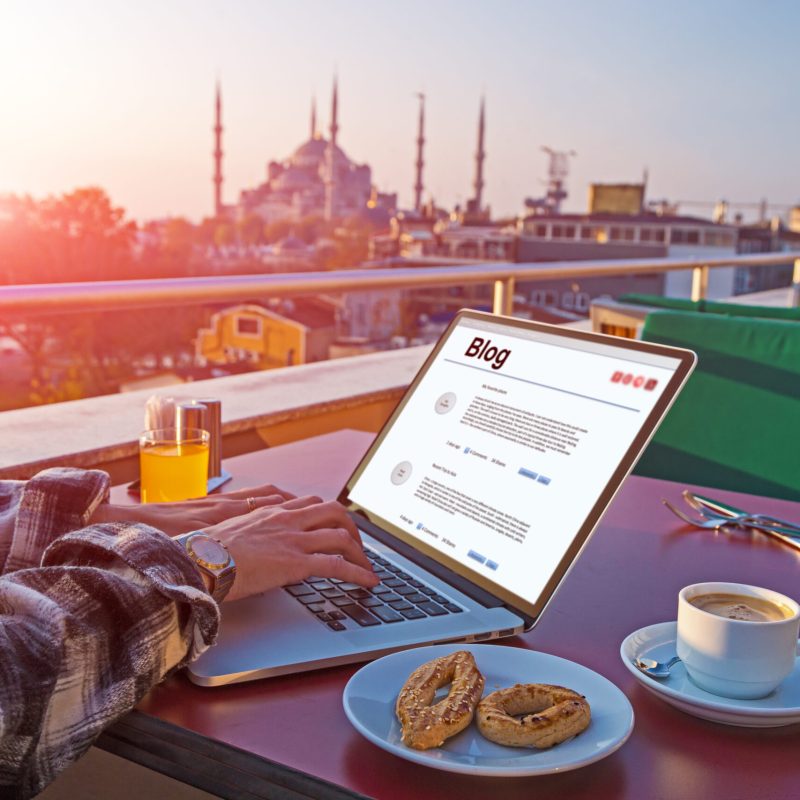 Always dreamt of becoming a travel blogger, but not sure how to get started? Fear not, for we've created a helpful guide and some simple first steps you can take toward becoming a travel blogger — with some quotes from successful travel bloggers along the way.
We've all come across those stunning travel blogs with those perfect travel sites that inspire us to document and create our own personal blog. Whether you're looking to monetize from your travel blog or simply document your experiences, we've outlined some of the best ways you can get started that will hopefully make the process slightly less complicated.
Though travel blogging requires a lot of time and dedication, we hope these steps will help guide you in becoming the best and most confident travel blogger possible!
After years of working 70 hours a week at jobs that paid the bills but brought no joy, I felt like the proverbial "hole in the donut" — solid on the outside, but empty on the inside. In early 2007, searching for meaning in my life, I started my blog and set out to pursue my true passions of travel, writing, and photography.
— Barbara Weibel, travel blogger, Hole In The Donut.
1. Create a blog on WordPress
Though the most tedious of processes when creating a website, getting your website up-and-running is the first step to becoming a successful travel blogger, albeit the most frustrating part (at first). Though you'll undeniably run into some bumps along the road, setting up a WordPress site will be incredibly rewarding when you have a visual of what your travel blog will look like!
Though there are many websites you can use to set up a travel blog, I personally prefer WordPress because it's user-friendly and free, most likely why it's also the most popular website platform in the world.
Rather than bog you down with all of the nitty-gritty details of setting up your WordPress website, head to How To Make A WordPress Website In 2018 for an extremely detailed guide for beginners on everything you'll need to know for creating your ideal travel blog.
2. Find your niche
The notion of becoming a travel blogger in itself is such a broad idea. What does it mean to be a travel blogger? If you create a travel blog, what specifically will you focus on? When trying to become a travel blogger, it's important to find your own niche and become an expert on that topic.
Though the term 'niche' is a dreaded one among bloggers in general, it's actually incredibly important to have one, especially for travel bloggers. Having a niche is imperative for having a successful blog. Focusing in on a specific niche will force you to become an expert on a given subject, eventually causing more people to come across your writing.
If you do a simple Google search, you will find endless sites that discuss travel on a general spectrum. But if you search things like, "best local restaurants in Italy," "luxury hotels in Bora Bora," or "how to see Bangkok in two days," you might realize you tend to find blogs that focus in on these destinations, drawing more people to these specific sites because of the more detailed information they offer on a particular topic.
Think about it: when we're researching a destination, we're usually not looking for broad information. We want to know exactly how it is we can take a ferry from Phuket to Krabi, or what overnight buses will get us from Tokyo to Kyoto. Say for instance you create a blog that focuses specifically on one country, or specifically on cuisines from destinations around the world. Since there aren't many blogs that go into detailed information about these topics, yours will become the go-to site for people researching this deep-cut information.
For more information on choosing a niche, check out How To Perfect Your Travel Blog Niche.
I have been working in tourism based roles in Sydney for over 25 years. I began my Sydney Expert site in 2011 after a stint as a freelance writer working on online travel sites. The site is designed to help people find the best things to do and see in Sydney. I love helping people find local experiences.
— Paula Morgan, travel writer, SydneyExpert.com.
3. Use your own photography
Using your own photography is incredibly important for becoming a successful travel blogger for a variety of reasons. First off, providing your own photography demonstrates that you've personally been to a given destination and can talk about it from a first-hand experience. People who simply write about travel without ever embarking on their own journeys are going to hold less credibility than those that do.
Secondly, using your own photography is simply, well, more attractive on a website. If you use your own photography, you're likely going to create your own style, color schemes, and aesthetic. Having this symmetry and consistency on a blog makes it more pleasing to the eye, and more user-friendly overall.
Another important aspect to consider if you choose to opt-out of using your own photography for your travel blog is copyright issues. Legal jargon can become confusing when determining whether or not you're legally allowed to use someone else's photo on your website, and you definitely don't want to get caught up in a lawsuit for essentially stealing other people's artwork. It's inevitable that you may have to, at times, use other people's photos, but make sure that you are doing so legally. The owners of images can and do track their photos using special codes, so don't assume you won't get caught!
Luckily, there are several trusted websites that offer a myriad of non-commercially oriented photos, free stock photos, and copyright free images, such as Unsplash, Pixabay, Pexels, Flickr, and Life Of Pix.
Our eldest son went on a gap year in 2012 and we stalked him on Facebook and Instagram. After catching up with him in Santorini we had a 'life check' moment and thought 'to hell with this, we can do it too.' Our community loves architecture, gastronomic delights, luxury, spa and wellness and history so when we travel this is our focus.
— Jane Dempster-Smith, travel lifestyle blogger, To Travel Too.
4. Monetize through advertisements
There are several ways to monetize your travel blog through advertisements, so we'll detail a few of them here:
Pay-Per-Click (PPC) Advertising
Pretty self-explanatory by its name, pay-per-click (PPC) advertising allows you to get paid for every click a visitor makes on these particular ads. You first have to sign-up with a provider who will give you a code for you to place on your site. The provider then sends either image or text-based ads to your site that are relevant to your content. For example, if you sign up with Google AdSense, they may provide ads for travel-related websites like Skyscanner, Kayak, or Greyhound Bus. When users click on these ads, you get paid!
Advertising Widgets
Advertising widgets are extremely easy to use, especially on a WordPress blog. This may be the easiest way to add advertisements to your travel blog. On WordPress, all you have to do is drag a widget to the sidebar, upload an ad, and save the content. These ads can be easily placed on a website and are displayed in a mixture of PPC, text link ads, and affiliate programs.
Banner Ads
If you're generating a high volume of visitors to your blog, businesses may reach out to place banner ads on your blog that appear in banner style, usually in your sidebar. The sponsoring businesses will usually pay you monthly to maintain an ad on your site.
Are you in the beginning stages of your blog and curious how to monetize without a vast audience? Head to 8 Powerful Ways To Monetize A Blog That Generates Under 1,000 Visitors Per Day.
5. Gain an audience through social media
I cannot stress enough how important social media is for creating a successful travel blog. I used to hate the thought of having to constantly be in touch with various social media platforms, but it is without a doubt one of the best ways to gain an audience.
Instagram
If you haven't started to yet, begin following as many travel bloggers on Instagram as possible. Not only will this draw other travel bloggers to your own page, but you'll be able to get an idea of what other travel bloggers are doing that makes them successful in gaining an audience. Though the follow-back game on Instagram can be exhausting, it's a vital aspect of drawing more users to your page. In your profile, be sure to also link out to your travel blog and constantly mention your blog in any posts you create.
Facebook
One of the first things I did when I created my own travel blog was look for ways to share it with other travel bloggers. Travel blogging groups on Facebook are extremely active in sharing, commenting, and scheduling Tweets for other travel bloggers. There is a strong community of travel bloggers on Facebook who are dedicated to helping each other and encouraging each other's success. Some of my favorite travel blogger Facebook groups are Girls LOVE Travel, We See The World Bloggers, Travel Bloggers Self-Promo Group, Female Travel Bloggers, BLOGGERS AND TRAVELERS, and Ultimate Travel Group.
If you're wondering which social media platform is better for the success of your travel blog, head to Entrepreneur's Faceoff: Instagram Vs. Facebook, For Business.
6. Content, content, content
If you want to become a successful travel blogger and truly gain a wide audience, it's important to be posting content regularly. The more content your blog has, the more user-friendly it will be, resulting in more visitors. Though I previously discussed the importance of having a niche, it's just as important to have a wide array of content on your particular niche.
If you're worried about not having enough time to be consistently posting content on your blog, consider hiring writers! It's relatively easy to find freelance writers through things like Indeed postings or global freelancing platforms such as Upwork.
7. Familiarize yourself with SEO practices
If you don't know what it is yet, you'll want to familiarize yourself with basic SEO practices. SEO, or Search Engine Optimization, is basically all about Google searches. If you provide enticing content with the right language that encourages people to link to your pages, this shows Google that your page is interesting and authoritative, resulting in search engine success (or your blog showing up on Google searches).
Though the competition can be fierce for Google rankings, familiarizing yourself and staying on top of current SEO practices will help boost your blog's success. Things that can help boost your site's SEO are titles, photos, headlines, and content amount.
For more information on SEO, check out the following articles:
8. Partake in a blogging seminar or travel blogging conference
With so many travel bloggers out there, there are a number of successful travel bloggers who offer guided seminars or travel blogging conferences with an abundance of helpful information on getting your travel blog started, and how to become a successful travel blogger.
If you're in the beginning stages of creating your travel blog, you may want to consider attending one of these virtual seminars or travel blogging conferences to learn more about the tricks of the trade for becoming a travel blogger.
Some popular travel blog specific conferences are:
We hope this information helps you get started if blogging is your passion. Have fun out there!