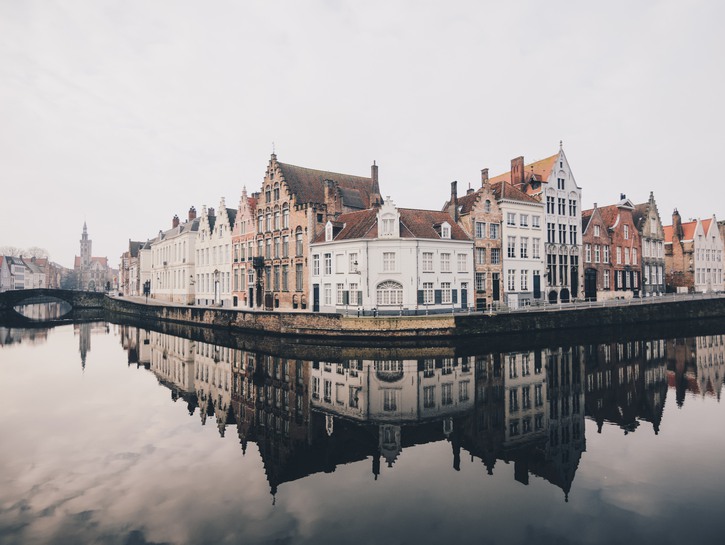 I'll never forget what it was like preparing to embark on my first ever trip to Europe. I was 21 years old, getting ready to study abroad, and my mother, brother and I decided to take a two-week long adventure through Europe before sending me off to study in Seville, Spain for six months.
Before planning this trip, I never realized how much preparation a European vacation can take. As someone who has now lived on the continent for approximately four years, I (unpretentiously) consider myself to have mastered the tricks of the trade when it comes to traveling and planning trips through Europe.
Detailed below is all of the expert advice I could possibly come up with in order to help others. From the beginning stages of obtaining a passport to downloading useful apps before departure, I hope this list proves helpful for those about to embark on this unparalleled journey.
1. Obtaining a passport
The first and most imperative step in planning any overseas trip is obtaining a passport. Getting a passport is a relatively easy process but does take a little bit of time, so be sure to plan ahead and start the application process for a passport at least three months in advance, just to be safe.
If you are applying for your first ever passport, you must fill out the DS-11 application. DO NOT sign this document until you are instructed to do so by the acceptance agent when applying in person at a passport acceptance facility (usually a local Post Office).
There are two ways to fill out the DS-11 application:
1. Online Form Filler: The U.S. Department of State recommends you use the Online Form Filler because it will automatically generate the proper application based on the information you provide. When doing so, note that you will need your Social Security number, emergency contact information, a printer and Adobe Acrobat Reader. Once filling out the form, you must download and print the application and bring it to your passport acceptance facility, unsigned.
2. PDF File: Another way to complete the DS-11 application is by downloading a PDF of the form and filling it out manually. Again, DO NOT sign the application until directed to do so at your passport acceptance facility.
After filling out the application, you must obtain passport-sized photos. Passport sized photos can be taken at convenience stores such as Walgreens or CVS at very reasonable prices. Sometimes, photos can be taken directly at your local passport acceptance facility at the time of applying, but be sure to call and check beforehand, for this option isn't always available.
When applying in person, you will also need an original or certified copy of a document providing evidence of U.S. citizenship. These include a U.S. birth certificate, Consular Report of Birth Abroad or Certification of Birth, Certificate of Naturalization, or Certificate of Citizenship. Along with the original or certified copy, you must bring a photocopy of the document, which must be:
Legible
On white 8.5″x11″ standard paper
Black and White
Single-sided
Other items you will need in order to apply for your passport are a valid form of identification (driver's license), a photocopy of your valid form of identification, a passport photo, and the passport fees, which usually cost around $145 in total.
For more information and details on applying for a passport in person for first-time applicants, click here.
If you already have a passport, make sure that there are AT LEAST SIX MONTHS validity left. Many countries will not accept passports that have less than six months of validity. If you don't have six months validity left on your passport, you'll have to renew your passport by mail.
2. Booking flights
After obtaining your passport, you'll want to start looking into booking flights for your trip to Europe. As someone who has lived and traveled abroad in Europe for several years, my number one trustworthy search engine for flights is Skyscanner. Other trusted search engines for flights to and from Europe are Kayak, Expedia, CheapOair, and Momondo. Many of these sites also allow you to bundle your bookings and add car rentals and accommodations along with your flight.
According to a study conducted this year by [Cheapair.com](https://www.cheapair.com/?jsr=(), the cheapest time to buy a flight is around 70 days before departure. Take this number into consideration when booking flights, and sign up for price alerts with your preferred search engines. Sites like Skyscanner provide you the option to select price alerts when downloading their app for given dates and destinations. The app will then notify you when they've found a cheap flight leaving on your selected dates.
If you will be flying to multiple destinations during your trip to Europe, make sure to book these flights in advance as well. While you can still use the aforementioned search engines to find cheap flights throughout Europe, there are also a few budget airlines such as Ryanair that offer affordable flights. Ryanair is, without doubt, the most used and trusted low-cost airline with several available flights throughout all of Europe. While the airline has some annoying baggage restrictions and other strict guidelines depending on the destination (sometimes you must get your passport stamped before departure, or you'll be fined a hefty fee), Ryanair is a trusted and popular budget airline used by locals and travelers throughout the continent.
For some more insider tips on finding the cheapest flights, click here.
3. Accommodations
Depending on what type of traveler you are, you should probably book your accommodations in advance as well. Some travelers don't have a concrete plan while in Europe and wish to book their accommodations along the way. While there are some risks with this type of improvisation, it is definitely still doable to book accommodations during your trip, though it might end up costing you more and you'll have less availability.
When booking accommodations in advance, my personal favorite site is Booking.com. For me, Booking has proved to be reliable time and again and provides several options for filtering your search — i.e. showing lowest price first, review of score and price, distance from downtown, and recommendations for solo travelers.
If you're looking for more private, quaint and accommodating lodging options, check out Airbnb. Airbnb is continuously gaining popularity and is great for travelers who wish to rent out entire homes with the opportunity to use common areas (kitchen, laundry rooms, parking, etc.). Bookings can be requested online with a full list of the amenities an accommodation provides. Airbnb is also a great way to get to know a place, for many of the hosts are extremely helpful in providing insider tips on places to dine, shop, sightsee, and much more.
Other popular and budget-friendly options for accommodations in Europe are Couchsurfing and Hostelworld. Couchsurfing is a free way to share lodging with local residents and an excellent way to meet locals during your trip to Europe. Hostelworld is for travelers who wish to save themselves some money while traveling by staying in hostels instead of hotels during their stay.
4. Debit cards and exchanging money
Ah, the highly anticipated "do we need to exchange money before our trip to Europe?" question. Whenever friends and family ask me for advice before embarking on a trip overseas, the whole exchanging money situation abroad tends to be their biggest worry. Like anywhere in North America, countries in Europe have ATMs with local currencies readily available, so exchanging money before a trip to Europe is no longer necessary.
In my four years traveling throughout Europe, I have never exchanged money before leaving for a new country. Once you arrive in Europe, you can use your debit card and withdraw money from any ATM machine directly at the airport or around town.
"But what about ATM fees? Won't we lose an absurd amount of money in ATM fees?"
In order to avoid paying an arm and a leg in ATM fees while traveling Europe, there are two options:
1. Before leaving for your trip, open up a bank account with Charles Schwab and put all of the money you plan on using during your trip into this account. Opening up an account with Charles Schwab is easy, and this specific bank will reimburse any ATM fees obtained from anywhere in the world.
2. If you choose to opt out of opening up an entirely new bank account, take out a large sum of money when you first arrive in Europe and use this throughout your trip. You don't have to take out your entire budget in one swipe, but taking out larger amounts instead of €100 at a time will reduce the number of ATM fees you endure during your trip.
While I've never experienced arriving at an airport where there wasn't an ATM available, if you're really worried about having at least some local currency upon arrival or are trying to avoid the pricier ATM fees at airports, head to a local currency exchange before departing (avoid the airport) and exchange a small amount of money there. That way, you can at least soothe your worries in case of any emergency and have enough money for a cab to get you into town with more available ATMs.
NOTE: Not ALL European countries use the Euro, but not to worry! As mentioned above, you can simply head to any ATM machine in a given country and take out money in said country's currency. Just make sure you're aware of exchange rates beforehand. Continue reading to learn about some nifty currency converter apps to use during your trip (that don't require data!).
Insider Tip: Be sure to notify any and all banks whose accounts you plan on using during your trip that you will be traveling through Europe, including a list of every country you plan on visiting. Failing to do so could result in possible suspected fraudulent activity. I've had a debit card suspended due to suspected fraudulent activity which resulted in panic, a hold on my funds, and an overall headache that I promise you don't want to deal with during your trip!
5. Packing
My one piece of expert advice to you before packing for Europe is that less is more. Many airlines (especially budget airlines, such as Ryanair) have strict baggage requirements, and having oversized baggage on flights will cost you. Not only do you want to avoid paying for baggage fees, hauling around large suitcases while traveling Europe is a huge hassle. I promise that the fewer belongings you have with you, the happier you'll be during your trip!
Backpacks vs. suitcases
While hiking backpacks can be straining on your spine, they can usually fit the most amount of belongings, and most airlines won't question the size of your bag when its carried on your back. With that being said, if you understandably don't want to haul your luggage on your back, I suggest purchasing a small, soft roller suitcase. Soft suitcases will easily fit in overhead cabins on flights due to their flexibility, and having wheels will make for a more transportable piece of luggage.
Adaptors
This is an important one. While many hotels, hostels and accommodations will provide international travel adaptors, you don't want to bank on it. International travel adaptors can be purchased online on Amazon and eBay, or in person at Target, Bed Bath & Beyond, Office Depot, and Kohl's.
Medications
If you take any medications, be sure to bring them with you on your trip. Check in with your doctor before departure to make sure you have enough to last you through the entire journey. It may be a smart idea to ask for an extra prescription in case of an emergency or misplaced medication.
Bringing the right shoes
A trip to Europe will incorporate a lot of walking. The last thing you want is to bring the wrong shoes and have sore feet throughout. Make sure you have comfortable walking shoes fit for the weather, and any soles or inserts you find necessary.
Insider Tip: When traveling, I like to bring a bottle of New-Skin Liquid Bandage with me. If you acquire any painful blisters on your feet during your travels, paint a thick layer of this product on any painful areas. It is truly a lifesaver!
Click here for more information on the dos and don'ts of packing for travelers.
6. Petty theft in Europe
It pains me to say this, but there are a number of European countries that are notorious for petty theft, especially targeting naïve and oblivious tourists. A great way to avoid having your belongings stolen is by having the right purse or bag with you. Believe it or not, those who pickpocket in Europe are incredibly innovative when it comes to their craft. It could be a small child coming up to you asking for you to tie their shoes while their mother comes around and snatches your wallet without you looking. Trust me when I say that you'll never suspect or see it coming. With that being said, here are a few tips for avoiding petty theft:
1. Purchase an anti-theft bag or purse. These bags are built to avoid any possibility of theft with cut-proof straps, (yes, some robbers will even attempt to cut your bag right off of your shoulder with a knife… as I said, they're professionals), locking compartments and a variety of pockets.
2. Always wear your purse, bag or backpack on the front of your body. Make sure your hands are always covering the pockets and zippers of your purse or backpack to avoid theft.
3. When walking along busy streets, make sure your purse is facing the opposite side of the street. Robbers on motorcycles will attempt to cut your bag off if it is facing outward toward the street.
4. Never put your wallet in your back pocket.
5. Leave valuables at home or at your hotel. This argument is highly debatable because there have been instances where passports and belongings have been stolen from accommodations. With that being said, it would be in your best interest to check with your hotel to make sure they have safety boxes to put expensive belongings and passports. I personally prefer to carry my passport with me and make sure that I hold onto my purse for dear life while walking around European cities.
6. NEVER leave your purse hanging on a chair at a restaurant and never leave it on a table when getting up to go to the bathroom.
7. Make sure to have a couple copies of your passport with you on your trip, stashed away in various places. That way, if you do in fact lose your passport or it gets stolen, you can reduce the time and stress it takes to replace the passport.
7. Transportation & getting around
One of the greatest parts about traveling Europe is its extensive public transportation. Europe is extremely navigable by train, metro, bus, and taxi.
While riding around in taxis may seem like the easiest way to get around Europe, it's usually the most expensive form of transportation and you'll inevitably get stuck in traffic somewhere along the way. To avoid traffic and travel like the locals, take the metro or city bus. Major cities like Madrid, Prague, Barcelona, Paris, and Berlin have cheap and reliable train systems that are heavily used by residents. Many also have extremely useful apps for navigating their metro and train systems.
If you want to experience a truly unique way of seeing Europe, purchase a Eurail Global Pass. These passes allow you to travel an unlimited number of times in 28 different countries throughout Europe. For $465, you can purchase a five-day pass that allows you to go anywhere in these 28 countries within a five-day period. Children up to 11 travel for free and there are youth discounts for travelers from 12 to 27 years old.
8. Phone plans
While I personally enjoy the challenge of navigating Europe without a working phone, first-timers may want to consider either purchasing an international plan with their current carrier or buying a SIM card with data upon arrival at the airport.
Purchasing an international plan with your current carrier is definitely an option, though it usually turns out to be quite expensive. Simply call your carrier before departure to Europe and ask what international plans they have available for the time you will be traveling overseas. On the other hand, many airports offer SIM cards with various amounts of gigabytes of data that can be used throughout your trip. If choosing to purchase a SIM card with data at the airport, make sure your phone is unlocked before leaving for Europe. Phones can be unlocked simply by calling your carrier or submitting an unlock request online, like this one for AT&T.
Another silly mistake people make during their trip to Europe is accidentally having their data roaming turned on, resulting in a huge bill from your carrier waiting for you when you get home. Make sure to go into your settings and turn off data roaming before embarking on your journey through Europe.
9. Useful apps
Last but certainly not least, there are a number of apps you can use to make for a smoother journey:
1. Whatsapp: This app is used for calling and texting through Wi-Fi or data. It is a free app that is used widely among travelers in Europe. The only pitfall of this app is that the people you want to call or text must also have Whatsapp.
2. Viber: Another calling and texting app, Viber can be used with WiFi or data to any phone number in the world. Since you can in fact call or text any number in the world, you have to purchase credit in order to do so. With that being said, simply putting about $5 of credit could last you between 1-2 weeks in Europe, depending on your usage frequency.
3. XE Currency Converter: Another app that doesn't require data, XE Currency Converter allows you to calculate currencies on-the-go, access live exchange rates, view historical charts, and calculate prices on your smartphone or tablet.
4. HERE WeGo: This is a popular offline map and navigation app for iOS and Android that helps travelers navigate without using data. It offers free navigation, offline maps, public transport options, and voice navigation.
5. iTranslate: If you're traveling through Europe and find yourself in a bind with language barriers, be sure to download iTranslate. This app is your passport to the world, enabling travelers, students, business professionals, and employers to read, write, and speak in over 100 languages from anywhere in the world.
We hope you found this article useful if you're planning a visit to grand old Europe. As always — happy trails!