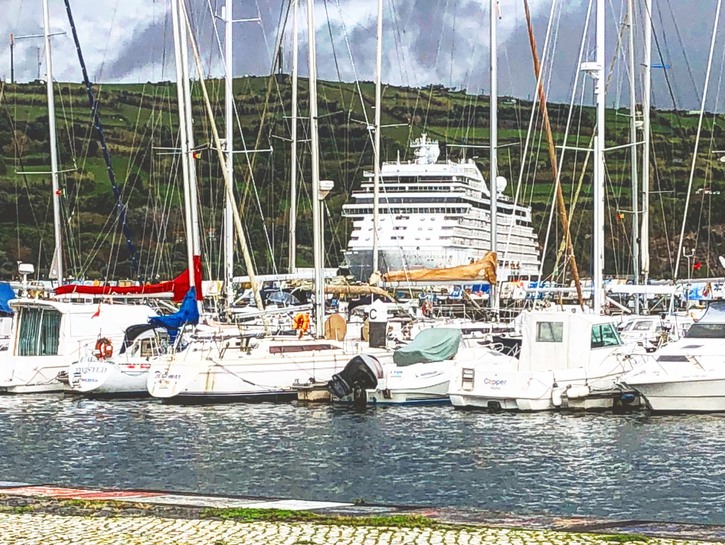 So many questions come up when you talk about an Atlantic Crossing. Is it really worth it? How is it being stuck on a ship for so many days? Isn't it a waste not having any ports to visit? and Why would you want to do that? People also fear seasickness, storms, and being bored. But the truth is, crossing the Atlantic on a ship is fun, romantic, worldly, relaxing, calm, and peaceful and you'll visit tons of ports you might otherwise never see.
Choosing the right ship for your personality is task one. I crossed the Atlantic on the Regent Seven Seas Explorer and would do it on any one of their ships. It is a smaller cruise ship with about 350 rooms and a lot of common areas to hang out in. There is plenty to do or nothing to do at all based on how you're feeling. And above all, the service is top notch! I also prefer a smaller luxury ship like the Regent Seven Seas, because the other guests are generally like-minded travelers and you have the opportunity to make new lifelong friends. I would cross the Atlantic again and again and plan to do just that!
Read on to find out the top five reasons you should book an Atlantic Crossing!
Sea Days
When crossing the Atlantic from Europe to North America or in reverse, the one thing you can count on is many sea days in a row. You will have a at least 4-5 back to back. Sea days, whether one on a cruise through the Med or in a row across the Atlantic, are just the best. Being literally stuck on a ship in the middle of the Atlantic is just fabulous!
On a ship like the Explorer you can truly relax or you can do it all. There is a small casino and activities of all types you can enjoy all day. For me, I prefer to relax whether on the top deck wrapped in a warm blanket, reading and enjoying the fresh air, or sitting at one of the beautiful public spaces. Time flies by so fast either way!
There are two activities I just love on a sea day; one is High Tea. No matter what is happening I will always be at tea time. I love High Tea on land and the bonus of being at sea is how romantic it is and reminiscent of days gone by. The second thing I love at sea is lunch or dinner in bed. I order a grilled cheese, french fries, and chocolate ice cream and stay in bed and watch a movie.
So, whether you do nothing, attend a lecture, take a cooking class, enjoy a swim, or go to high tea, sea days really go by way too fast. Think of them as a time to disconnect and enjoy!
Ports of Call
There are many wonderful places to visit all over the world, but there are some we often do not think about due to location. For me, one of those was the Azores. I did not plan an Atlantic Crossing to visit the Azores; it was a pure added bonus. The Azores are mid-Atlantic and are part of Portugal. They are a group of islands, each with their own personality, landscape, and industries, most of which are agriculture. There are nine major islands which all have volcanic origin. From the thatched roof cottages on Madeira to literally cooking in the ground in Furnas, I learned quickly that a trip back to the Azores to spend more time on each island was going to be a must.
My top three must sees for all would be in Madeira. Visit the cottages and then enjoy a local meal in one of the wonderful restaurants in town. Afterwards, find a great lookout and just take in the scenery and people! Ponta Delgada is another must visit with so much to do in one port day.
If you have just one day, visit Furnas. You'll get to see where the ground still bubbles from the volcanoes and locals use the traditional cooking method of cooking in the ground. Do not miss the Hot Springs and Botanical Gardens. I would say the Botanical Gardens are my favorite of all of my travels. Finally, visit São Miguel Island which is home to the only tea plantation in all of Europe. You can walk the plantation which has views everywhere you look. The best part is sampling all the delicious blends they make.
The Spa
The Regent Seven Seas Explorer has a fabulous Canyon Ranch Spa on board that also includes a full service salon. If you have been to any Canyon Ranch Spa on land or sea you know that once you step in the front door, it is major indulgence. When crossing the Atlantic, it really gets turned up a notch. From the beautiful design to the staff to the pool and lounge areas on the back of the boat, it is so relaxing!
There is a full menu of experiences from massages to wraps and facials. And when you're at sea for many days, you can take advantage of the services. On my last Atlantic Crossing, my best friend who joined me also took advantage of the salon service and enjoyed her hair cut and style so much. She looked marvelous. Beyond the treatments, the space has saunas, a cold room, and so much more. Sea days are also great for stepping up stairs from the spa to the fitness facility for a nice workout or to better yet, to join a fitness class.
Shopping
Sea days mean shopping days! Crossing the Atlantic is a perfect time to take advantage of some good shopping time. When the ship is at port, the shops are closed so being at sea for a few days at a time gives you plenty of time to visit the boutiques and look and decide and then buy.
The boutiques on board have everything you need while on board, plus branded souvenirs to take home for yourself as well as friends and family. You can pick up some beautiful pieces to wear to dinner with the wonderful assortment of designer items. You'll also find the perfect handbags and accessories! Plus jewelry. Yes gorgeous jewelry! Many times when there are a few sea days in a row, a jewelry designer or watch specialist will come on board as well with a special selection. Be sure to take advantage of these opportunities!
Food and Drink
There is really a good reason that a track is on the top of the ship and they have a wonderful fitness room! They are needed for all the food and drinks you will consume! Sea days mean lots of special meals on top of the already fabulous food.
Wonder how I love to spend my day on the ship from first bites to final night cap. Well, I start the day watching the sunrise and then slipping to the pool deck to have a fresh juice drink blended just for me. When it is breakfast time, I enjoy sitting on the aft deck of the La Veranda. Being outside is so refreshing in the morning. Mid-Morning I like to grab a tea and fresh fruit in the coffee shop. Lunch time comes all too fast and although there are many choices on sea days, I love to see the special event items they have at the pool deck grill. But if it is a brunch day, you will find me in the Compass Rose. No afternoon is complete without a little bubbly and High Tea. Did I say I never miss High Tea on a sea day!
After a long break from food in the afternoon, it is mixology time in the Observation Lounge. Not to worry, there will be small bites to enjoy as well. Dinner is always delicious no matter where you enjoy dining. Whether it is the Compass Rose or one of the speciality restaurants, you cannot go wrong. Sometimes I even have dinner in one restaurant and dessert in another. Then after dinner, you get to choose your place for night cap.
But the best part about the food and drinks on a Atlantic Crossing is the multiple opportunities to learn from the experts. I highly suggest signing up for a cooking class and to not miss a mixology class.
Crossing the Atlantic is a journey everyone should do! Cruising is more than about the ports you visit. The romance of the cruise pulls you in and the days fly by. I would only make one suggestion, be sure it get a great room with a balcony. Having a great room makes the journey even better!