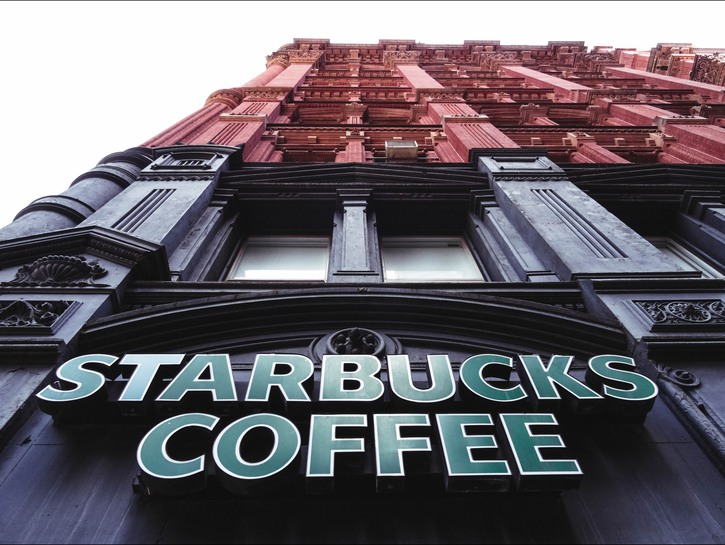 If there's one thing that travellers love, it's coffee. Good coffee, bad coffee, iced, hot, or even rolled into ice cream — coffee is universally adored. But when it comes to major chains like Starbucks, the relationship is more love-hate. We travellers cherish quirky little local shops, but we're also relieved to spot a certain familiar green logo in the distance. Starbucks offers a consistent experience and quality which, for better or worse, has come to define airports, train stations, city center plazas, and even hotel lobbies around the world.
As a travel writer, I know this paradox all too well. I swoon over charming wee indie cafes with their funky colours and in-house baking. But I'm also a huge Starbucks fan, regularly visiting the chain when I travel to write, work, and — let's face it — use a clean bathroom!
Recently, the company made international headlines for opening its first store in Milan, arguably the coffee culture capital of the world and a major influence on Starbucks' early development. But while much has been written about the company's chances in Italy, a notoriously challenging market for North American chains to gain a foothold, I thought it was high time that a passionate traveller — and major coffee fan — visited it in person.
Grab a mocha, some biscotti, and settle in to learn what I loved and, of course, a few things I hated too.
Pro: The Building is Spectacular
Located in the former Poste (post office) building in Piazza Cordusio, this is arguably the most beautiful Starbucks in the world. The building is stunning and its location in central Milan is equally gorgeous. Inside, high ceilings, marble floors, and copper accents give the store a palatial feel, while outside there are plenty of covered seats augmented with lush greenery. It manages to both capture the charm of Milan's sidewalk scene while at the same time making you feel like you're removed from the hustle of the city.
Pro: It's Like Disney For Starbucks Fans
If you are a Starbucks mega fan, a ticket to Milan will likely be on your travel bucket list. Former Starbucks executive chairman Howard Schultz was famously inspired by Milan's espresso scene and fans long suspected something special was in the works for the Italian city. They were right! Milan is now one of just three Starbucks "roastery" experiences around the world (the other two being Shangai and the company's birthplace, Seattle). Milan's roastery features a bakery, wood burning oven, coffee roasting demonstrations, Augmented Reality (AR) walls, and a whole host of branded items that can only be found at this particular location. I can already imagine how the mugs and accessories found here will be on every Starbucks fanatics' bucket list!
Pro: The Drinks Menu Is Out of This World
Fancy that latte with barrel-aged vanilla syrup? Perhaps you have a hankering for espresso poured over aerated hazelnut milk? How about an Orzo cold brew and ginger float or nitro gelato affogato? Maybe a citrus lavender sage spritzer catches your eye — or maybe you'd like a three-cup siphon brewer to produce the coffee of your choice? The beverage menu is a near-complete departure from that seen at any other Starbucks — and anything else in Milan. If you're more of a tea drinker, take heart: there are a lot of creative options for you, too.
Pro: The Reserve List is Fantastic
Large Starbucks around the world often feature several different kinds of "reserve" coffee. These rare, small-lot coffee beans aren't found on your everyday cafe menu. Starbucks Milan had an impressive list, including Hawaii K'au (which, incidentally, can be found at my neighbourhood Starbucks in Canada but is exceptionally rare in Italy) and sun-dried Brazil Ouro de Minas beans. Additional reserve beans from Tanzania, Ethiopia, Costa Rica, along with Starbucks' new Reserve Pantheon Blend, rounded out the list during opening month, making it one of the most diverse and comprehensive of any Starbucks (and likely any coffee shop in Milan).
Pro: Milanese Style Could Change Starbucks For The Better
As any traveller knows, there comes a time when just about every Starbucks looks and feels the same. This can be a plus when you're craving the familiar but, like any large chain, sooner or later things need to be freshened. The Milan Starbucks may just be the store to change things up. The city's cafe scene once inspired Starbucks' growth and it seems well poised to do it again. Milan is a global fashion capital, after all. An infusion of Milanese style could be exactly what Starbucks needs to rejuvenate their brand around the world.
And now, for a few things that definitely didn't leave a good taste in my mouth…
Con: Security Meltdown
Public security has a unique presence in Europe that leaves many North Americans taken aback. In Milan, for instance, armed military personnel patrol the Duomo's piazza and nobody gives them a second look. Still, I was surprised to see so many beefy men in black suits with serious expressions outside and inside Starbucks Milan. First, I assumed they were doormen to give this fancy coffee shop an extra touch of elegance. Then I secretly hoped that they were private security for a visiting celebrity. No such luck! Such a heavy security presence wasn't reassuring but rather really off-putting. An Italian cafe environment is usually synonymous with relaxation; this was anything but.
Con: It Just Didn't FEEL Right
I know, I know – I already said that it was a GOOD thing that Milan may challenge Starbucks to up its game and that it's fantastic to be in such a unique building. But I've been to just about every kind of Starbucks there is, from ambiguous outlets in North American strip malls to specially designed shops in heritage districts. In every case, there was a layout and style that was universal to the brand. That was lacking in Milan. If you're popping in because you want the classic Starbucks experience, you're out of luck. Being the "Disney" of Starbucks has its pros and cons. It's great for the super fan, bad for the casual customer who really just wants an iced vanilla latte. Case in point…
Con: I Never Did Manage To Find Coffee
Of all my travel fails — and I've had a few in my time — I can't think of any quite so uniquely humiliating as failing to get a coffee in what is arguably the most hyped coffee shop in the world. And it wasn't for lack of trying — or lack of skill. If there's one thing I'm normally good at, it's hunting down coffee.
After 30 minutes of exploring the store, I STILL couldn't find out where I could place my order. The sheer number of stations and lines was absolutely overwhelming. I joined one long line only to be told it was for buying bakery products. Another counter had espresso machines but after lining up hopefully, I realized it was clearly for waiters picking up plates of savoury food for outside guests. No lattes there! I took refuge at a spare seat only to be told that counter was only for ordering French press pots, pour-overs, and the like. I was redirected back to the same bakery line from which I was previously evicted. I stalked several unassuming patrons (clearly the security wasn't THAT good) to see if I could trace their process from ordering to receiving drinks, but with no success. The staff were everywhere yet they were nowhere. I was more than willing to pay the outrageous prices that hovered around 5 Euros. All I wanted was a classic cappuccino!
I left in frustration and, to be honest, I felt almost close to tears. A spectacularly beautiful building with its amazing menu and dazzling displays had pulled me in only to leave me dejected. My jet-lagged, espresso-searching heart was broken. I could see nothing of Milan, nor Starbucks, in the ill-designed, chaotic mess. Can't a girl just get her java fix?
At Long Last, Success!
Determined to leave disappointment behind, I escaped the glaring midday sun and headed into the metro station directly across the street. An unexpected oasis appeared as I blinked rapidly to adjust to the light. Could it be a mirage? A tiny coffee counter, nothing but one narrow bar, an espresso machine, and a cash register appeared. As I stumbled inside, the sole barista immediately turned his attention to me and began carefully crafting a cappuccino as soon as blurted out my request. He paused halfway through spooning in the foamy milk to ask if I'd like a shake of cocoa powder in the middle. Yes, please!
One minute and €1.40 later, I had what I came for: A classic Italian cappuccino in Piazza Cordusio, the kind which had once influenced Starbucks. Maybe, with a little luck, they can do it again.