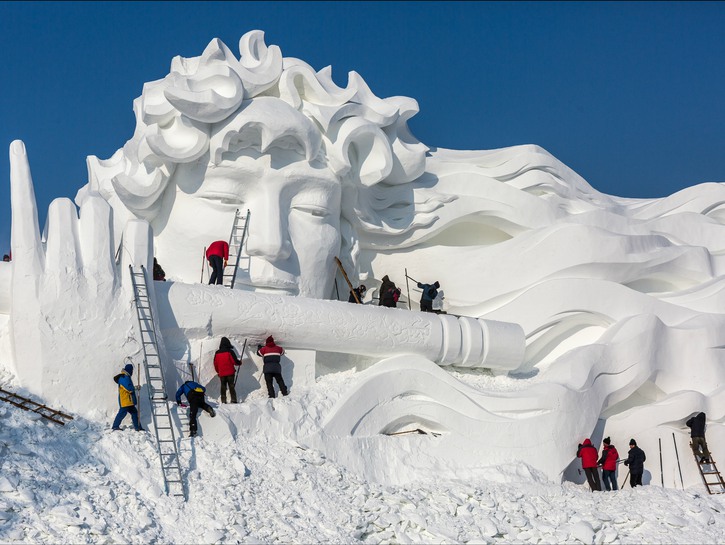 When old man winter stretches his fingers over the land and takes hold, you can stoke the fire, take a hot bath, curl up under the covers and wait for spring. Or you can turn the temporary tundra into a winter wonderland. If you love to ski, skate, or just feel the crunch of fresh snow beneath your feet, it's worth braving a bit of cold.
If you're looking for ways to celebrate the season, here are the 6 best winter festivals on earth. Just make sure you grab yourself some warm cocoa while you're there.
1. Sapporo Snow Festival, Japan
Every February in Japan's fifth-largest city, teams carve hundreds of snow and ice sculptures and show them off in public parks. The Sapporo Snow Festival has been a tradition for nearly 70 years. The practice was started by a six high school students in 1950; today, approximately 400 large sculptures are displayed every year based on varying themes, and millions flock to see them. It just goes to show you how a good idea can… snowball?
The 2019 Sapporo Snow Festival is scheduled to take place between January 30 and February 11.
2. Sarnac Lake Winter Carnival, New York, U.S.
If you're looking for a winter celebration that may be a little closer to home, look no farther than the village of Sarnac Lake in upstate New York. They held their first winter carnival in 1897, and they've had one every year without fail since 1948.
There are a number of fun traditions associated with this 10-day festival, including the construction of a considerable ice palace. There are plenty of sporting events, whether to watch or take part in, including hockey, skating, skiing, snowshoeing, and even winter volleyball! You'll also find concerts, variety shows, movie nights, and chocolate galore!
The 2019 Sarnac Lake Winter Carnival will take place from February 1-10. The theme this year is 'Prehistoric Park'.
3. Carnival of Venice, Italy
One of the most famous symbols of Venice — apart from the gondola and the Rialto bridge — is the mask. Venetian craftsmen are expert in creating elaborately ornamented face masks. It can run you €100 Euros or more to take one home for yourself, but if you'd just like to browse you should swing by the for annual Carnevale.
The commonplace wearing of masks seems to have been a peculiar feature of life in the Venetian republic; otherwise, why did the government have to enforce such specific laws against it? — prohibiting masked persons from throwing 'scented eggs,' for example. The exact origins of this tradition are lost to history, but the present Carnevale is observed in the lead-up to Lent. It involves entertainments, balls, feasts, and revelry.
2019's Carnevale runs from February 16 to March 5.
4. Carnaval de Québec, Canada
One of the most famous winter events on earth, the Carnaval de Québec (or simply "Carnaval" as it is universally known to Canadians) was first celebrated in 1894, and has been held every year since 1955. It takes place in beautiful Québec City, one of the oldest cities in North America, and certainly the most European.
Carnaval is beloved for its ice palaces, outdoor sporting events, free food, dances, balls, masquerades, and its iconic mascot, Bonhomme Caranaval, who leads the festivities. When you think winter, you think Canada; when you think Canada, think Carnaval!
The 2019 Carnaval will take place February 8-17.
5. Harbin International Ice and Snow Sculpture Festival, China
There's no two ways about it: the Harbin Festival, held in the Chinese city of the same name, is the biggest winter celebration in the planet. Since its inception in 1963, it has gone from being an attraction mainly attended by Chinese tourists to an international phenomenon. The 2017 festival alone drew in 18 million visitors!
They come from all over the world to see both ice sculptures an buildings, for the festival hosts both. On Sun Island, a menagerie of enormous ice sculptures are waiting to be seen, but there's also a large open space full of ice structures, breathtakingly illuminated at night. There's also skiing and winter swimming — if you're interested in pretending to be a polar bear for a few painful minutes.
The 2019 festival will run from January 5 to February 28.
6. Frozen Dead Guy Days, Colorado, U.S.
In 1989, a Norwegian man named Trygve Bauge came to the United States with a very special traveling companion: his dead grandfather. Grandpa was frozen with dry ice for the duration of the trip to California, where he was stored at a cryogenic facility until 1993. In that year, Bauge summoned his grandfather's corpse to Nederland, Colorado, where he and his mother were planning to build their own cryonics lab.
However, Bauge was deported from the U.S. due to visa violations. His mother was later evicted from her house, which led to the inevitable revelation that she had been storing her father's remains there on dry ice.
Bauge was able to pay a local contractor to care for his grandfather's preserved remains, and he is still a "resident" of Nederland today. Locals started the tongue-in-cheek Frozen Dead Guy Days in his honor back in 2002. Since then, it's become increasingly elaborate, with coffin races, dead guy lookalike contests, snowshoe races, a craft marker, dances, food, and swimming in icy waters.
In 2019, Dead Guy Days will be observed March 8-10.
Whether you'd prefer dogsled races at Carnaval, mild mask mischief in Venice, or honoring a frozen dead guy in Colorado, we hope we've inspired you to do something weird and wonderful this winter. Happy trails!