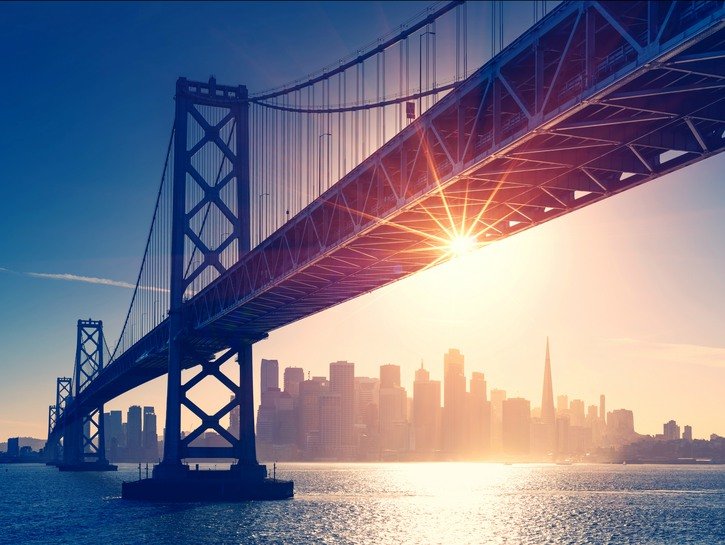 If you're going to San Francisco, make sure to budget properly. Fog City is consistently ranked among the most expensive cities in the U.S., so it's important to make sure you have sufficient funds before heading to the Frisco Bay.
A great way to save during your trip to San Francisco is by eating cheaply. Though some of you probably thought this wasn't possible, we've scoped out some of San Fran's best affordable restaurants, offering high-quality and delicious meals, all for under $20.
Here are the best places to eat in San Fran when you're on a budget.
1. Mission Cheese
Frugal friendly find: $10.50 Mac & Cheese
Location: 736 Valencia St.
Hours: Tues.-Thurs. & Sun., 11:00 a.m.-9:00 p.m.; Fri. & Sat., 11:00 a.m.-10:00 p.m.
Contact: (415) 553-8667
The main mission at Mission Cheese is to provide the best assortment of American artisan cheeses, connect communities to the source of their food and the farmers that grow it, and offer delicious, authentic food in a casual setting. One thing is for sure: this restaurant knows its cheeses front and back, and provides guests the opportunity to indulge without spending a fortune.
Cheese flights for under $15 are accompanied by Acme baguettes, cornichon and dried fruit. The eatery's mac and cheese boasts a combination of clothbound cheddar and washed rind cow's milk, topped with a thin layer of breadcrumbs and baked to a golden perfection.
Menu at Mission Cheese.
2. Barbacco
Frugal friendly find: $16 Polpette
Location: 220 California St.
Hours: Mon.-Fri., 11:30 a.m.-2:00 p.m. (Lunch); Mon.-Thurs., 5:00 p.m.-9:00 p.m. (Dinner); Fri., 5:00 p.m.-10:00 p.m. (Dinner); Sat., 5:30 p.m.-10:00 p.m. (Dinner)
Contact: (415) 955-1919
A casual atmosphere with an emphasis on simple, delicious food from all corners of Italy, Barbacco is a trattoria with high energy, a hospitable ambiance, and palatable entrees.
Travelers can choose a one, two, or three-cheese platter for $15 or less, with options including Humboldt Fog, taleggio, gorgonzola picante, tometta cremosa di pecora, or Moliterno — a sheep's milk-based cheese with a firm interior, veined with black truffle, earthy flavors. All pasta dishes at Barbacco are $17.
Menu at Barbacco.
3. ICHI Sushi
Frugal friendly find: $9 (or less) Japanese Hot Dogs
Location: 3369 Mission St. (at 30th)
Hours: Sun.-Thurs., 5:30 p.m.-9:30 p.m.; Fri. & Sat., 5:30 p.m.-10:30 p.m.
Contact: (415) 525-4750
While sushi is the main event at ICHI Sushi, the restaurant offers an off-the-menu lunchtime selection with a variety of specialized Japanese hot dogs. Fan favorites include the Okonomiyaki Dog, an Arabiki pork hot dog drizzled in Japanese mayo, and bonito flakes.
The restaurant's Mapo Dog comes topped with homemade mapo tofu, ground pork, sesame seeds, and green onion. Other popular selections include curry, kimchi, and vegetarian hot dogs.
Menu at ICHI Sushi.
4. Doña Mago
Frugal friendly find: $9 Fried Plantains and Eggs
Location: 301 S. Van Ness Ave.
Hours: Mon.-Sat., 9:00 a.m.-8:00 p.m.; Sun., 9:00 a.m.-6:00 p.m.
Contact: (415) 573-8586
A family-owned Mexican restaurant in the heart of the Mission District, Doña Mago's Mexico City-inspired cuisine features a not-so-ordinary breakfast selection guaranteed to tantalize taste buds. Daily specials ring in at $12.50 each; Mexican-food favorites such as menudo, carnitas, mole and pozole are some featured top-selling menu items.
Guests rant and rave about the restaurant's fried plantains and eggs, while other hearty breakfast specialties include chilaquiles and machaca, a dried and rehydrated meat dish made popular in Northern Mexico.
Menu at Doña Mago.
5. Judahlicious
Frugal friendly find: $9.50 Açaí Bowl
Location: 3906 Judah St.
Hours: Mon.-Fri., 8:00 a.m.-7:00 p.m.; Sat. & Sun., 9:00 a.m.-7:00 p.m.
Contact: (415) 665-8423
Established in 2004, Judahlicious was one of the city's first businesses to participate in the San Francisco Green Business Program. Demonstrating a green business model with a blue-collar attitude, this environmentally responsible restaurant purchases locally-sourced fruits and vegetables whenever possible, and all of its take-out containers are eco-friendly.
Featured menu items at Judahlicious include the Dahnu Wrap, a dehydrated raw flax tortilla filled with almond pâté, marinated kale, carrot, and avocado, topped with a sundried tomato sauce and curry cashew crème.
Menu at Judahlicious.
6. Fog Harbor Fish House
Frugal friendly find: $18 Ahi Tuna Poke
Location: Pier 39, Fisherman's Wharf
Hours: Mon.-Fri., 11:00 a.m.-11:00 p.m.; Sat. & Sun., 10:30 a.m.-11:00 p.m.
Contact: (415) 421-2442
Dedicated to offering the quintessential San Francisco waterfront dining experience, Fog Harbor Fish House is idyllically situated at Pier 39, one of Frisco Bay's most popular shopping centers and tourist attractions. Feast on the freshest sustainable seafood and meats, all while overlooking unparalleled views of the San Francisco Bay and Golden Gate Bridge.
Get your culinary seafood experience started with some steamed clams for only $16, topped with roasted peppers, corn, and chorizo butter, served with garlic toast. Then try the restaurant's famed pan-seared Pacific sole, served with roasted fingerling potatoes, spinach, peppers, tarragon and a caper beurre blanc.
Menu at Fog Harbor Fish House.
7. Tommy's Joynt
Frugal friendly find: $12.90 Daily Dinner Platters
Location: 1101 Geary Blvd.
Hours: Everyday, 10:00 a.m.-1:45 a.m.
Contact: (415) 775-4216
Tommy's Joynt, San Francisco's original old-school Hofbrau, attracts visitors primarily for its $12.95 daily dinner platters, served with roast beef, barbecue brisket, corned beef, pastrami, ham and turkey, with your choice of mashed potatoes or vegetables, beans or salad, and bread and butter.
This grab-a-tray, cafeteria-style restaurant houses a bar and carving station and has a reputation that promises hot food and cold drink at a price that eludes the atmosphere.
Menu at Tommy's Joynt.
8. Tartine Bakery
Frugal friendly find: $4.75 Savory Scone w/ Bacon, Gruyère & Fromage Blanc
Location: 600 Guerrero St.
Hours: Mon., 8:00 a.m.-7:00 p.m.; Tues. & Wed., 7:30 a.m.-7:00 p.m.; Thurs. & Fri., 7:30 a.m.-8:00 p.m.; Sat. & Sun., 8:00 a.m.-8:00 p.m.
Contact: (415) 487-2600
For those with an insatiable sweet tooth, head to Tartine Bakery, a thoughtful expression of modern craft through good food and warm experiences. With locations in San Francisco, Los Angeles, and Seoul, South Korea, Tartine serves the region's best pastries and coffee.
For under $5, travelers can taste-test a variety of trendy menu items, such as the Morning Bun with cinnamon sugar and candied orange, the Savory Scone stuffed with bacon, gruyere, and fromage blanc, or the lemon tea cake.
Menu at Tartine Bakery.
9. Yummy Yummy
Frugal friendly find: $10 (or less) Vietnamese Pho
Location: 1015 Irving St.
Hours: Fri.-Wed. (closed Thurs.), 10:00 a.m.-3:00 p.m., 5:00 p.m.-8:45 p.m.
Contact: (415) 556-4722
For some high-quality, authentic Vietnamese Pho at a pleasing price, head to Yummy Yummy, located in the city's Sunset Neighborhood. This affordable eatery has a loyal, local following, with featured menu items including fried imperial shrimp rolls, spicy beef and pork noodle soup, cold barbecue pork rolls, and, of course, an abundance of scrumptious Vietnamese Pho.
Menu at Yummy Yummy.
10. Popsons Burgers
Frugal friendly find: $6.95 Single Cheeseburger
Location: 998 Market St.
Hours: Everyday, 11:00 a.m.-8:45 p.m.
Contact: (415) 658-7554
An affordable alternative to the popular In-N-Out burger joint, Popsons Burgers is open seven days per week, offering expertly composed burgers with taste-tested recipes. Popsons partnered with Five Dot Ranch for California's best natural premium beef, 100% free of antibiotics and hormones.
Popular menu items are the bacon blue cheeseburger, savory burger, and the veggie burger, made from a beet, quinoa, and walnut patty, topped with truffle cheese, clover sprout, onion, pickle, and aioli.
Menu at Popsons Burgers.
We hope we've convinced you that, even though San Francisco is pricey, you don't have to spend a fortune to eat like a king.