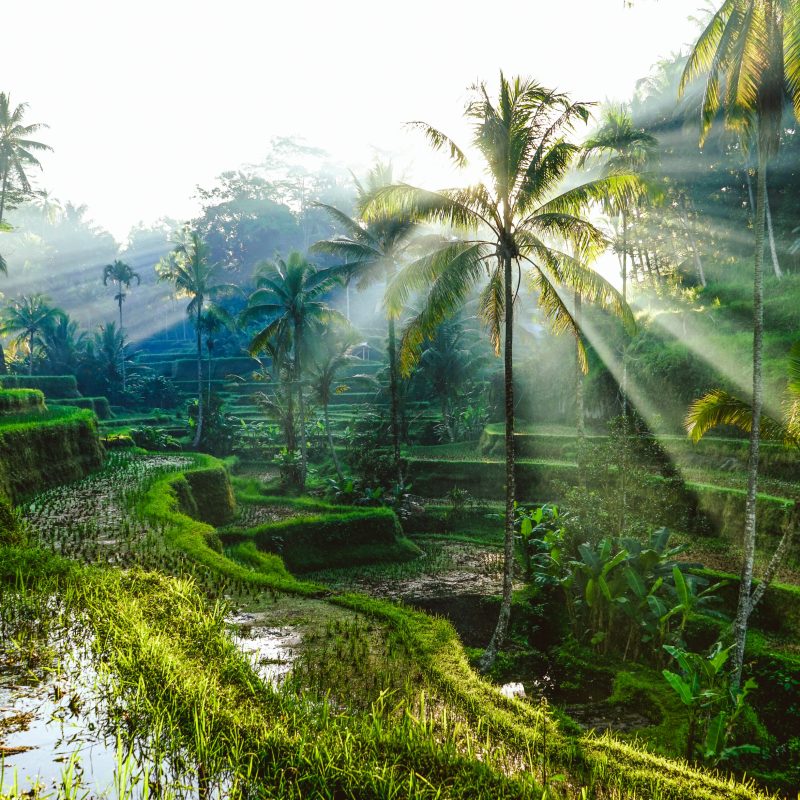 The Southeast Asian country of Indonesia consists of 17,504 islands, but most of the attention goes to just one of them: Bali, a 2,000 square mile tourism goldmine stuck in the warm waters of the Java Sea, between Australia and the Gulf of Thailand.
Most travelers who visit Indonesia are only there to check out Bali, and tourism is 80% of the island's economy. Being so close to Australia, it makes a convenient getaway for Aussies in search of someplace even more exotic. The island is famous for its rich culture, its impossibly beautiful beaches, its ancient Hindu temples, and its forests full of friendly monkeys.
But when is the best time to visit Bali, its scenic docks and cottages overhanging turquoise seas, its terraced rice paddies, its festivals? What are the seasons like? And when is it least likely to be overcrowded?
Bali's Climate
Bali is only about 8 degrees of latitude (or 552 miles) south of the equator. This means that, temperature wise, conditions on the island are pretty consistent: warm and humid — except in the more mountainous regions where the air tends to be cooler and you can expect more precipitation.
Proximity to the equator means less variation in temperature, since the inclination of the Earth has less impact on how much sunlight reaches the surface. This is why we love the tropics so much. When it's winter in the Northern or Southern Hemisphere, there's always somewhere we can go where it's 85°F and sunny.
This constancy is reflected in the difference between the shortest and longest days of the year. In Denpasar, the capital, there is only a difference of one hour and one minute. For reference, in Chicago, more than six hours of daylight separates the solstices.
In March, the warmest month, the average high is 92°F; in August, the coolest month, the average high is 85°F.
But that doesn't mean Bali doesn't experience seasonal changes, because it surely does. They're just not the conventional Spring-Summer-Fall-Winter cycle that we're accustomed to in continental North America. Instead, Bali experiences only two: rainy season and dry season.
Rainy Season
Okay, give you one guess which season is most popular with tourists. Hint: it's not rainy season. That said, 'rainy season' is maybe a bit of a misnomer, because even the Balinese equivalent of winter isn't that bad.
Rainy season typically runs from October to March, and is characterized by — you guessed it — rain. The worst of it comes in December, January, and February, when you can expect precipitation almost every day.
However, these aren't the kind of tropical monsoons you might imagine, nonstop deluges that make it impossible to enjoy a day at the beach or an afternoon visiting with the macaques of Ubud Monkey Forest. Even on rainy days in Bali, the clouds tend to clear after an hour or two, and you'll see that blue sky peeking down at you once again. Even better, it's quite common for rain to come at night, leaving you balmy daylight hours to explore the windswept coasts and secret temples of the island. Out-and-out miserable days are comparatively rare. Bali always seems to have a silver lining.
But there are some downsides to the rainy season. It will be windier near the coasts — though that may be a good thing since rainy season is generally hot and muggy. The ocean currents wax to their peak strength, which can sometimes lead to waste and detritus washing in on the shorelines, particularly on the south side of the island. And since it will rain nearly every day, at least for a few hours, this isn't the best time for beach bums to visit.
Dry Season
In April, the near-daily rainfall slows to a trickle, the dry season sets in, and the tourists flock to the island. From April to October, Bali is its best self, and guests get to take in all the charms of Balinese culture and hospitality.
Locals consider the dry season to be the summertime, but since this is the Southern Hemisphere (albeit just barely), it's technically the winter. The weather is cooler and less humid, and showers are fewer and farther between. Still, it should be noted that the average humidity in Bali is 80-90% year-round.
There's not much else to say, since there's really no contest here: the dry season is the better time of year to visit. But its also the busiest — particularly July, August, and the first half of September. You will pay more to stay, and you will have to fight the crowd.
So, when is the best time to visit Bali?
Best Time To Visit
As with many popular destinations, the time to go is probably shoulder season — those compromise months that fall between the zenith of 'summer' and the nadir of 'winter.' If you go in April, May, or September, you risk getting rained on a bit here and there. But the benefit is that you won't have to pay peak season prices or deal with peak season traffic.
You should also look into what local festivals may be in full swing in shoulder season. The Balinese use a lunar calendar to tell them when to party, so it can be hard to predict their celebrations by the western calendar with any regularity. You might just get lucky and find there's a real hoe-down planned for April or May — and a Balinese hoe-down is not something you'll want to miss.
Whenever you go, you should definitely ask a guide or a local if there are any ongoing festivals for you to attend.
Interested in learning more about this magical island? Read 6 Things Everyone Should Do In Bali.