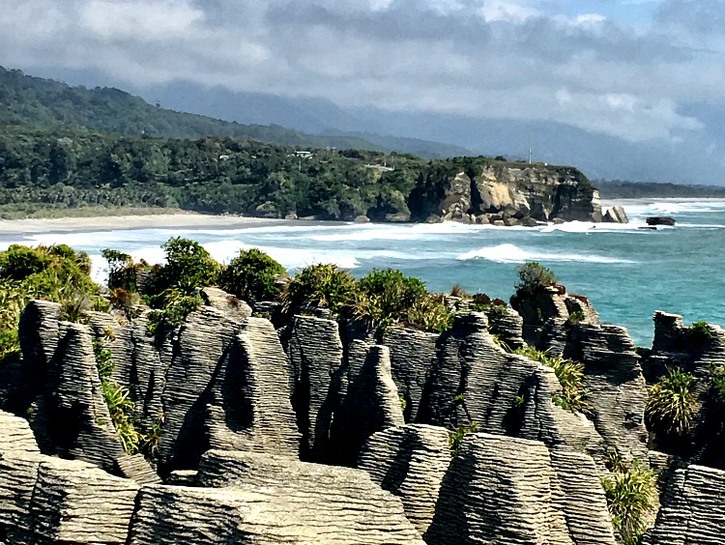 New Zealand is magical, breathtaking, fun, outdoorsy, inspirational…everything I thought it would be and so much more. When you get to visit THE place you have longed to see forever, naturally, your expectations are through the roof. Well, guess what? Expectations exceeded!
My biggest problem was narrowing down where to spend our first visit with only 13 vacation days, 3 of which would be spent in Auckland visiting friends. Of course you always hope to return, but we know life may not work out that way. So the goal was to pick the must-see sites in the most breathtaking area. But what I didn't want to do was rush through anything. I've taken those kind of trips before and I knew New Zealand warranted my full attention.
After researching both the North Island and South Island and what they had to offer, I chose South Island. As we only would have 10 days at this point, I narrowed my option down further to the rugged west coast. Which, of course, means we have to go back.
From Auckland, we flew into Blenheim in the northeast corner of the island, rented a car, and began our adventure. After spending several days in the Blenheim area, because of course no trip to New Zealand would be complete without a visit the land of Marlborough Sauvignon Blanc, we headed for the west coast. The trip ended with several days in Queenstown.
We took our trip in January which is summer in New Zealand. I have to say that we were most fortunate to have perfect weather. We were able to do every excursion we signed up for. Not everyone was this lucky and we know people whose outings were cancelled. But while you do take your chances as with any vacation, trust me, it's worth it…
Here are places we visited that I would say without reservation are not to be missed…
Queen Charlotte Track
New Zealand is replete with hiking trails, but a definite must-do is the Queen Charlotte Track. Opting to go with a guide, we had a Wilderness Guide tour set up in Picton, a small seaport town. To get there we traveled by boat through the staggeringly beautiful Marlborough Sound. While I was not prepared for the difficulty of the hike, it was a dream workout for my triathlete husband. I thought it was going to be a casual hike while I enjoyed the scenery, but ended up being 11 miles of mostly uphill walking. I kept going, "Are you kidding me?" as each bend turned into another hill.
All complaining aside, we learned about the European and Maori history of the area, including Captain Cook, along with details on native flora and fauna. For lunch, we sat high up in the hills and had a spectacular view of the multi-colored water while we ate. The hike finished with a cold, local beer. Many people make this a multi-day venture. They hike during the day and then stay in a resort on the islands at night being transported by boat between resorts…very civilized.
Marlborough Wine Region
Sauvignon Blanc from the Marlborough region just happens to be my favorite wine, so there was no way I was going to miss a visit. What my husband enjoys most about wine is not the actual drinking, but how people describe wines. Which means while I was busy tasting, he was happy to chat with the staff discovering new descriptions like licking moss off the forest floor!
We did a 6 hour private tour to the small boutique-type wineries in the area. To take a break, we had a lovely lunch at Hans Herzog, enjoying a plate of green lipped mussels and wine. You can let your guide choose all the wineries or do like I did and choose a few I knew I loved. But only a few, as I wanted to experience new vineyards.
If you don't want to drive, why not bike between the wineries. You can even sign up for a bike package where you ride the bike and someone follows behind you collecting the wine you bought and delivering your purchases to your hotel. Again, very civilized.
Punakaiki and Paparoa National Park
The Pancake Rocks and Blowholes in Puankaiki are one of New Zealand's most visited sites and it is easy to see why. I doubt there are many places that offer these stunning rock formations. We actually walked around 3 times as it was so gorgeous and we never knew when a geyser would pop up.
Knowing there was even more to see, we headed for the Paparoa National Park and took a long hike. The park itself offers tons of trails in a subtropical rainforest with mysterious river canyons and sculptured mountain ridges. You can even go limestone caving if you're so inclined.
Franz Joseph Glacier
Amazing, stunning, scary, seriously not-to-be-missed…These are just a few of the words to describe Franz Joseph Glacier located in the Westland National Park. We took a scenic helicopter ride up to the Glacier and spent several hours walking around with our guide after getting an orientation and putting on our crampons.
I had never before experienced walking along icy rivers among towering pinnacles of brilliant blue ice even in Antarctica. It was simply breathtaking and I'm not embarrassed to admit a bit treacherous. My husband, on the other hand, would have kept hiking all day. That said, I'd do it again without hesitation.
If you don't want to go to the top, you can hike the tons of trails that offer varying levels of difficulty. Robert Point Track takes about 5 hours and is difficult, but the view at the end should be worth the effort. Sadly, it was so obvious that the glaciers are slowly melting and this was confirmed by our guides.
In the afternoon we decided to get out on the lake and kayak. It seemed a shame not to take advantage.
Drive from Franz Josef to Queenstown
I would be remiss not to include the drive from Franz Josef to Queenstown as a must-visit site. This drive is seriously one of the most scenic I have ever been on. I kept yelling at my husband to pull over. Sadly, pull over spots are very limited on South Island's two lane highways, so most of the memories are solely mine.
We did stop for lunch in Wanaka and drove around the lake getting there. It's a very cute town offering tons of water sport activities. While Lake Wanaka is what everyone said to see, we actually found Lake Hawea much more remarkable.
Our final destination was Queenstown where we would spend 3 nights. This is where you want to go bungee jumping if you're so inclined. It has been something I've talked about doing forever. But, alas, I came to realize that this is something I should have done at least 10 years ago! They now have a Canyon Swing which even my husband was going to do with me. But they were fully booked on the days we could squeeze it in. Just another reason to have to go back…
Milford Sound and Fjordland National Park
Okay, probably the coolest part of the trip was another helicopter ride around Fjordland National Park into Milford Sound. Now this wasn't just any helicopter ride…we were the only two guests.
Literally everyone told us we had to see Milford Sound, so it was a no brainer. It is a gorgeous combination of mountain peaks jutting to the sea with huge waterfalls and plenty of hiking trails. People were everywhere hiking, riding, and kayaking. But not everyone got to see it from our vantage point.
We were fortunate enough to have a weather-perfect day AND with our own Over the Top helicopter tour to visit the area, this was seriously a trip of a lifetime. While many people do the fly-boat-fly route, we did 4 helicopter landings to unique environments, each one better then the next. We actually landed on top of glaciers and by lakes with no one else around. A fly by of Mount Cook, the tallest peak, was included. We even had a picnic at Lake Erskine with champagne.
Dart River Wilderness Safari
We couldn't leave New Zealand without getting in a jet boat ride and checking out the area of Lord of the Rings and Mission Impossible. On the Dart River Wilderness Safari you get to have tons of fun with a crazy guide getting wet as he spins the boat around in shallow water. Beautiful vistas surround you the whole time.
The journey ends with an hour hike through the Heritage Trail and can sit in the chair made famous from Lord of the Rings. Really cool experience…
All I can say is if you haven't been and can ever take the time and afford to go, DON'T HESITATE. New Zealand may be a long distance journey, but if you're prepared with these travel tips you will be rewarded with a trip of a lifetime!