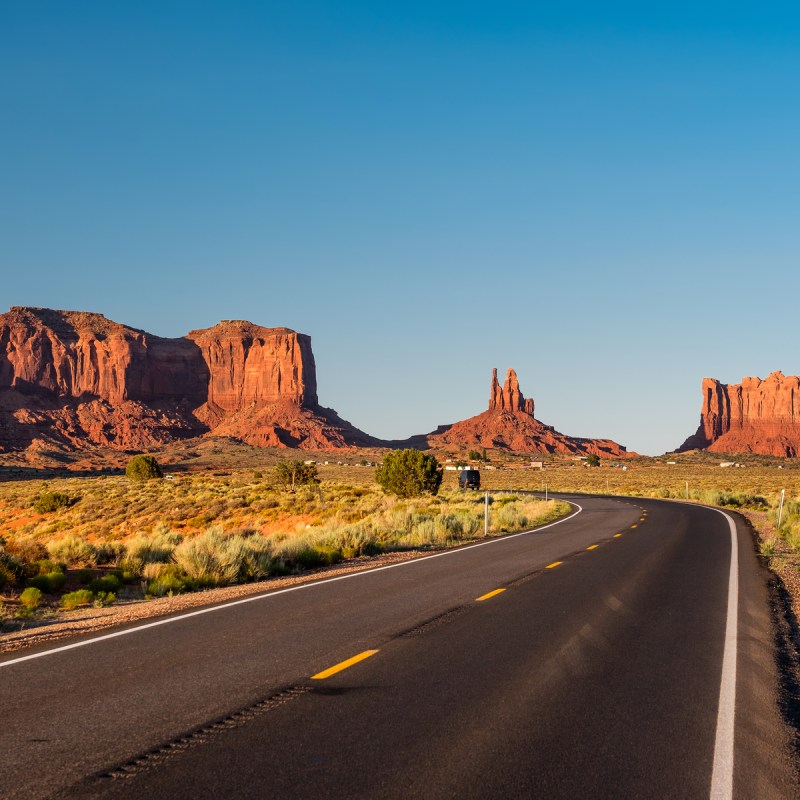 This article is part of our state-by-state guide to driving the Historic Route 66. We're breaking down the journey from east to west, from Chicago to California. Our previous instalment was Driving Route 66 In New Mexico.
The Grand Canyon State, Arizona, is the second to last state you'll encounter as you trek from Illinois to California along the Historic Route 66, affectionately known as the "the mother road" and "the Main Street of America."
During your road trip through Arizona, you'll encounter beautiful scenery through the Painted Desert, the timelessness of the Petrified National Forest and of course, your fair share of notable nostalgia and classic kitsch to boot. Let's take a look at some of the things to see and do on your way through the great state of Arizona.
Day 1
After you experience the Painted Desert and Petrified National Forest, your first stop in Arizona will be Holbrook. Here you can pull over and check out the Navajo County Historical Museum and the cute Wigwam Village Motel. When you're at the museum, make sure you check out the spooky old windowless cells. Remarkably, they remained in use into the 1970s.
Right outside of Two Guns, Arizona is the Twin Arrows — probably one of the most recognizable pieces of Route 66 nostalgic history. Jutting up from the ground, these two giant red and yellow arrows gesture toward a now closed café and trading post which you may recognize as a setting of the classic Tom Hanks film Forrest Gump.
If you're feeling up for a hike, you may be able to squeeze one in at the Walnut Canyon National Monument, which is known for its curvaceous canyon walls and its remaining Pueblos.
Interested in learning more about Arizona? Check out 5 Unexpected Arizona Attractions.
Day 2
For the next day of your Route 66 road trip, you can take an optional detour to the Grand Canyon, which would take most of the day from where you're at, but absolutely worth the trip! If you've never seen it, this could be the perfect opportunity to scratch it off the bucket list.
If you aren't feeling this excursion, or if you've already made your pilgrimage to the Grand Canyon, you can also see Arizona's "second most famous hole in the ground." From Route 66, you can visit Meteor Crater and still have enough time to swing by Sunset Crater, a basalt cone formation tinged with streaks of minerals in red, orange and yellow which gave it its name. You can find it in the Wupatki National Monument and then stop in Flagstaff for the night.
Long story short: you want to schedule time to see one or two of Arizona's geographical wonders.
Day 3
If you're able to spare some time in Flagstaff, it's a beautiful pine-laden town, though it does have a bit of a younger vibe due to the nearby college campus and plenty of local spots to check out. One Route 66 favorite is the Museum Club. It offers a full bar, live music, karaoke, and even line dancing lessons on certain nights. You can stop in the Lowell Observatory, where Pluto was first discovered, and learn about Flagstaff's light pollution and research efforts.
Flagstaff also boasts the Museum of Northern Arizona, a great place to learn more about the state, from its prehistoric Puebloans, as well as the Hopi, Navajo, and Zuni peoples who inhabit the state and make up its rich cultural history.
Thinking about spending a few more days in the state? Read 5 Facts You Didn't Know About Sedona, Arizona.
Day 4
Even if you've decided to bypass the Grand Canyon, the Grand Canyon Caverns are a Route 66 experience, complete with a grotto restaurant inside the cavern, 200 feet below ground. Who could resist that?
Before you pull away and start your drive toward the California border, be sure to stop in Oatman. Oatman looks like it could be used as a set in a Wild West movie shoot, and this makes it a popular spot along Route 66. You will likely encounter a few donkeys roaming the streets during your visit, so be prepared to make a friend!
That's all she wrote for the mother road in Texas. Next up, the end of the line: Driving Route 66 In California.