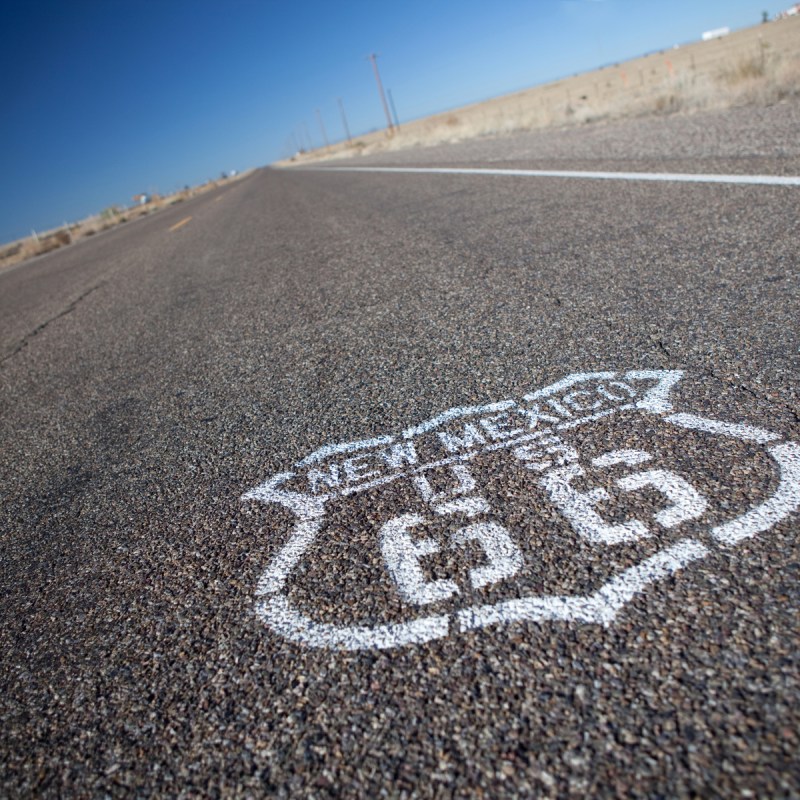 This article is part of our state-by-state guide to driving the Historic Route 66. We're breaking down the journey from east to west, from Chicago to California. Our previous installment was Driving Route 66 In Texas.
New Mexico is known as the "land of enchantment," and you will find this is a stretch of Route 66 that lives up to its name. Depending on whether you choose to venture north through Santa Fe along the path listed in the original plans, or opt for the final historic route that more or less follows interstate 40 across the state directly to Albuquerque, you have options. A trip through New Mexico without a stop-over in the capital just wouldn't be the same, so our path will follow the original, albeit less official, northern path. While staying on the route might take some work as there are a few dead ends in some lesser-known and forgotten ghost towns along the way, you'll find many treasures as you go to make it worth the detours required to see everything.
Venturing from east to west, you'll be mesmerized by the desert topography, sandstone mesas jutting in the distance, and even some patches of pine along the ride. If you decide to take a detour on your Route 66 trek, you'll have the chance to visit some national parks. Chaco Culture National Historical Park and the El Morro National Monument will give you plenty to see.
Route 66 was actually drawn twice in New Mexico, so while there may be some conflicting accounts as to where the Route went, you can't really go wrong with these stops! Worst case scenario, you learn a little more about the beautiful state of New Mexico.
Day 1
As you venture into New Mexico via Texas, your first pitstop will be in Tucumcari. Here you can stop at Tee Pee Curios, a wonderfully unique little store that sells souvenirs and miscellanea. It's a great opportunity to pick up some Route 66 kitsch, and maybe make use of your camera phone. The shop is built to look like a tee-pee up front, and is perfect for fun pictures and a chance to stretch your legs. It's part of the legacy of the original mother road which has fortunately been preserved.
While you're in town you can also take some more noteworthy photos at the Route 66 Monument and around various Route 66 and southwestern style murals. You won't have to look far to find them. Tucumcari is also home to yet another Route 66 Museum, so you can see how it stacks up to its Oklahoman counterparts. You can really tell how important America's main street has been to the people of Tucumcari over the decades.
Day 2
Santa Fe is the capital of New Mexico, and absolutely worth a full day of exploration if you can spare it. As mentioned, Route 66 had two routes laid down through New Mexico, and only the original path included Santa Fe. So whether you're just passing through, or driving the Historic 66 straight across America, Santa Fe is still a must-see.
Downtown has an array of shops, local artisan stalls, restaurants, and regional food fare. There's also the Georgia O'Keeffe Museum if you're a lover of fine art (or female anatomy).
Unless you're in some kind of rush, Santa Fe really is the spot to pull off the road and get lost in New Mexico's charms for a day or two. The city is home to beautiful historic churches like the Loretto Chapel and the Cathedral Basilica of St. Francis of Assisi. It's also home to some new and notable attractions like Meow Wolf, an immersive art experience that has to be seen to be believed!
Day 3
While in Albuquerque, you can take a step back in time in a 50's style eatery — the 66 Diner, complete with a jukebox and the biggest banana splits you've seen in the last few decades. Stop in for some classic diner food and enjoy throwback tunes.
You can also experience the Sandia Peak Aerial Tramway, the longest cable car in the world, while in Albuquerque. Take the 2.7 mile ride from town to the ski area of Sandia Peak Ski & Tramway, for some stunning views of the Rio Grande.
Outside of the city limits of Albuquerque, you'll find the Petroglyph National Monument, where visitors can walk amongst Native American carvings in the volcanic rock and learn about the wildlife, hike and experience the natural beauty of the desert.
Take it all in, because before too long, it'll be time to take this party to the next state on the map.
That's all she wrote for the mother road in Texas. Next up: Driving Route 66 In Arizona.