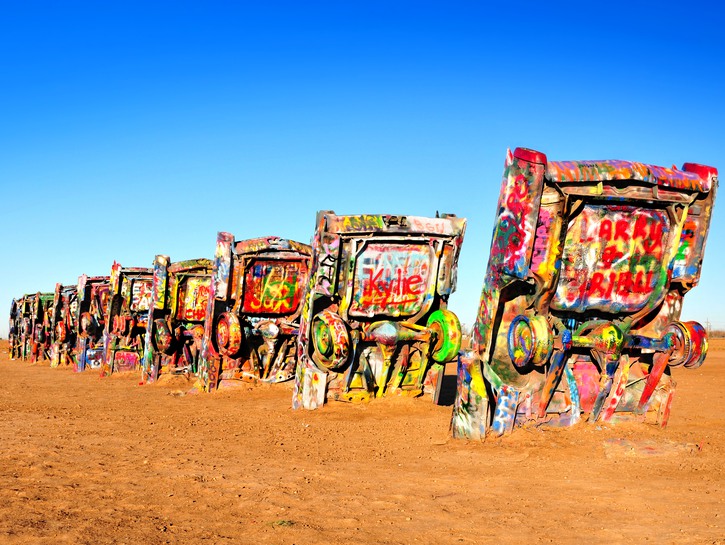 This article is part of our state-by-state guide to driving the Historic Route 66. We're breaking down the journey from east to west, from Chicago to California. Our previous instalment was Driving Route 66 In Oklahoma.
Geographically, Texas is one of the biggest states along Route 66, but its section of driveable road along the route is also one of the shortest. As you venture through the Lone Star State, through the top of the Texas Panhandle, you'll have 200 miles to explore.
The old Route 66 in Texas has seen more changes than other states, but you can still get a glimpse of the past here. Much of the original Route 66 has been replaced by Interstate 40, and that will take you most of the way through the Lone Star State. But the Historic Route 66 does pass though towns like McLean, Shamrock, or Vega, and the biggest city you'll encounter — Amarillo.
Day 1
Your first stop as you cross into Texas from Oklahoma will be Shamrock. For any fans of the Disney/Pixar movie Cars, you'll likely recognize Tower Station and U-Drop Inn Café. A version of his most unusual building is portrayed in the film, since the animators actually traveled Route 66 in search of inspiration! The real life structure is an immaculate art deco diner and gas station. It's a great place to stop and take a photo, especially if you happen to be in town at night — the neon is well maintained at this stop.
True to the name, while you're in Shamrock, you rub off a bit of luck a bit of luck at their very own Blarney Stone!
As you move along to McLean, you can stop in at the Devil's Rope Museum and the Route 66 Museum while you're there. Not sure what devil's rope is? Well, it's barbed wire, a staple for the livestock farmers and cattle drivers who dominate north Texas.
Texas is famous for its eye-catching kitsch, the little talismans that make up for the largely flat landscape. The Leaning Water Tower of Groom can be seen from the road and is a great way to break up the drive. It was actually built this way on purpose!
The next thing you'll see on your trek through Texas is a 190-foot white crucifix that is visible from miles away. If you want to stop, there are several statues at its base that depict the Passion of the Christ. Just a subtle little reminder: you are definitely in the Bible Belt.
Day 2
You'll want to spend some time in Amarillo. (As we mentioned, it's the largest town you'll pass through, and you may be a'hankerin' for a break from the countryside.)
Before you arrive, you will want to stop to take photos at the Cadillac Ranch. It's exactly what it sounds like: an art installation made of old Cadillacs planted in the ground like ferns, covered with spray paint. If you think of it, you can even bring a can of paint to contribute to the scene yourself. It's a bit of a walk from the road, so be sure to get your walking shoes on!
Amarillo will be your next stop. Amarillo is home to the Big Texan Steak Ranch which is truly a must see, so come hungry! When you arrive, you'll be greeted by a hotel that looks like an old west town, a Texas-shaped poo,l and several vintage Cadillacs adorned with bull horns on the hood. So very Texas!
The Big Texan Steak Ranch is home to the famous 72 oz. steak eating contest, which is quite a challenge. If you're not after that much beef, you will still enjoy a great meal here, with Texas-sized beers, southern sides, and very filling entrees! If you're ready to walk off a giant steak, you can get some time in at the RV Museum before you head out of town.
After you've filled up in Amarillo, you'll want to stop in Adrian; if you possibly have room in your stomach, you must visit The Midpoint Cafe which marks the halfway point of Route 66. Here, you are exactly 1,139 miles to both Los Angeles and Chicago, so it's a great stop to take a photo and chow down on some pie.
That's all she wrote for the mother road in Texas. Next up: Driving Route 66 In New Mexico.