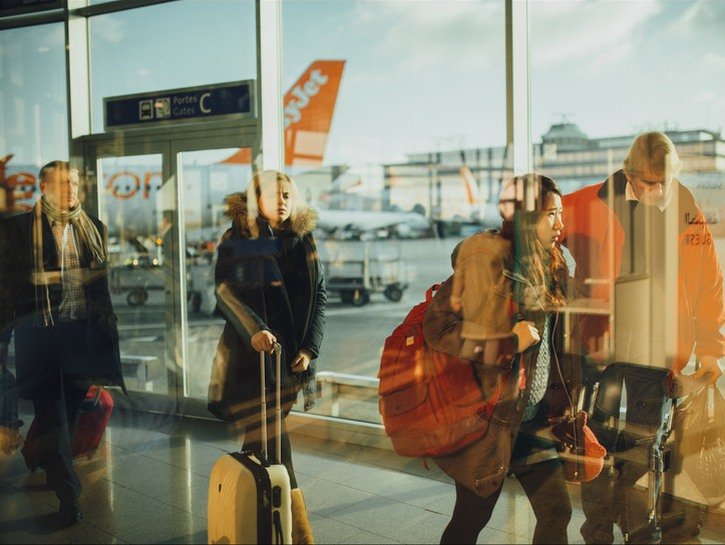 Let's face it: No one likes the TSA. Agents of the Transportation Security Administration are about as popular as meter maids, root canals, and distant relatives who send you political chain e-mails.
What they do is all for the sake of keeping passengers safe, but the process gets more obtrusive all the time. Take your jacket off, Take you shoes off — soon it'll be Take your pants off! My father was once detained and questioned by TSA agents for over an hour. What aroused their suspicion? "You've been visiting Chicago too much."
If you travel regularly, going through a TSA check is a permanent dread, just the thing to put you in a terrible mood before a flight.
But there's a way you can avoid at least some of the hassle: the TSA PreCheck program.
What are the pros? What are the cons? How much does it cost? And is it worth the price tag? Here are the things you'll want to know about TSA PreCheck.
What Do I Get With TSA PreCheck?
Considerably less waiting and poking around, is TSA PreCheck's main attraction. The point of the program is to expedite airport security screenings for low-risk passengers, and it actually works quite well.
In early January, 2019, TSA reported that 91 percent of PreCheck passengers waited less than 15 minutes in the security line. Compared to the God-knows-how-long the rest of us cattle have to waste queuing up to get scrutinized, that's a walk in the park.
PreCheck status also exempts passengers from certain inconvenient and invasive procedures. You won't be asked to remove your shoes, belts, laptops, compliant liquids, or light jackets, for example.
Since PreCheck became available to the general public in 2013, it has spread throughout the United States. Today, it's available at more than 200 airports, with 73 airlines participating. If you want to see which airports offer PreCheck services, click here.
How Much Does TSA PreCheck Cost?
When you submit your application, you will make a non-refundable $85 payment. That will cover you for five years, but remember: If your application is not accepted (which only happens if you're determined to be a high-risk traveler for some reason), you will not receive a refund. This is because the fee covers the administrative cost of doing your background check.
The program is available to all U.S. citizens, nationals, and permanent residents.
How Do I Get TSA PreCheck?
The first step is filling out this online application. Some of the requested information (such as Social Security Numbers) is "voluntary", but if you're committed to getting approved, it's best to provide all the information you can. There's no point spending $85 not to get PreCheck.
After the online application step, you will be required to schedule an in-person appointment at a location near you. (It's best to arrange all this over e-mail, so make sure to provide your email address in your online application.) You will be required to bring your passport to the appointment, and they will also collect your fingerprints and send them to the FBI to run through their database.
The fingerprints are used for your background check first and foremost, but they may remain in the federal database for future use as well. If you are uncomfortable with your fingerprints being kept on file, PreCheck may not be the program for you.
What Don't I Get From PreCheck?
Even though it makes passing through security much quicker and less irksome for the majority of passengers, having PreCheck status does not mean you won't be singled out for additional screening at agents' discretion.
As the TSA website rather ominously warns: "TSA uses unpredictable security measures, both seen and unseen, throughout the airport. All travelers will be screened, and no individual is guaranteed expedited screening."
You should also know that PreCheck only applies to travel within the United States. If you're flying from Phoenix to Chicago and back — no worries, you can go through the PreCheck line at both ends. If, however, you're visiting Chile, you can use PreCheck for your departure flight, but you'll have to wait in the regular line when you return to the country.
For this reason, it may make more sense to apply for the Global Entry program if you often travel abroad. Global Entry will give you PreCheck status, plus the same treatment when you're re-entering the United States. And you get all that for a $100 non-refundable fee, so if you go overseas even once a year, it's probably worth the extra $15.
If you're traveling with grandkids 12 and under, they can come with you through the PreCheck line even if they're not registered with the program. However, anyone 13 and older will have to go through regular old airport security, so it may be best to get everyone signed up if you're taking a family vacation.
So Is It Worth It?
Well, if you only travel at great need, if you're a homebody, if you rarely come into contact with the TSA, it's probably not worth your trouble to go through the song and dance of getting PreCheck or Global Entry.
Similarly, if you don't want to give up your fingerprints because of privacy concerns, this will be a hard pass for you.
Ready to travel and not worried about sharing your fingerprints? I'd say you owe it to yourself to spend as little time as humanly possible going through airport security. $85 or $100 is a small price to pay for that convenience.
Want to learn more about the ins and outs of airport security? Discover what SSSS means when printed on a boarding pass.
Which Airlines Participate?
The full list is published online here.
Aeromexico
Air Canada
Air France
Air India
Air Serbia
Alaska Airlines
All Nippon Airways
Allegiant Air
American Airlines
Aruba Airlines
Asiana Airlines
Austrian Airlines
Avianca
Azul Airlines
Boutique Airlines
British Airways
Brussels Airlines
Cape Air
Cathay Pacific Airways
China Airlines
Condor Airlines
Contour Aviation
Copa Airlines
Delta Air Lines
Eastern Airlines
Edelweiss Air
Elite Airways
Emirates
Etihad Airways
EVA Air
Finnair
Flycana
Frontier Airlines
Hawaiian Airlines
Icelandair
InterCaribbean Airways
Interjet
Japan Airlines
JetBlue Airways
Key Lime Air
KLM Royal Dutch Airlines
Korean Air
Lufthansa
Miami Air International
Norwegian Air
PAL Express
Philippine Airlines
Porter Airlines
Qatar Airways
Scandinavian Airlines
Seaborne Airlines
Silver Airways
Singapore Airlines
Southern Airways Express
Southwest Airlines
Spirit Airlines
Sun Country Airlines
Sunwing Airlines
Swift Air
Swiss International Air Lines
Swoop
TAP Air Portugal
Thomas Cook Airlines (Scan.)
Thomas Cook Airlines (UK)
Turkish Airlines
United Airlines
ViaAir
Virgin Atlantic
VivaAerobus
Volaris
WestJet
World Atlantic
Xtra Airways
Which Airports Have TSA PreCheck?
The full list is published online here.
Aberdeen Regional Airport (ABR)
Abilene Regional Airport (ABI)
Akron-Canton Airport (CAK)
Albany International Airport (ALB)
Albuquerque International Sunport Airport (ABQ)
Antonio B. Won Pat International Airport (GUM)
Appleton International Airport (ATW)
Aspen-Pitkin County Airport (ASE)
Augusta Regional Airport (AGS)
Austin Straubel International Airport (GRB)
Austin-Bergstrom International Airport (AUS)
Baton Rouge Metropolitan Airport (BTR)
Bemidji Regional Airport (BJI)
Bill and Hillary Clinton National Airport (LIT)
Billings Logan International Airport (BIL)
Birmingham-Shuttlesworth International Airport (BHM)
Bishop International Airport (FNT)
Bismarck Municipal Airport (BIS)
Blue Grass Airport (LEX)
Boise Airport (BOI)
Bozeman Yellowstone International Airport (BZN)
Bradley International Airport (BDL)
Brainerd Lakes Regional Airport (BRD)
Brownsville/South Padre Island International Airport (BRO)
Buffalo Niagara International Airport (BUF)
Burlington International Airport (BTV)
Capital Region International Airport (LAN)
Central Illinois Regional Airport (BMI)
Central Wisconsin Airport (CWA)
Charleston International Airport (CHS)
Charlotte Douglas International Airport (CLT)
Charlottesville-Albemarle Airport (CHO)
Cherry Capital Airport (TVC)
Chicago Midway International Airport (MDW)
Chicago O'Hare International Airport (ORD)
Chicago Rockford International Airport (RFD)
Chippewa Valley Regional Airport (EAU)
Cincinnati/Northern Kentucky International Airport (CVG)
Cleveland Hopkins International Airport (CLE)
Colorado Springs Airport (COS)
Columbia Metropolitan Airport (CAE)
Corpus Christi International Airport (CRP)
Cyril E. King Airport (STT)
Dallas Love Field Airport (DAL)
Dallas/Fort Worth International Airport (DFW)
Dane County Regional Airport (MSN)
Dayton International Airport (DAY)
Daytona Beach International Airport (DAB)
Denver International Airport (DEN)
Des Moines International Airport (DSM)
Destin-Fort Walton Beach Airport (VPS)
Detroit Metropolitan Airport (DTW)
Devils Lake Regional Airport (DVL)
Dickinson Theodore Roosevelt Regional Airport (DIK)
Duluth international Airport (DLH)
Eagle County Regional Airport (EGE)
East Texas Regional Airport (GGG)
El Paso International Airport (ELP)
Eppley Airfield (OMA)
Eugene Airport (EUG)
Fairbanks International Airport (FAI)
Falls International Airport (INL)
Fort Lauderdale-Hollywood International Airport (FLL)
Fort Smith Regional Airport (FSM)
Fort Wayne International Airport (FWA)
Fresno Yosemite International Airport (FAT)
General Mitchell International Airport (MKE)
General Wayne A. Downing Peoria International Airport (PIA)
George Bush Intercontinental Airport (IAH)
Gerald R. Ford International Airport (GRR)
Glacier Park International Airport (FCA)
Golden Triangle Regional Airport (GTR)
Grand Forks International Airport-Mark Andrews Field (GFK)
Grand Junction Regional Airport (GJT)
Greater Rochester International Airport (ROC)
Greenville-Spartanburg International Airport (GSP)
Gulfport-Biloxi International Airport (GPT)
Harrisburg International Airport (MDT)
Hartsfield-Jackson Atlanta International Airport (ATL)
Hattiesburg-Laurel Regional Airport (PIB)
Hector International Airport (FAR)
Hilo International Airport (ITO)
Hollywood Burbank Airport (BUR)
Honolulu International Airport (HNL)
Huntsville International Airport (HSV)
Indianapolis International Airport (IND)
Jack Brooks Regional Airport (BPT)
Jackson Hole Airport (JAC)
Jacksonville International Airport (JAX)
Jamestown Regional Airport (JMS)
John F. Kennedy International Airport (JFK)
John Glenn Columbus International Airport (CMH)
John Wayne Airport (SNA)
Kahului Airport (OGG)
Kalamazoo/Battle Creek International Airport (AZO)
Kansas City International Airport (MCI)
Killeen-Fort Hood Regional Airport (GRK)
La Crosse Regional Airport (LSE)
LaGuardia Airport (LGA)
Lafayette Regional Airport (LFT)
Lambert-St. Louis International Airport (STL)
Lawton-Fort Sill Regional Airport (LAW)
Lehigh Valley International Airport (ABE)
Lihue Airport (LIH)
Logan International Airport (BOS)
Long Beach Airport (LGB)
Long Island MacArthur Airport (ISP)
Los Angeles International Airport (LAX)
Louis Armstrong New Orleans International Airport (MSY)
Louisville International Airport (SDF)
Lubbock Preston Smith International Airport (LBB)
Luis Muñoz Marín International Airport (SJU)
MBS International Airport (MBS)
Manchester-Boston Regional Airport (MHT)
McAllen Miller International Airport (MFE)
McCarran International Airport (LAS)
McGhee Tyson Airport (TYS)
Memphis International Airport (MEM)
Meridian Regional Airport (MEI)
Miami International Airport (MIA)
MidAmerica St. Louis Airport (BLV)
Midland International Air and Space Port (MAF)
Mineta San Jose International Airport (SJC)
Minneapolis-Saint Paul International Airport (MSP)
Minot International Airport (MOT)
Missoula International Airport (MSO)
Mobile Regional Airport (MOB)
Montrose Regional Airport (MTJ)
Morgantown Municipal Airport (MGW)
Myrtle Beach International Airport (MYR)
Nashville International Airport (BNA)
Newark Liberty International Airport (EWR)
Norfolk International Airport (ORF)
North Central West Virginia Airport (CKB)
Northwest Arkansas Regional Airport (XNA)
Northwest Florida Beaches International Airport (ECP)
Oakland International Airport (OAK)
Ontario International Airport (ONT)
Orlando International Airport (MCO)
Orlando Melbourne International Airport (MLB)
Orlando Sanford International Airport (SFB)
Palm Beach International Airport (PBI)
Palm Springs International Airport (PSP)
Pensacola International Airport (PNS)
Philadelphia International Airport (PHL)
Phoenix Sky Harbor International Airport (PHX)
Phoenix-Mesa Gateway Airport (AZA)
Piedmont Triad International Airport (GSO)
Pittsburgh International Airport (PIT)
Portland International Airport (PDX)
Portland International Jetport (PWM)
Punta Gorda Airport (PGD)
Quad City International Airport (MLI)
Raleigh-Durham International Airport (RDU)
Rapid City Regional Airport (RAP)
Reno-Tahoe International Airport (RNO)
Rhinelander-Oneida County Airport (RHI)
Richmond International Airport (RIC)
Rick Husband Amarillo International Airport (AMA)
Roanoke-Blacksburg Regional Airport (ROA)
Rochester International Airport (RST)
Rogue Valley International-Medford Airport (MFR)
Ronald Reagan Washington National Airport (DCA)
Sacramento International Airport (SMF)
Saint George Regional Airport (SGU)
Salt Lake City International Airport (SLC)
San Angelo Regional Airport (SJT)
San Antonio International Airport (SAT)
San Diego International Airport (SAN)
San Francisco International Airport (SFO)
Santa Barbara Municipal Airport (SBA)
Santa Fe Regional Airport (SAF)
Sarasota-Bradenton International Airport (SRQ)
Savannah/Hilton Head International Airport (SAV)
Seattle-Tacoma International Airport (SEA)
Shreveport Regional Airport (SHV)
Sioux Falls Regional Airport (FSD)
Sloulin Field International Airport (ISN)
South Bend International Airport (SBN)
Southwest Florida International Airport (RSW)
Spokane International Airport (GEG)
Springfield-Branson National Airport (SGF)
St. Pete-Clearwater International Airport (PIE)
Syracuse Hancock International Airport (SYR)
T. F. Green Airport (PVD)
Tallahassee International Airport (TLH)
Tampa International Airport (TPA)
Ted Stevens Anchorage International Airport (ANC)
Texarkana Regional Airport (TXK)
The Eastern Iowa Airport (CID)
Thief River Falls Regional Airport (TVF)
Tri-Cities Airport (PSC)
Tri-State Airport (HTS)
Tucson International Airport (TUS)
Tulsa International Airport (TUL)
Tyler Pounds Regional Airport (TYR)
University of Illinois Willard Airport (CMI)
Valley International Airport (HRL)
Waco Regional Airport (ACT)
Washington Dulles International Airport (IAD)
Wichita Dwight D. Eisenhower National Airport (ICT)
Wichita Fall Municipal Airport (SPS)
Wilkes-Barre/Scranton International Airport (AVP)
Will Rogers World Airport (OKC)
William P. Hobby Airport (HOU)
Wilmington International Airport (ILM)
Yampa Valley Regional Airport (HDN)
Yeager Airport (CRW)