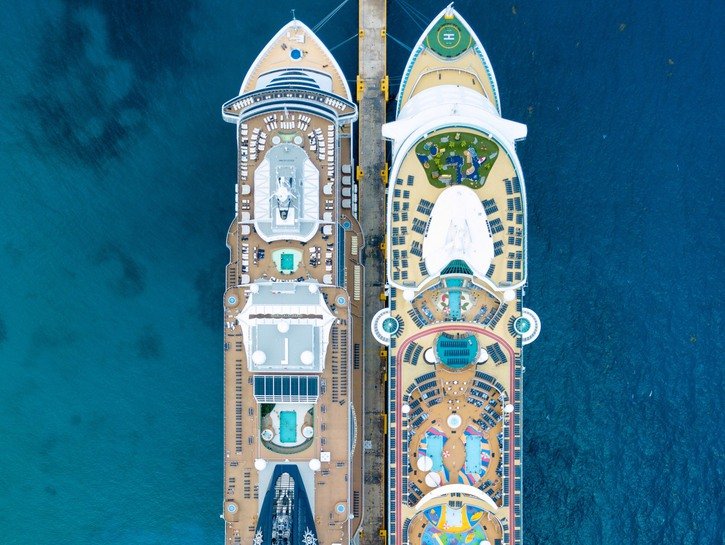 If taking a cruise around the world is high on your bucket list, there are plenty of options to make it happen in the coming year. We've taken a look at some of the incredible world cruises happening in 2020. What better way to see the world than from the comfort and oftentimes luxurious offerings of a cruise ship?
The Queen Mary 2 World Cruise
New York to New York – January 3, 2020 to April 25, 2020
# of Days: 113
# of Ports: 33
Starting from: $20,109 per person
For many cruise fanatics, much of the experience is really all about the ship, and sailing aboard Cunard's flagship ocean liner, Queen Mary 2, seems like a true bucket list experience in itself, boasting luxury, elegance and some great amenities, a massive library and a planetarium included. Cunard takes that to the next level with a stunning world-cruise itinerary spread out over 113 days, beginning and ending in the Big Apple, and visiting more than two dozen countries in the process. Among the ports of call are Southampton (England), Melbourne (Australia), Singapore, Cape Town (South Africa), Dubai, Hong Kong (China), Ho Chi Minh City (Vietnam), Jerusalem/Bethlehem (tours from Haifa, Israel), and Naples (Italy), to name a few.
If you're looking to shell out the money on the higher end of what the Queen Mary 2 has to offer, Queens Grill level suites are currently priced at over $130k per person for the trip. While that may seem like a massive price tag for a vacation, consider the cost of spending months on a cruise ship, then add on the cost of the luxuries you'd receive at that level (concierge and butler service, complimentary wine and spirits and ample square footage in your accommodations). Those willing to forgo the butler service, free alcohol and other luxuries and accept a smaller room without an ocean view can find an interior stateroom for just over $20,000 per person. And there are a number of options between those two levels.
Viking Ultimate World Cruise
London to London – August 31, 2019 to May 2020
# of Days: 245
# of Ports: 113
Starting from: $92,990 per person
Ship: Viking Sun
Viking's perfectly titled "Ultimate World Cruise" technically begins in 2019, but since it runs pretty far into 2020, we're counting it on this list. And wow, does this cruise have an incredible, truly world-circumnavigating itinerary, hitting six continents and 59 countries over its run.
Viking isn't super forthcoming about its pricing, merely listing the minimum cost for what is presumably the lowest level stateroom at $92,990 per person, (including airfare for a limited time). Those who want actual figures need to call for a quote. However, it's worth noting that the Viking Sun is an all-Verandah ship, meaning there are no inside staterooms. And the lowest category still boasts a relatively spacious 270 square feet. So even if you're aiming to keep the price down, it sounds like this new-ish (2017) ship offers solid accommodations. Of course, those who want to shell out for the top level "Owner's Suite" will get 1,448 square feet to spread out in, and all of the added luxuries, including priority reservations for shore excursions, restaurants and spa, a fully-stocked mini-bar, complimentary laundry and dry-cleaning and a number of other added amenities.
Among the countries the Viking Sun will visit along this cruise across the globe are Scotland, Norway, Greenland, Canada, various U.S. states (Boston, New York, Los Angeles, San Diego), various Caribbean locations, Brazil, Argentina, numerous Australian ports, India, Egypt, China and so many other places. Honestly, just scroll through the list.
Those who don't have the time and/or money to do the full Ultimate World tour can opt for one of the two split packages that Viking has built into this ship's run. The Viking World Treasures cruise is set over the 127 days from London to Los Angeles, and the Viking World Wonders does the other half, a 119-day trip from Los Angeles to London.
Princess World Cruise from Fort Lauderdale
Ft. Lauderdale – Ft. Lauderdale – January 5, 2020 – April 26, 2020
# of Days: 111
# of Ports: 41
Starting from: $25,999 per person
Ship: Pacific Princess
Princess's 111-day World Cruise is set aboard the Pacific Princess. She hits Aruba first before shifting from the Atlantic Ocean to the Pacific by way of the Panama Canal. Her 41-port hop includes Hawaii, New Zealand, Australia, Thailand, South Africa, Brazil and St. Barths before finding her way back to Ft. Lauderdale by April. The ship itself boasts a number of the usual hot spots found on cruise ships, including a spa and fitness center, a casino, a library and pools, as well as a golf practice cage and Discovery at SEA programs.
At present, the inside stateroom category is already sold out, so the starting price for current bookings is close to $26k per person for an ocean view room. The full suites are also sold out, but those willing to pay the extra cost for a mini-suite will be looking at a starting price of $46,000 per person. That'll get you a 323 square foot room with a balcony, a bathroom tub and massage shower head, and a separate sitting area with a sofa bed.
Holland Grand World Voyage
Ft. Lauderdale – Ft. Lauderdale – January 4, 2020 – May 12, 2020
# of Days: 128
# of Ports: 50+
Starting from: $22,799 per person
Ship: Amsterdam
Another Fort Lauderdale departure option for those looking to explore the Southern hemisphere is Holland's Grand World Voyage, which eases you into your 128-day vacation with stops at Dominica, St. Lucia and Devils Island before crossing the equator on its way south to Brazil. Through the month of January, passengers aboard will be hitting a number of South American ports before enjoying the 4-day "Antarctic Experience" at sea. The Amsterdam travels up the West side of South America and eventually finds its way to New Zealand, stopping off at a number of island destinations first. Among the other highlights are Australia, the Great Barrier Reef, Indonesia, Madagascar, and South Africa.
Inside staterooms for this incredible journey start at $22,799, but if you're looking for the top level treatment, the Neptune Suite boasts over 500 square feet, floor-to-ceiling windows overlooking a private verandah, access to the Neptune lounge, a private concierge and other complimentary services baked into the $79,999 (per person) price tag.
Seabourn World Cruise: Extraordinary Destinations
Miami, Florida – San Francisco, California – January 4, 2020 – May 28, 2020
# of Days: 146
# of Ports: About 60
Starting from: 66,999 per person
Ship: Seabourn Sojourn
Among the pricier (and relatively longer) options on this list is Seabourn's Extraordinary Destinations world cruise, which takes you from Miami, Florida across the globe and back around to San Francisco, California. Among the stops are Kralendijk (Bonaire), Barbados, Abidjan (Ivory Coast), Walvis Bay (Namibia), Kenya, Seychelles, India, Malaysia, Indonesia, Australia, Fiji and Hawaii.
As we mentioned, Seabourn's trip doesn't come cheap, starting at $66,999 per person for an ocean view suite, and running all the way up to a starting price of $184,999 for the Owner's Suite. Pricing for the higher-level Signature and Wintergarden Suites does not appear to be listed for this trip, but with the Owner's Suite, you get a visit to the bridge when the ship is in port, fresh flowers in the bathroom, a large basket of tropical fruits, free internet and some other top-level amenities.
Oceania's Bridgeway to Exploration Voyage
San Francisco to San Francisco – January 26, 2020 to July 5, 2020
# of Days: 162
# of Ports: 80+
Starting from: $35,899 per person
Ship: Oceania Insignia
This is another of the lengthier options for world cruises that we researched. Though it's not quite as long as the Viking cruise we mentioned earlier, Oceania's Bridgeway to Exploration voyage packs in more than 80 stops in its 162-day trip across the globe. The highlights of the trip from San Francisco and back include various stops in Mexico, Chile and Brazil, as well as stops in South Africa, Sri Lanka, India, Thailand, Vietnam, China, South Korea, Japan, Russia and Alaska.
Pricing for Oceania's adventure ranges from a relatively modest $35,899 for the lowest-level inside stateroom, all the way up to $131,899 for the Owner's Suite per person. In addition to a more spacious room and a verandah to match, inclusions for the Owner's Suite include free laundry service, priority boarding, butler service, free bottles of premium wine and spirits, fresh fruit, access to the Canyon Ranch private spa terrace, a laptop computer and complimentary iPad, among other things. But if you have your eye on that Owner's Suite, it looks like there's currently a wait list to get in there. There is, however, availability right now in the categories below Owner's Suite.
Still on the fence about taking a cruise around the world? Here are some reasons why it's well worth looking into.