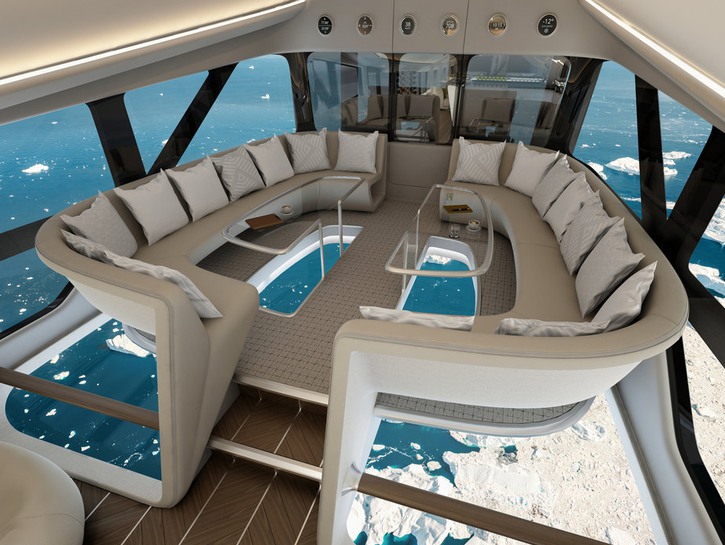 The Airlander 10 may have the title "world's fanciest blimp" in the bag. But it has also earned one of the world's least flattering nicknames: the flying bum. See if you can figure out why by taking a look at its —ahem— poop deck.
I guess it makes sense that the world's largest aircraft would have the world's largest butt.
Still, we should remember what our mothers taught us: it's what's on the inside that counts. And what's on the inside of the Airlander 10 is a plush, luxurious setting for a one-of-a-kind aerial adventure.
Design Q, the firm responsible for planning the Airlander's interior, just gave us our first glimpse at the cabin, and it is stunning. This ain't the Goodyear blimp!
This airship is effectively a flying super-yacht, complete with fully-stocked bars, lounges, accommodations for 19 guests plus crew, and catering that will put any airline to shame. It also has glass floor viewing areas where passengers can survey the world they left behind from a cruising altitude of 8,000 feet. (Although the craft is capable of ascending to 20,000 feet!)
Measuring 302 feet end-to-end, Airlander 10 is, as noted, the largest flying vehicle on earth. But similarities to its contemporaries are only superficial. It's not quite an airplane, not quite a helicopter, and not quite a blimp, strictly speaking. It's a hybrid airship, combining elements of all three.
Comparisons to the Hindenburg ("Oh, the humanity!") are equally unwarranted. 60-80% of Airlander 10's weight is comprised of lighter-than-air gas. But instead of explosive hydrogen, this airship is held aloft by incombustible helium.
Airlander may be the largest flying machine, but it's by no means the fastest. The ship's diesel engines are only designed to propel it about 90 miles per hour. It can remain airborne for up to five days while manned, but its journeys are slated to take three days.
Still, when you're living large in the atmosphere, taking your time is all part of the fun.
"Airlander challenges people to rethink the skies," says Stephen McGlennan, CEO of the ship's mother company — Hybrid Air Vehicles. "That's the driving force behind everything we do. Air travel has become very much about getting from A to B as quickly as possible. What we're offering is a way of making the journey a joy."
Before it can carry paying passengers, the ship must complete at least 200 hours of incident-free flying time.
Efforts to get the project off the ground were delayed in August of 2016, when Airlander came crashing down to the ground — in comically slow blimp fashion — during its second test flight. Fortunately, this "crash" was about the gentlest disaster in the history of aviation, and none of the crew were injured. Still, it illustrates that operating a mammoth hybrid airship is a little more complicated than making balloon animals.
But not to worry. Despite is posh interior, the Airlander is made of tougher stuff than you might imagine.
Hybrid Air Vehicles originally designed it for service with the U.S. military. Although an enormous blimp may seem like an especially un-stealthy, WWI-esque weapon, the prototype was approved as an unmanned reconnaissance and target acquisition craft. However, that program was cancelled in 2013, so Airlander was converted into a civilian leisure ship.
Airlander's future remains up in the air — pun intended. It's not clear where Airlander will be taking passengers just yet, nor even when it will begin ferrying them from A to B in style. Its launch date unconfirmed, and its ticket price is as yet unannounced.
But if you're in the market for a swanky mode of transport that offers breathtaking views, and you're not in a rush, keep your eyes on the skies!