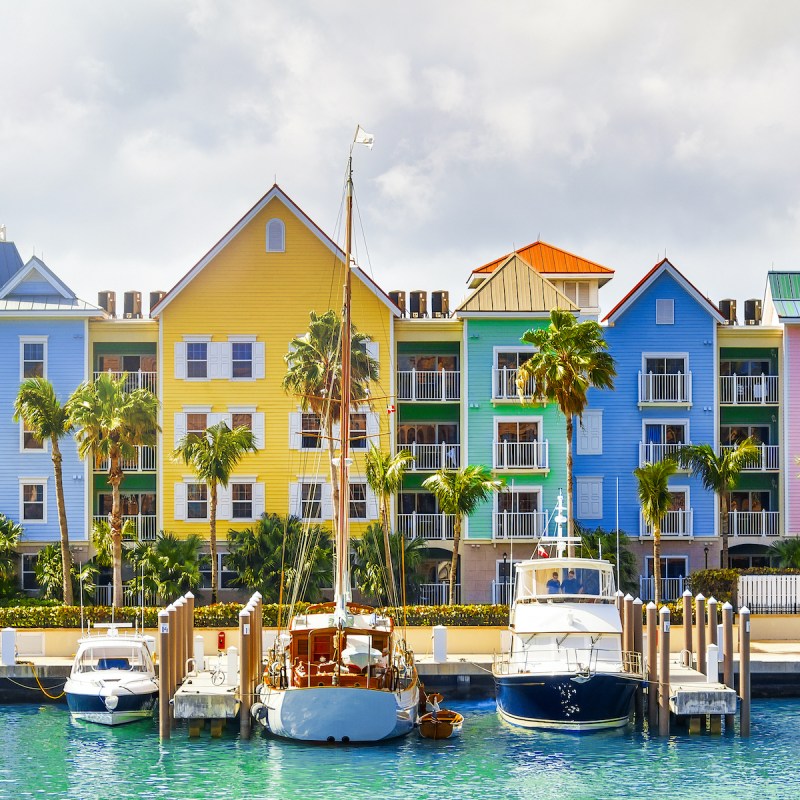 While some are enthralled with the winter season, others spend their time dreaming of ocean views and warmer weather. If you're one of those people who prefers sand over snow, look no further than these premier locations for a wintertime getaway. From Florida down to the many escapes in Central America, these are our favorite snowbird destinations.
1. Nassau
Bahamas
Just a short flight from Miami, and you'll find yourself in the tropical paradise of the Bahamas. Lay on the beach, soak in the sun, enjoy the casino or just do nothing but relax and soak up the warmth of the sun.
Culture and modern comforts make this location a great mix for a winter getaway.
Average temperate between November and March: 78 degrees
2. Cancun
Mexico
The Yucatan Peninsula is always a favorite winter escape, and Cancun offers wonderful beach resorts to let you warm your toes in the sand in style. When you are not swimming in the stunning tropical waters, you can practice your yoga at your choice of many beachside retreats.
Over a dozen different airlines fly into Cancun, so getting here is pretty easy.
Average temperate between November and March: 76 degrees
3. Panama City
Panama
In addition to warm weather, Panama City offers great landmarks and flower-filled plazas through which to stroll on warm winter nights. The historic district of Casa Viejo overlooks the modern highrise glass towers of downtown, making for an unusual mix of old versus new in this coastal city of wonders.
The capital is nicknamed the "crossroads of the world," so you can rest assured: Many airlines fly into Panama City.
Average temperate between November and March: 79 degrees
4. Dominican Republic
The Dominican Republic has a wide range of landscapes to explore while enjoying the warm winter days by the Caribbean Sea. Feel like a little outdoor adventure? Try hiking the tallest mountain in all of the Caribbean islands — Pico Duarte. At just over 10,000 feet in elevation, the views are breathtaking. Of course, if you don't feel like climbing the winter away, there are plenty of beaches on which to lounge at sea level.
With several international airports located across the country, the D.R., as it is referred to by travelers, offers easy access.
Average temperate between November and March: 79 degrees
5. Barbados
One thing not many people know is that Barbados is the sister city of Charleston, South Carolina. In factm many of Charleston's early settlers share the same surnames as their distant island relatives, and many of the downtown streets have the same names.
One airport serves the small island with 14 different airlines offering flights.
Average temperate between November and March: 79 degrees
6. Orlando
Florida
With over a dozen major theme parks in Orlando, it's pretty hard to get bored. Even though Orlando is not located on the coast of Florida, you have plenty of water parks to choose from. If you want to try an unusual theme park, take a trip to Gatorland to see live alligators.
Orlando is a major destination city and flights here are easy to come by.
Average temperate between November and March: 72 degrees
7. Jamaica
Similar to the vibes in Cancun, Jamaica's all-inclusive resorts offer package deals that are hard to resist. If snorkeling, diving, or reggae music are at the top of your list, Jamaica is unbeatable.
Being a well-known tourist destination, cheap flights are generally available to one of Jamaica's three international airports.
Average temperate between November and March: 77 degrees
8. Roatán
Honduras
A tiny little island off the coast of Honduras, Roatán is quickly gaining in popularity for its un-crowded beaches, outstanding dive sites, and whale shark migrations. Roatán islanders are friendly and laid back, so plan a chilled-out vacation here.
About 5 airlines fly into Roatán but with only a few flights a day. You will need to plan ahead for this trip.
Average temperate between November and March: 80 degrees.
9. Bermuda
Bermuda is a British territory with beautiful pink sand beaches and a more sophisticated vibe. If golf is your sport, Bermuda offers some of the finest, but plan to break out the big bucks — greens fees here are not cheap.
Several airlines fly into Bermuda, but you'll need to watch the airfares here closely to get any deals.
Average temperate between November and March: 70 degrees.
Wherever you may roam, we hope you have fun escaping from winter!
Related Reading: